Ever since gold was first discovered at Sutter's Mill by James Marshall in 1848, prospecting in the U.S. has been a rewarding, and often addicting, pursuit.
Unfortunately, gold prospecting with no equipment at all might be easier than finding the right metal detector for the job.
The problem isn't a lack of options; it's having too many. With so many machines out there these days, how do you know which metal detector is the best for finding gold?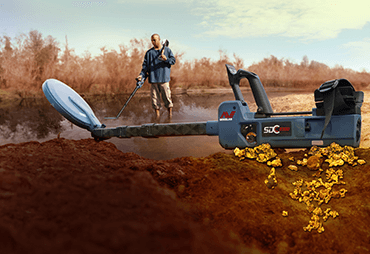 12 Best Metal Detectors for Gold
This guide includes the best metal detectors for gold on the market today and everything you need to know to pick the right one for you and your treasure hunts.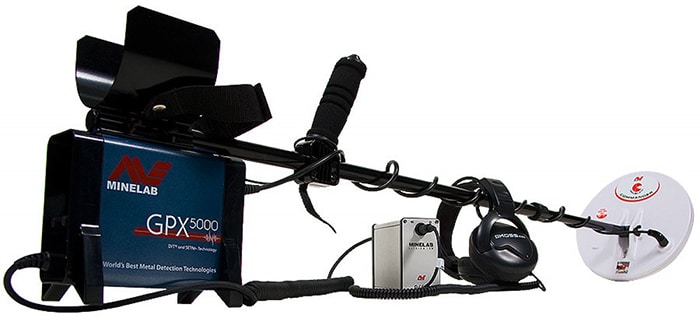 The GPX 5000 is a pulse induction (PI) detector that features several of Minelab's exclusive technologies, including dual-voltage technology (DVT), multi-period sensing, and smart electronic timing alignment.
I consider the Minelab GPX 5000 to be the best metal detector for gold.  It is simple enough that you can use it straight out of the box, but sophisticated enough to yield much better performance if you take the time to fully understand the manual and adjust settings according to where you will be searching.
To learn more, read our full Minelab GPX 5000 review.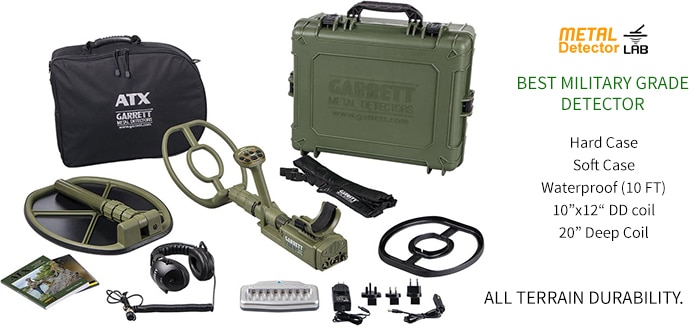 The Garrett ATX is a great military-spec gold detector that is suitable for a multitude of terrains and it is the most durable high-powered metal detector you are likely to find.
With a 12-inch DD submersible coil, fully collapsible design, and a military-grade hard case, the ATX is made for searching in extreme locations. It has a superior ground balancing system, 25 discrimination settings, and 13 sensitivity settings to give the pulse induction detector impressive gold finding abilities, regardless of depth, soil composition, and material size.
You can read more about the Garrett ATX here.
3. Minelab Gold Monster 1000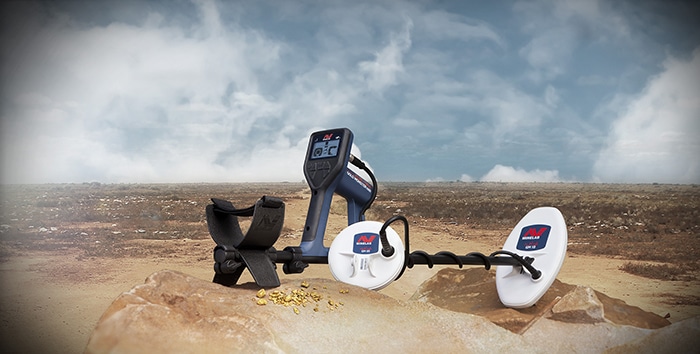 The Minelab Gold Monster 1000 was specifically created to detect flakes and even fine gold dust.  It's equipped with all the necessary features and technical specs to help you search in the most challenging locations and conditions.
While it only has a single frequency, it's lightweight, fully automatic, and able to spot any type of gold using unique discrimination technology.  It particularly excels when it comes to ground tracking and sensitivity
When searching for gold in deep and compromised terrain, the moderate frequency and high-speed digital signal processing of the Gold Monster 1000 give it an advantage over traditional metal detectors.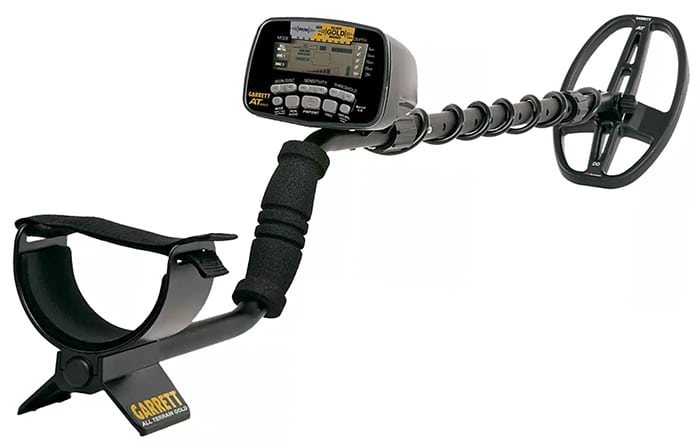 Released back in 2011, the Garrett AT Gold is still considered a solid piece of prospecting equipment, especially for finding nuggets. Ideal for both beginner and intermediate users, this VLF detector is easy to use and operates at 18 kHz to help you find gold and jewelry virtually anywhere, even on wet sandy beaches.
To learn more, read our full Garrett AT Gold review.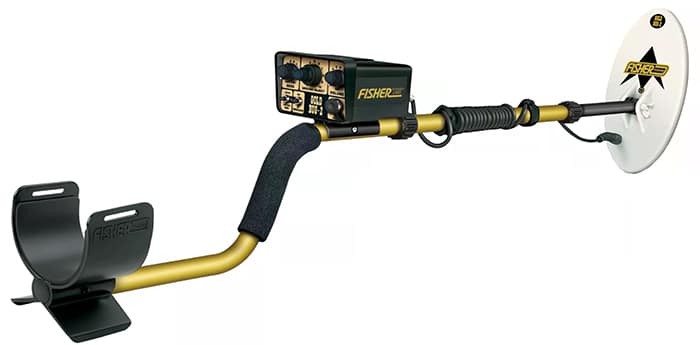 The Fisher Gold Bug 2 uses tried and true, though older, technology.  This model has a long and successful history with prospectors and it does very well in a wide variety of terrain.
If you are on a budget, it's hard to go wrong with the Fisher Gold Bug 2. Perhaps the most popular gold detector in our list, it provides quite a bit of bang for the buck. The Gold Bug 2 is extremely sensitive and is great for locating small or even tiny pieces of gold near the surface.
My biggest complaint with the Gold Bug 2 is that it lacks some of the advanced technology that is now being used on newer and more expensive detectors.
Buyer's Guide to Metal Detectors for Gold
All of the metal detectors above are terrific for gold prospecting, but it's important to know the various features to look for in order to select the best one for your budget, goals, and hunting environment.
Before we jump into specifics, you should know that any metal detector can find gold. Since it is just another type of metal, every detector on the market will find it, if the conditions are right.
That said, it can be a lot more difficult to find than other metals or your average relic or coin. How so, you ask?
Well, for starters, most buried gold is quite small and generally weighs less than a gram. It is also usually found in highly mineralized soil, which can cause heavy interference.
Fortunately, gold detectors are designed to handle these issues and perform remarkably well in spite of them.
Nonetheless, not every device is created equal, so how do you choose the right one for you and your treasure hunting needs?
How To Choose A Gold Detector
All gold metal detectors are designed to be used in difficult ground conditions, so what makes one better than another? It really all comes down to where you'll be prospecting, the size of the nuggets that are there, and the mineralization of the soil.
The answers to these questions will dictate what you should buy. In other words, no product is universally the best.
Sure, the GPZ 7000 is about as close to perfection as a metal detector for gold can get. Unfortunately, it also costs as much as a car, so not many can justify, much less afford, its brilliance.
Once again, the Minelab GPX 5000 may cost five times more than the Fisher Gold Bug Pro, but that doesn't mean it's better. In fact, if you're a beginner at gold detecting and are looking for small nuggets on top of bedrock, the Gold Bug Pro would be a better way to go.
When choosing a gold detector, it all comes down to the terrain, your skill level, and your intended use for the machine.
If you are new to metal detecting or prospecting with one, then you'll obviously want to go with a less expensive, easy-to-use gold detector with simple controls like the Garrett AT Pro or any of the Fisher products. You might even consider the White's Goldmaster GMT with its simple control panel, iron target analyzer, and helpful "Follow the Paystreak" feature. Our guide of the best rated metal detectors for beginners can help you get started.
On the other hand, if you are an experienced gold hunter and serious about your equipment, the supercharged Minelab GPZ 7000 or GPX 5000 might be a perfect fit. For someone in the middle, you will want to consider the Garrett AT Gold, Lobo SuperTRAC, or Gold Monster 1000. You get the idea.
Don't think that you have to spend a ton of money to find a good machine. There are actually plenty of great low-cost options.
If value for money is more important to you, then refer to our guid to finding the best metal detector for your money.
As mentioned, your intended use for the gold detector is another key factor. Different methods are used for finding different types of gold, so what you plan on using it for and where you intend to use it definitely matters.
When hunting for coins or jewelry, it's important to go with an all-terrain model. Since a lot of coin and jewelry hunters comb sandy beaches and expose their machines to saltwater and air, choosing one that's waterproof and durable is also a must. A good pair of headphones and clear audio is a plus as well. Be sure to check out our guide to find the best metal detector for finding coins.
There's arguably nothing more exciting than recovering an ancient relic that's been waiting to be discovered for hundreds or even thousands of years. However, in order to find such a relic, it helps if you have the right detector.
Unless you're only trying to find golden relics, which are few and far between, it's also smart to go with a lower-frequency detector to avoid dismissing relics made of iron, brass, and other metals.
The beach shore is a popular, fun, and sometimes lucrative place to treasure hunt. Unfortunately, saltwater can also do a lot of damage to a gold detector.
For hunting on the beach, a waterproof detector is obviously a must. As you can see from the list above, some products are waterproof up to 10 feet. Saltwater can cause corrosion, so durability is also key.
Since saltwater can amplify the signal from minerals found in sand, and throw off false signals as well, you will need to have some means of ignoring them. In this regard, pulse induction technology, like that used in the Minelab GPZ 7000 and GPX 5000, is the very best for beach hunting.
Searching for treasures underwater takes metal detecting to a whole new level of excitement, but it also takes a certain kind of metal detector. First off, it not only needs to be waterproof, but it also needs to be submersible.
Some detectors only have a waterproof coil, which can't be submerged but are great for use in shallow rivers. Others, like the Garrett AT Pro, can be fully submerged in shallow waters.  If you need something fully waterproof and submersible, we have a buyer's guide for the best underwater metal detectors.
Metal Detector Technology
When deciding on a metal detector, you'll find a lot of information about different features and technologies. While some features, like ground balancing, are crucial for consistent results in varying terrain, the most important detector technologies revolve around their operating frequencies and classification.
Higher frequencies are better for discovering smaller objects. However, they're limited to a shallower depth. Lower frequency detectors, on the other hand, are going to miss smaller targets, but they're better at finding larger nuggets deeper underground.
So, which type of detector should you choose?
It all comes down to where you plan on hunting. If you're likely to be finding gold at shallow depths, then look for a product that features a higher frequency. After all, it's better to dig one too many holes than miss one too many targets.
Conversely, if you're hunting for larger nuggets at greater depths, a lower frequency detector might be a more effective option.
VLF detectors utilize an operating frequency ranging anywhere from 3-70 kHz. As you can see, it's definitely a wide range but still technically qualifies as low.
While the average coin, jewelry, or general-purpose metal detector might have an operating frequency of 5-13 kHz, detectors designed for gold usually have much higher frequencies in the range of 15-75 kHz.
Why is this the case?
Well, as we touched on above, the higher the frequency of a VLF detector, the better it is at getting small gold nuggets and flakes.
Electronic discrimination is widely available to help you ignore anything made of steel or iron.
The downside to using VLF detectors is their higher sensitivity to mineralization, which often results in more frequent false signals. They also don't do nearly as well at locating gold at depth.
Pulse induction, or PI, detectors are used to reach maximum depth in difficult conditions.
Although they're more expensive, these detectors are better at ignoring false signals. They can also penetrate deeper into the earth to locate large gold nuggets.
However, even PI detectors have their drawbacks. Aside from their steeper price tags, these detectors have a harder time discriminating between materials and small gold than their VLF counterparts. This makes them better suited for serious users with more experience in the hobby.
Metal detectors utilizing multiple frequencies, like the Minelab GPZ 7000, are the cream of the crop. Rather than operating in a single high or low frequency, they're able to operate in multiple frequencies, making them suitable for every type of target and soil condition.
While MF detectors are definitely great, there's a price to pay for such awesome capabilities. Most are simply priced too steep for your average weekend hobbyist.
Metal Detector Terminology
Almost every modern gold detector will feature automatic ground balance. Some also offer a manual adjustment, which is recommended.
In fact, while automated adjustments are fine for hunting coins or relics, not having a manual mode can cause problems when looking for gold. Due to the high levels of mineralization that are often associated in gold-rich areas, the balance must often be manually adjusted to successfully filter out iron that is found in these soils.
Therefore, it's best to pick a detector that features a manual ground balance mode when hunting for gold. Although you may not need to make many adjustments, it's nice to have the ability.
The composition of the soil can affect the number of false signals given by a metal detector. The greater the mineralization, the more difficult it is to get a true positive signal. Unfortunately, gold is almost always found in areas with some degree of mineralization.
While all metal detectors are designed to find the yellow ore we all love so much, some work better in mineralized areas than others.
PI detectors are able to handle poor search conditions better than other machines. Therefore, unless you want a lot of false reads, you're better off staying away from the Gold Bug 2 if hunting in a highly mineralized area.
Mineralization is also important when it comes to ground balance. Like we discussed above, most gold detectors come equipped with automatic adjustment, but not all feature a manual option as well.
If you are serious about looking for gold, then you should invest in a detector with both of these ground balancing options. Don't worry; it's less complicated than it sounds.
You have to think about all of the trash that may be common where you will be searching, which could cause false signals. Since you're here to learn about the best metal detectors for gold, let's just assume that you don't want to find other things.
While PI detectors are great at ignoring trace metals in areas of high mineralization, they tend to either have terrible discrimination or none at all to separate gold nuggets from everything else.
VLF detectors, on the other hand, benefit from electronic discrimination. So, if you are hunting in an area with a lot of trash, such as a park, a VLF detector would be a wise choice.
Target identification is an excellent feature to look for when shopping for the best metal detector for gold. Using a numerical scale from 0-99, commonly referred to as the VDI scale, it displays a number correlating to the type of metal the machine is detecting.
Iron results in low numbers, while silver, copper, and nickel targets like coins produce high numbers. Gold produces a mid-range reading on digital target ID's.
It could be loaded with bells and whistles, but a metal detector is only as good as its search coil. Without a great search coil, it would be impossible for a detector to pick up anything at all, much less be able to discriminate the good ones from the bad.
Smaller five-inch search coils are more sensitive to smaller targets. They're also better at distinguishing between materials in areas with a lot of trash.
Not surprisingly, large coils are less sensitive and have a harder time with smaller items. They also don't work as well in highly mineralized areas. However, large coils are able to determine the location of objects that are buried deeper, and they can cover more area in less time as well.
It's also important to think about the type of coil you'll be using. There are basically two types of search coils: concentric and wide scan.
Concentric search coils are excellent for discriminating and often found being used in parks, fields, and other areas with heavy trash potential. A wide scan coil will not be as good at discriminating, but they tend to work better in soil with high levels of mineralization.
A well-made, proven detector is a must when prospecting for gold, but it also requires some extra tools and accessories you wouldn't necessarily need with regular metal detecting.
In addition to standard items like headphones, gloves, coil covers, and a good pinpointer, you'll also need a pick to get through rocky ground, vials for storing the gold you find, and a compact shovel.
Frequently Asked Questions
How Do Metal Detectors Work?
If you're new to metal detecting, then just the sheer science behind it might be enough to leave you bewildered and frozen in your tracks. Don't let it. It's really quite simple.
All metal detectors contain a wire coil wrapped around a circular head known as a search coil. A magnetic field is created around the coil whenever electricity flows through it.
When you sweep the detector over metal, another magnetic field is created around the metal. A metal detector works by picking up on this second magnetic field and transmitting it via audio and/or visually via the target ID.
It can be explained in a much more convoluted way, but that's pretty much the nuts and bolts of it.
How Deep Can Gold Be Detected?
The answer to this question depends on the metal detector being used to find it. It also depends on the size of the nugget and the environment it's in.
Generally speaking, you can detect a gold nugget the size of a grain of sand up to four inches deep with a quality detector. The larger the size of the nugget, the deeper it can be detected. With a PI detector, bigger gold nuggets can be detected a foot or more down.
Is Ground Balance Important?
If you're hunting for gold, then yes, you need ground balance. Since gold is usually found in areas with high mineralization, this is needed to filter out iron and other metals. Without it, you'll spend less time detecting and more time digging in the ground only to find junk.
Will a metal detector for gold discriminate against junk metals?
Many novice detectorists soon find out that there's a lot more scrap iron and aluminum in the ground than there is gold, silver, and other precious metals. Fortunately, the best metal detectors for gold feature technology enabling them to discriminate against aluminum cans, bottle caps, and other junk metals!
Ready to get in on the action? We don't blame you. Treasure hunting is an exciting and addictive hobby. The good news is you don't need to spend a huge amount of money on equipment to find gold nuggets. You just need a great metal detector.
Every metal detector on the market will detect gold, but a specialized machine will find more of it and at greater depth. Each detector that we have reviewed here will also be able to handle the difficult terrain where gold is usually located.