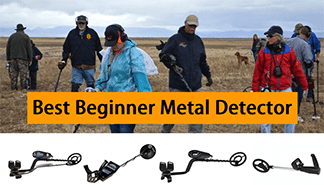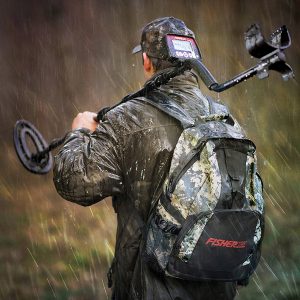 If you are a beginner at metal detecting, it's important to learn the basics first.
Metal detectors can find coins, jewelry, and other items of value buried at beaches, parks, and other places. To detect the treasure you hope to find, you want to find the best metal detector for beginners.
Metal detecting is not only a hobby, but it's also easy to get hooked on the experience of hunting for treasure and many people take it very seriously or even become full-time treasure hunters. You will need patience, research, and good equipment that is easy to use.
Best Premium Metal Detector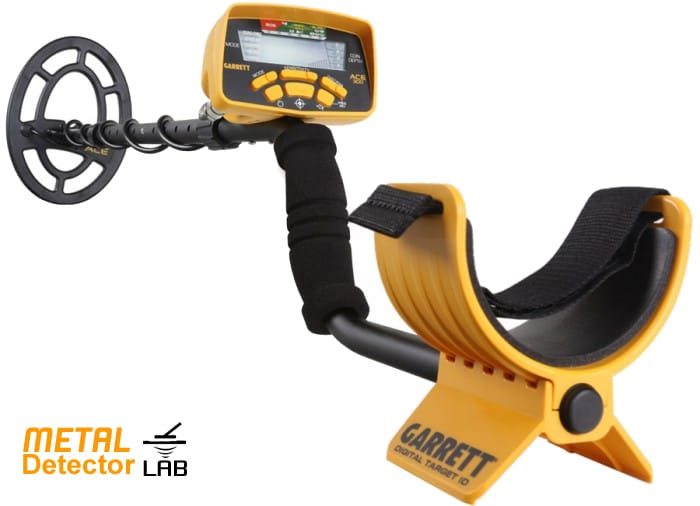 Garrett ACE 300
Technology:
Single Frequency (Adjustable)
Ground Balance:
Automatic
Coil:
8.5″ x 11″ DD PROformance
Display:
LCD
Search Modes:
5 (Plus Pinpoint)
Weight:
2.8 lbs
Depth Indicator:
Yes
Audio Tones:
3 Pulse-Width Modulated Tones
Best Value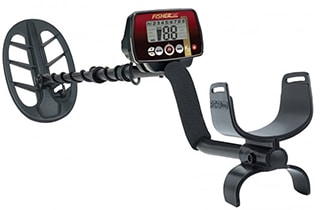 Fisher F22
Technology:
VLF Single Frequency
Ground Balance:
Fixed
Coil:
9″ Triangulated Concentric
Display:
LCD
Search Modes:
4
Weight:
2.3 lbs
Depth Indicator:
Yes
Audio Tones:
Multi-tone
Budget Choice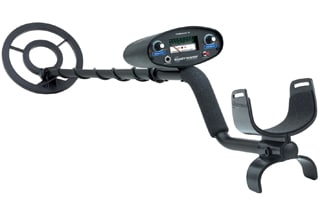 Bounty Hunter TK4
Technology:
VLF Single Frequency
Ground Balance:
Fixed
Coil:
8″ Concentric
Display:
LCD
Search Modes:
All Metal / Discrimination
Weight:
4.2 lbs
Depth Indicator:
No
Audio Tones:
2
Top 8 Metal Detectors for Beginners
There are so many metal detectors available that it can be hard to choose the right one, so we created this buyer's guide for the best metal detectors for beginners. Below we have a list of the best beginner metal detectors to help you choose the best one for your treasure hunting.
We have tried to include the most information possible in each metal detector review below. Each metal detector was chosen for this guide because it offers unique advantages to novices just starting to experience the thrill of metal detecting.
1. Garrett Ace 300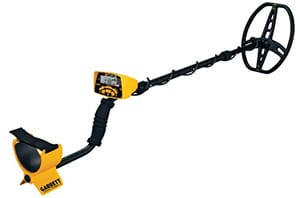 Garrett makes the sensational Ace 300 metal detector, which has exceptional features for a beginner. The Garrett Ace 300 is a powerful, solidly built, lightweight, easy to learn metal detector that is among the best entry-level models available.
The detector is the combination of quality, accuracy, and simplicity that makes the Garrett Ace 300 the best metal detector for a beginner.
The most notable feature of this detector is the interface, which is sophisticated enough to engage the more serious hobbyist yet simple to learn.
This unit is designed for finding jewelry, coins, silver, and gold. The Garrett Ace 300 is the next level up from the Ace 200 with digital target ID to correctly identify the class of target found, and 5 search modes to pinpoint the exact location of the signal.
Pros
Enhanced Resolution
Adjustable Notch Discrimination
Better search coil for great performance
User-friendly and economical
Electronic pinpointing
8 adjustments to control the depth without giving false readings
Depth indicator to give you an idea of how far to dig to find your treasure.
Cons
No adjustable ground balance
No iron audio
Not for wet conditions
Lacks some features of the AT 400
The primary limitation of the Garrett is that it uses a single frequency, and is not as suitable as the Garrett AT Pro for metal detecting in wet conditions. With the ground balance set permanently, it will work poorly over very moist areas, wet sand, or in water. Garrett AT detectors are the next major step up in capability and perform well over wet sand and soil.
If this isn't an issue for you, this metal detector is great on dry sand and for use in normal conditions.
The coil is waterproof so it can be submerged and used for detecting metal in shallow water, just not through wet soil. It is essentially the sudden change in the density of the medium the detector is scanning that makes this more difficult.
This is an exceptional machine with a weight of only 2.8 lbs, which makes it quite light and easy to maneuver.
The Ace 300 is an amazing metal detector that upholds the reputation of Garrett in providing some of the best metal detectors for both beginners and professionals.
2. Fisher F22 Metal Detector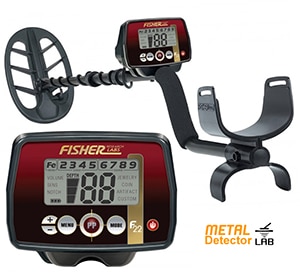 The Fisher F22 was almost the best metal detector on this list. Fisher makes the best "turn on and go" detector suited for entry-level users and is recommended for kids who should not be bogged down trying to understand technical settings.
It is a strong and reasonably well-rounded machine for gold, coin, jewelry, and relic hunting.
There are 10 different sensitivity levels available to control this metal detector.
I love this unit because of its lightweight, simple design, and energy efficiency. It can be powered with only 2 AA batteries. The high-quality VDI readout helps you easily determine what you have found.
The pinpointer works well on this metal detector, however, it only works when the pointer button is held down. Though not a big complaint, you will notice these details when compared to more full-featured (and more expensive) products on this list.
The Fisher F22's smaller and more slender submersible coil is great for isolating targets close to trash and is fine for use in shallow water. Do bear in mind that, although this product is weatherproof, the control box is not submersible.
Fisher uses different tones to signal what type of target you may have found and provides more information with Target Category ID Numbers that you can read with a quick look at the LCD screen. The Fisher F22 iron audio feature permits you to exaggerate signals so you will be able to save your time by not digging up unwanted targets.
Pros
Best Weather Resistance
Pinpoint feature
Adjustable sensitivity levels
Detects gold 9+ inches deep
Fast Recovery speed
Cons
No Backlight
No manual ground balance
Fisher has upgraded the electronic equipment which allows for quicker processing and recovery speed. It also lets you customize your settings and save the configuration, so you don't need to worry about losing your settings when you turn off the metal detector.
Overall the Fisher F22 is a great metal detector and offers the best value for the money. Whether you're an amateur or need a backup detector, the Fisher F22 would be superb.
3. Teknetics EuroTek PRO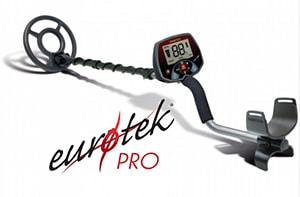 The Teknetics Eurotek Pro is a very full-featured metal detecting device with superior iron separation to easily tell the difference between ferrous and non-ferrous targets close to each other. With an adjustable iron audio feature, combined with the displayed target ID, it is easier for the user to not get distracted with targets which are unlikely to be valuable.
The machine has an 8″ concentric waterproof search coil to detect objects 9.5″ deep when set to the highest sensitivity setting. The Teknetics Eurotek Pro has ten sensitivity levels as well as variable discrimination so you will know if an object is likely to be valuable.
Once you have started digging, it features a pinpointer to accurately locate the position of the object detected.
The Eurotek Pro runs on a 9-volt battery which will give you 20 to 25 hours of detecting before you have to change the battery.
The Eurotek Pro has a 5-step depth indicator ranging from 2.5 inches to the maximum detectable. We also found it to be fairly accurate even when approaching that maximum.
Pros
Iron Indicator
Waterproof Coil
Alert specific to iron
Fast recovery speed
Well balanced
FeTone Variable discrimination
Great Target Separation
The display is uncluttered and very easy to interpret
Cons
25% heavier than other top detectors in this list
It doesn't estimate depths very accurately
No digital target ID
Preset ground balance
As always, remember the right detector to buy for a novice will match their skill, budget, location, and type of use.
4. Bounty Hunter Land Ranger Pro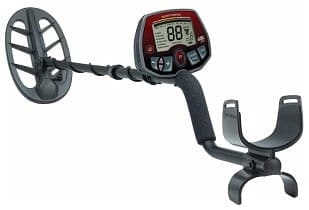 The Bounty Hunter Land Ranger Pro has an 11″ DD waterproof coil, adjustable sensitivity, discrimination, and variable tone breakpoint as well as a 1 button ground balance and 7 searching modes.
The Land Ranger Pro also has a large backlit display and fully programmable touchpad controls. While still great for beginners, it provides a lot more control and features than some options above.
There are 43 Target ID icons, 3 for iron alone, and 100 numerical target ID's. For those of us who would rather have more information before we start digging, this can be great!
There is also a 5 level depth indicator as well as a pinpoint setting to display an estimate in inches.
These features make it suitable for a range of users who are still becoming acquainted with metal detecting, and it is one of the best metal detectors for the money.
The Bounty Hunter Land Ranger Pro metal detector comes with a 5-year warranty.
6. Bounty Hunter Gold Digger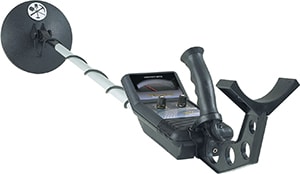 This is a simple old-style bare-bones metal detector like we had in the 1980s, with 2 knobs and an analog needle on the meter.
The bottom line is, it just works. It's simple, inexpensive, and effective. You won't get lost in the controls, or have something set wrong and walk right over a gold nugget.
If can detect coins 6 inches deep and bigger targets as much as 24 inches deep.
For this simplicity, you will have to sacrifice a lot of features that do help in the identification of what you might have found. You will detect them with this, just like you would a high-end metal detector, but you will have no indication of whether you have found gold, silver, a quarter, or an old beer can.
If those limitations don't bother you, this is an easy and straightforward metal detector. In addition, it's made in the USA.
7. Bounty Hunter Junior (TID)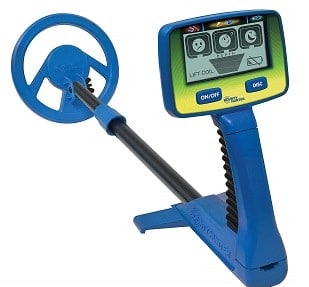 As the name suggests, this is one of the best lightweight metal detectors for kids beginning to have an interest in detecting.
It is super light (1.5 lbs) so it can be used for a considerable amount of time and its pole is adjustable (from 20.5 to 31.5 inches) for comfort.
Having only a single tone the volume gets louder as the user gets closer and the signal gets stronger. Headphones should be used to pick up subtle differences.
The Bounty Hunter Junior (TID) has good entry level sensitivity and discrimination, though it is locked in an All-Metal mode which identifies all types of metal inside the detectable range with no way to discriminate between them.
The model is well worth the cost and is among the best starter detectors for kids.
8. Tesoro Compadre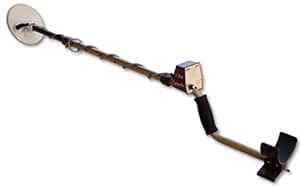 The Tesoro Compadre metal detector is one of the toughest models available. This device is perfect if you are buying for kids that will want a quality metal detector.
Although the focus is on simplicity, the Tesoro Compadre is not only for kids. Anyone that values simplicity will be comfortable with this unit.
There are not many metal detectors for beginners that offer greater simplicity with a superior recovery speed for accurate results without missing anything.
The Compadre has lifetime warranty proving its tank-like build, making it good for gold prospecting and treasure hunting.
Pros
8 inch or 5.75 inch coil
Its 2 lbs weight allows you to spend hours searching
Superior build quality
Cons
Lack of a screen
Not for wet conditions or underwater use
The most impressive feature of this device lies in its simplicity, while it does not sacrifice power or detection ability. The Tesoro Compadre is among the easiest metal detectors to use. Anyone who is overwhelmed by the number of features and fancy user interfaces in more expensive models will be likely to find this to be the best option.
Although simple to use, and a great first metal detector to use to start treasure hunting, the internal circuitry is sophisticated, efficient, and powerful.
The Tesoro Compadre uses a 12 kHz operating frequency which makes it great for the detection of coins, jewelry, small metals, and relics. Tesoro has a reputation for providing excellent detectors with high-quality hardware.
Cheap Metal Detectors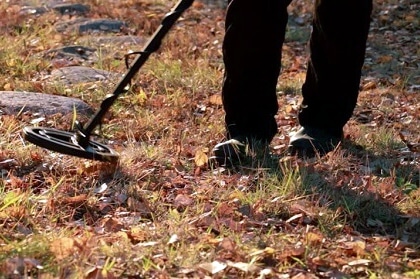 Buying a budget metal detector does not mean you have to settle for a lesser product, but it is important to be well informed about basic features.
There are many cheap metal detectors that manage to provide all of the most important features that you need while remaining very affordable.
Our top picks on this list are the best cheap metal detectors available, because they come with advanced technology that is not usually available on entry-level detectors.
1. Minelab X-TERRA 305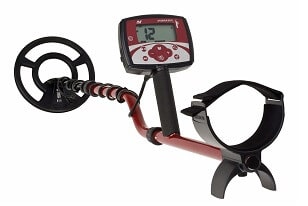 Minelab X-TERRA 305 offers a lot for its price point. It really is tied with the Garrett, above, so do not be detered by its #3 position on this list.
The Minelab brand is well known for producing quality equipment, mainly at the higher end of the market. In the case of the X-TERRA 305, they did a good job of cutting expence while keeping some great features. Some of those features include a manual ground balance adjustment, noise cancelation, and wide threshold adjustment.
PROS:
The technology being used in this detector is excellent for finding gold.
Uses VFLEX Technology
2 Preset Patterns
20 Setting Manual Ground Balance
Pinpoint Mode with Continuous Depth Indicator
30 Level Threshold Adjustment
Noise Cancelation
Compatible with 6 Medium to High Frequency Coils
Lightwieght at 2.86 Pounds (with batteries)
CONS:
It's not expensive for what you get, but costs more than many other metal detectors.
Only 12 Target ID's
2. Garrett ACE 200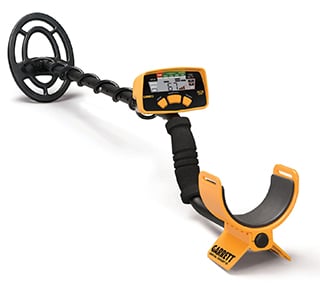 The Garrett ACE 200 is very similar to the 300 but trades some adjustability for a much lower price. This makes it a great entry-level option. For those looking to buy their first metal detector, the Garrett ACE 200 offers just what you need to get going while still maintaining some of the adjustable features you desire.
The ACE 200 offers three different search modes with fixed notch discrimination. Like it's big brother, it has a two-digit digital target ID scale ranging from 1-99 and three different audio tone ID levels. It weighs 2.75 lbs, making it slightly lighter than the 300.
This metal detector runs on a fixed frequency of 6.5 kHz. It uses a slightly smaller coil (6.5″x9″) than the ACE 300 but the length is the same.
Pole length is adjustable between 40″ and 53″ so you can find a comfortable fit. This unit is ready to go right out of the box. It runs on four AA batteries, which are included, and there is virtually no set up required.
PROS:
100 Unique Target ID's
Three Search Modes
Easy Disassembly for Travel
Lightwieght at 2.75 Pounds
CONS:
Compared to our top choices, it feels like we are sacrificing too much for a lower price.
3. Bounty Hunter Tracker IV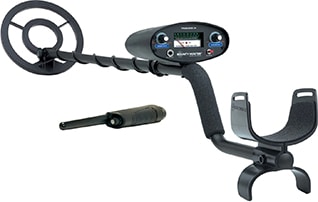 The Bounty Hunter Tracker IV (read full review here) has the distinction of having the lowest price, but don't let that fool you. This is the number one selling hobby metal detector, and the brand has been able to claim that distinction for a good number of years.
It is a quality detector at a fantastic price point. The Bounty Hunter Tracker IV discrimination control feature allows you to ignore junk while you are metal detecting as well as an automatic ground balance to eliminate the frustration mineralized soil can cause for detectorists. The sensitivity is adjustable and there are three search modes with two audio tones. There is a built-in speaker and a headphone jack to use for the audio cues. It is heavier than the previous units discussed, weighing 4.2 pounds, giving it a sturdy feel.
Overall the performance of this Bounty Hunter unit is surprisingly great for the low cost, detecting coin-sized targets at 8″ inches and large items at two feet.
It runs on a fixed frequency of 6.6kHz and is powered by two 9V batteries. The 8″ coil is waterproof and it comes with a 5-year limited warranty that covers defects. You will find the interface easy to use, making it among the best metal detectors for kids, and the knob controls allow you to dial in just the right settings for your needs.
PROS:
CONS:
Stripped down functionality to get to the low price point.
HEAVY! Almost 2 pounds heavier than our top choice.
4. Teknetics Delta 4000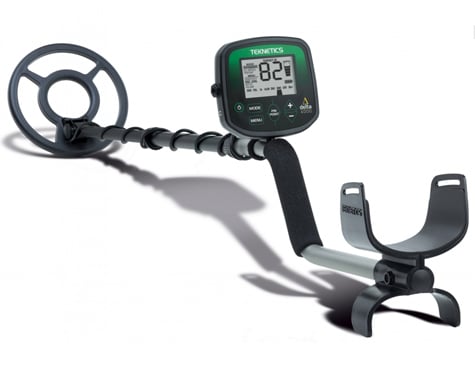 The Teknetics Delta 4000 has incredible performance and flexibility for being so competitively priced. The first thing you will notice with this unit is the large, easy-to-read display. The display indicates the two-digit target ID system as well as battery life. This makes operation incredibly user-friendly and intuitive.
It is lightweight at 2.6 pounds and has an adjustable pole length. The Delta 4000 uses an 8″ waterproof coil, so it is effective in many different environments and operates on a single 9V battery. You can expect to get 25 hours of use from each battery. Discrimination is adjustable and it operates on a fixed frequency of 7.8kHz.
This is a comfortable unit that has a long battery life and is easy to use. This gives you the ability to hunt for longer periods of time. It is perfect for those just starting out or upgrading from an entry-level metal detector. It has a 5-year limited warranty that protects against defects.
PROS:
Live Depth Graph
Separate alert for oversized targets
Pinpoint Mode
Target category icons for ease of use
CONS:
Preset Ground Balance (not adjustable)
Less detail and ganularity in controls
What Features Are Important
As you are looking for budget detectors that fit your price range, it is important to understand a few simple concepts so you can get the most for your investment. The most important of these are discrimination, notch, and ground balance.
Discrimination allows metal detectors to accurately identify objects by their conductive or ferrous properties. This will allow you to distinguish between objects which are worth digging up from more commonplace materials. By using a visual or audio indicator, a metal detectors with proper discrimination will ignore junk material and alert you to things worth finding.
A notch filter is a more in-depth discrimination type that allows you to focus on a narrow subset of metals. If you are searching for specific targets (like metal detecting for coins), this will allow you to zero in on your intended targets.
Sometimes the makeup of the soil itself will make it hard for metal detectors to find the desired objects. Ground mineralization can react like a false positive and cause an issue when attempting to use the detector. In this case, we need ground balancing. Ground balance is the ability of the detector to ignore soil mineralization by things like iron or salt particles in the earth, but still detect the gold, silver, coins, and other treasures you want to find. This will allow you to get higher quality hits at much greater depths.
The extent that a machine can do these three things effectively will greatly increase its ability to find desirable objects.
Tips for Buying a Metal Detector
If you want to get the most out of your metal detector and ensure you won't be disappointed in the experience, it's important to consider these tips before metal detecting for the first time.
Where To Use Your Metal Detector
It seems obvious, but consider where you are more likely to find objects of value with your new metal detector.
Good places to start are busy beach areas, beside well-traveled paths, under and around elevated walkways, and desolate beach areas after heavy storms.
Treasure or Trash
Even as a beginner, it can be worth buying a more expensive metal detector with good target identification features. Spending just a little extra money at the beginning can save hours of digging up bottle caps and tin cans.
This is why the Garrett metal detector is #1 on our list of beginner metal detectors, above. Garrett makes good detectors that can tell the difference between gold and tin, and they can help you find what you want.
Dig Up Everything
Until you learn enough about how to read your machine to feel certain than a beep is a bottle cap instead of gold, it's best to dig up everything you detect.
This is safe for not missing anything, but this practice also helps you learn to read how your machine reacts to each item. Low-cost detectors can also have a great deal of difficulty discriminating between pull tabs and gold. It's an unfortunate reality that few reasonably priced detectors can overcome and is the main reason that an advanced or experienced detectorist will want to use machines with multiple frequencies.
Avoid High Trash Zones
While it is true that high traffic areas like busy sections of a beach can result in getting a lot of hits, 95% of these hits will be junk. So many new users jump into hunting in these areas and then become discouraged after getting one bad reading after another.
Remember, you want to look where high-value items or relics may have been lost. Focus on that and you will find real success much more quickly.
Fill in After Digging
Always fill in your holes! Even at the beach, where the water washes away everything, always fill in any holes you dig. Even at the beach, an un-filled hole could cause someone to break an ankle.
You want to dig up treasures, not leave new hazards.
Come After Storms
Searching beaches after a storm is popular with professional detectorists because the wet ground is more conductive, resulting in a higher chance of finding what you are looking for.
Along the coast, storms can take off layers of beach sand or throw long-lost objects from far offshore onto the beach. In either case, this is one of our favorite times to metal detect.
Conclusion
There are dozens, if not hundreds, of metal detectors made for beginners. Too many of these products are also targeted toward the uneducated.
Most metal detectors look about the same in shape and size, but the ability of each detector depends on its coil size, technology, features, and the control box that helps treasure hunters identify a target before taking time to dig. Knowing if you are likely to find gold, silver, or an old tin can to help save time during your prospecting.
With a basic knowledge of the correct terminology, metal detecting can be a fun and rewarding new hobby.
Our picks were chosen based on overall quality while still having a low enough price to stay within budget for a beginner. While there may be cheaper models on the market, many will have you digging up junk. By buying the right metal detector when you are starting out, you will increase your time digging up treasure and boost your enjoyment of this great hobby. With a good metal detector in your hands, the world becomes a virtual treasure chest awaiting discovery. We hope you find something amazing!
Resources