Minelab Equinox 600 Metal Detector Review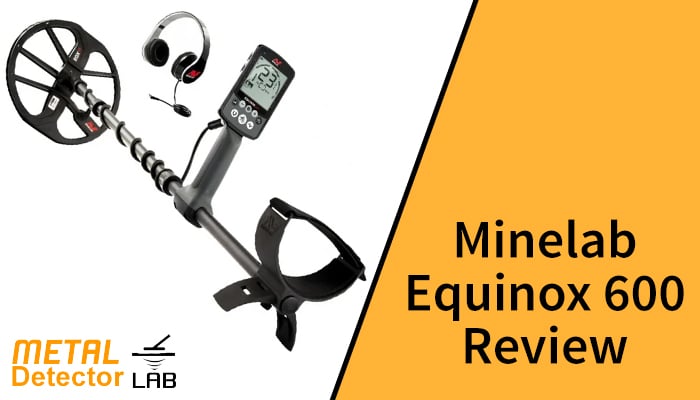 The Equinox 600 is a metal detector with a wide appeal to metal detectorists of all experience levels. Although it lacks the advanced settings of the Equinox 800, you won't miss anything unless you're fine-uning extensively. Additionally, the 600's preset modes are exceptional, so you might not be changing the settings all that much anyway.
The selection of preset modes make this a great machine for ambitious beginners to start learning the ropes. They'll discover that the Equinox 600's settings can be customized according to the terrain they will be hunting on and how to properly work with the settings.
Multi-IQ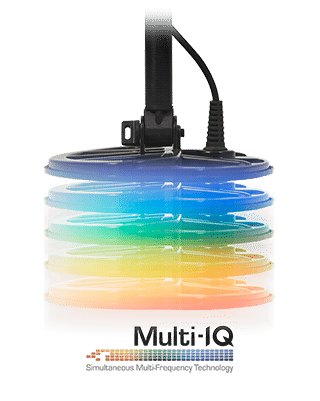 This feature is the main reason to consider buying the Minelab Equinox 600.
It is a novel technique for concurrent multi-frequency metal detection. That is, instead of manually switching between frequencies to detect something, two or more frequencies are simultaneously received, transmitted, and processed. With this function, you can be sure of getting more accurate target ID's at depth.
The Equinox 600 works on four different frequencies, single frequencies of 5 kHz, 10 kHz, and 15 kHz as well as multi-frequency mode. It's worth noting that the frequencies of 20 kHz and 40 kHz can't be used inpidually; however, in multi-IQ mode, the choice becomes viable.
Search Modes
Each of the search modes corresponds to a unique search profile for that preset mode. Park, Field, and Beach are the three search modes. You can build two custom profiles for each preset detect mode. This may be necessary due to the fact that searching conditions are rarely the same and you'll need to adjust the settings to find the best configuration for your search in a particular location.
When you edit a profile, the detector saves and remembers the changes. When turned on, the metal detector will revert to the last profile you used. Additionally, you can quickly switch between search profiles and preset modes with a single button.
The search modes are identical with the Equinox 800 except that the Equinox 600 lacks a mode for detecting gold.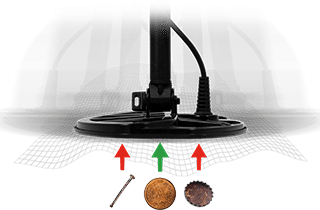 Recovery speed with the Equinox 600 is excellent so it is very good at not missing desirable targets in high-trash areas.
When combined with the 50 segment Target ID system, it's fairly easy to know what you are detecting.
Wireless Audio
Although the wired headphones are convenient, the Equinox 600 is just compatible with wireless headphones but does not include them.
The 600 has a Bluetooth wireless module that works with the Minelab's ML 80 headphones, but it can also be used with any aftermarket Bluetooth headphones. When you pair the ML 80 with the Minelab WM 80, you get low-latency advantages, which means little or no lag.
Available Coils

The Equinox 600 includes a 11″ Double-D Smart search coil with skid plate. The following additional coils are also available for the Equinox 600:
The EQX 06 search coil is a 6" round Double-D coil for smaller targets and high trash areas.
The EQX 11 search coil is a 11" round Double-D search coil for general detecting by providing a good balance between weight, sensitivity, and coverage.
The EQX 15 is a 15" by 12" elliptical Double-D search coil for maximum detection depth.
Each of the above search coils includes a protective skid plate.
Improved Iron Bias
The Iron Bias function has been improved, and new settings for Iron Bias have been added. The original Equinox's Iron Bias or 'FE' settings are available, but users can now adapt to the new Iron Bias or 'F2' settings, which will boost their ability to ignore a wide range of challenging iron targets, such as bottle caps.
Technical Specifications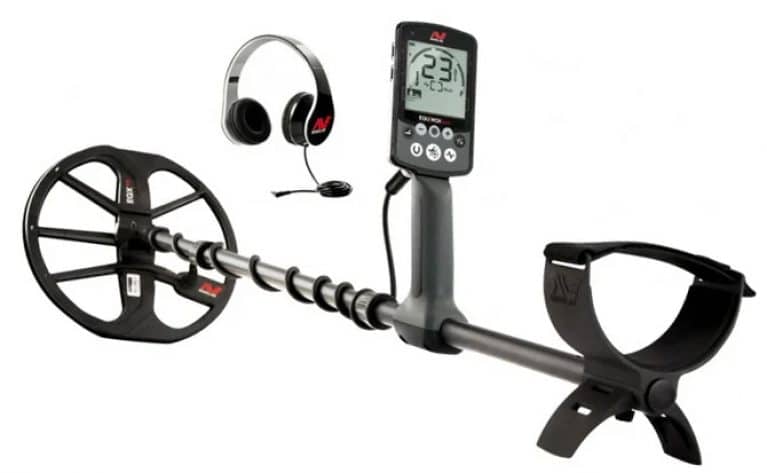 Metal Detection Modes: Park, Field, Beach
Custom Profiles: 6 (2 per detection mode)
Operating Frequency: Multi, 5, 10, and 15 kHz
Noise Cancelation: Automatic
Ground Balance: Automatic and Manual
Sensitivity: Adjustable from 1 to 25
Volume: Adjustable from 0 to 25
Threshold: Adjustable from 0 to 25
Threshold Pitch: Fixed
Target Identification: 50 segment notch discrimination
Audio Tones: 1, 2, 5, 50
Tone Break: Ferrous Only
Tone Pitch: Ferrous Only
Tone Volume: Ferrous Only
Depth Indicator: 5 Levels Indicated
Length: 56.7"
Weight: 2.96 lbs
Included Coil: 11-inch Double-D Smart coil with skidplate
Included Headphones: Wired non-waterproof headphones
Display: Monochrome LCD display with backlight
LCD Backlight Settings: On, Off
Battery: Built-in rechargeable Lithium-ion battery
Battery Life - Approximately 12 hours
Waterproof Depth: 10 feet or 9 meters
Software: Upgradable via USB connection to computer
Warranty: 3 years
Equinox 800 VS Equinox 600?
The main differences are in the advanced fine-tuning settings, where the Equinox 800 has an advantage in. In addition, the Minelab Equinox 800 has a Gold Detect Mode, which the Equinox 600 does not. The Equinox 800 can use the 20 kHz and 40 kHz separately or simultaneously using Multi-IQ mode, while the Equinox 600 only uses them in Multi-IQ mode.
The Equinox 800 comes with wireless WM 08 headphones, while the Equinox 600 only includes wired headphones. It's worth noting that the Equinox 600 will work with Minelab's WM 08 wireless headphones, but they will just have to be purchased separately.
The Equinox 600 provides excellent performance for the majority of hobbyists. Serious gold prospectors that need every advantage they can get when it comes to finding gold nuggets will benefit from using the Equinox 800 (full review).
Conclusion
The Minelab Equinox 600 is a very versatile and high-performance metal detector for even the most extreme conditions encountered by certain hobbyists. With all of the advanced settings available, it's doubtful that the average metal detectorist will need them all. Minelab has pre-programmed optimal settings for the most common situations you are likely to encounter, but they've also made it easy to customize them.
If you don't need the added features of the Equinox 800, the Minelab Equinox 600 has a lot going for it and offers great value for money.