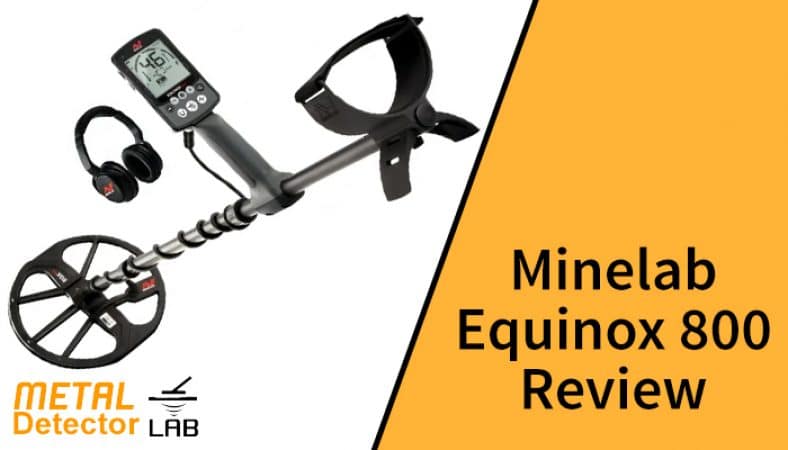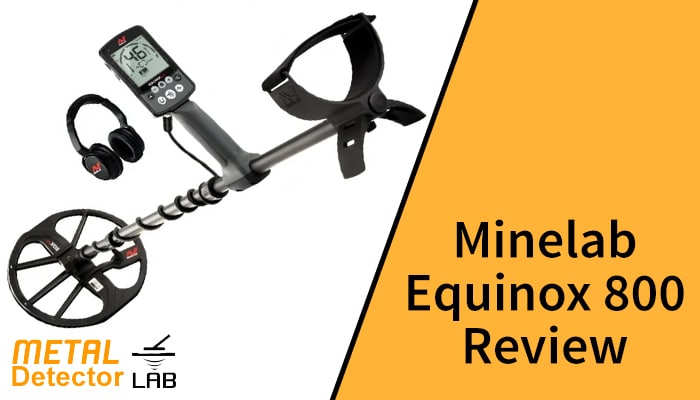 The Minelab Equinox 800 made its debut in 2017 and quickly became a hit in the metal detection world. It's truly unique in that it's lightweight, has a plethora of high-quality features, and is still available at a relatively low price.
The Equinox 800 is a highly adaptable metal detector that is able to deliver highly accurate and reliable performance in any conditions or terrain.  This metal detector is most popular with detectorists looking for coins, relic hunting, or searching on beaches.  In fact, we rate it as the
top metal detector for coins
.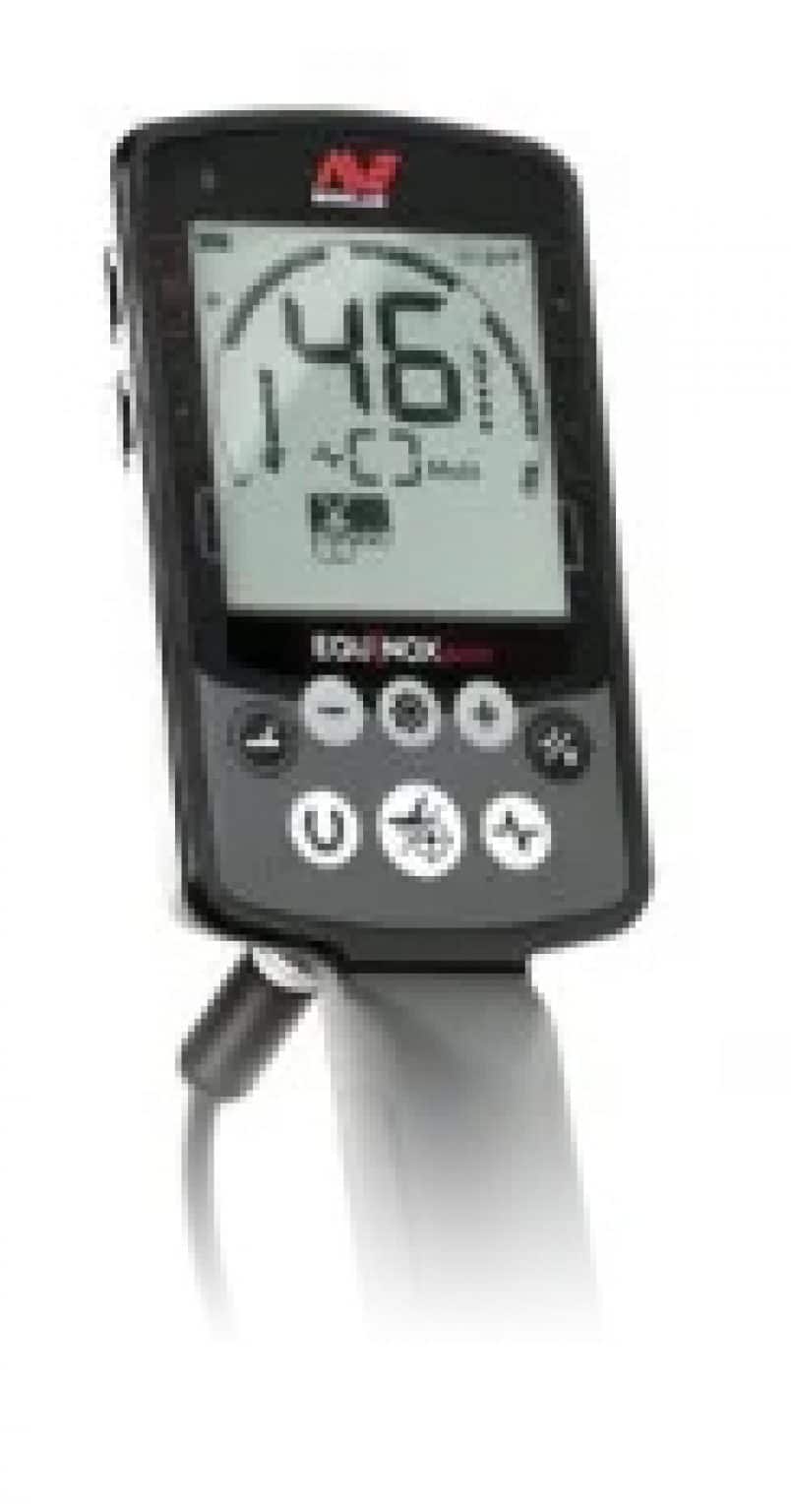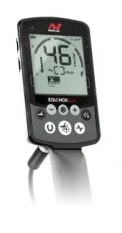 A simple LCD display with big VDI digits is visually appealing and easy, as it allows you to easily see if a target is worth digging. By selecting the continuous or dynamic detection buttons, the operating frequency and search mode can be modified on the fly.
Multi-IQ, or multi-frequency technology, is one of the features that distinguishes the Equinox 800 as a superior detector. It is available in frequencies of 5, 10, 15, 20, and 40 kHz. While it is suggested that you should use all the frequencies simultaneously, you can also use a single frequency in certain circumstances, such as in areas with lots of iron or salt water contamination or when you want to focus on a specific target. For instance, locating extremely fine gold jewelry in dry sand may necessitate the use of 20 kHz or 40 kHz.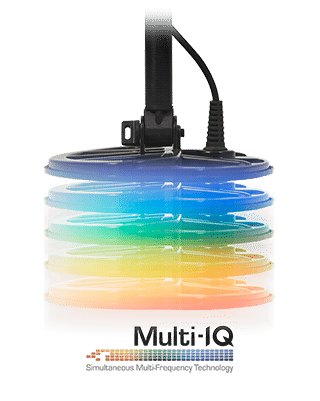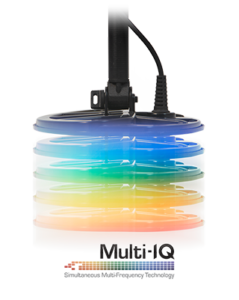 Different detection modes will automatically select the best collection of frequencies for that type of metal detecting.  For example, Park and Field uses all of the frequencies while Gold mode employs frequencies of 5, 20, and 40 kHz. Within each detection mode, you can personalize up to two profiles.
This metal detector uses an 11-inch Double-D Smart coil with a waterproof skid-plate, providing a good balance between sensitivity, ground coverage, power consumption, and weight.
Discrimination & Target ID's
On the LED board, targets are shown as a large number with a discrimination scale surrounding the target ID number.
The target values for iron goals range from -9 to 0. Other targets are represented by numbers ranging from 1 to 40. (For example, silver dimes have a value of 26 or 27, while zinc pennies have a value of 21.)
There are 50 different goal IDs to choose from and the discrimination scale has 50 segments as well. On the discrimination scale, each section corresponds to one of the target IDs.
Individual Target ID segments can be disabled by rejecting a signal upon detection or via the settings menu. By deactivating a segment, the user effectively prevents the detection of specific targets.
You can easily build custom discrimination patterns if you keep track of the ID numbers given for the good targets you find.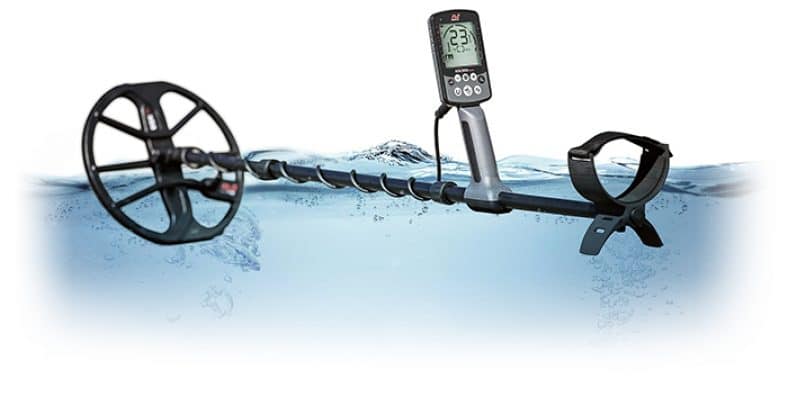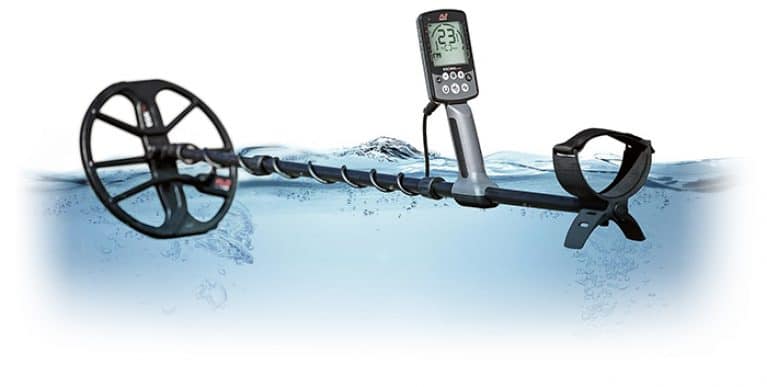 The Minelab Equinox 800 is completely waterproof up to ten feet of depth (3 meters). This metal detector can be used in both saltwater and freshwater and is suitable for taking to the beach.
The Equinox 800 works fine over wet sand, dry sand, or submerged while scanning the coastline. I would still hose it off with a garden hose when done metal detecting, just to keep my equipment clean.
A built-in rechargable lithium-ion battery in the handle helps to maintain the wieght distribution of this lightwieght unit, while providing a 12 hour runtime.
The Minelab Equinox 800 weighs less than 3 pounds and is extremely portable. As a result, you can hunt virtually anywhere with this metal detector. Additionally, its lightweight design makes it convenient to carry inside a backpack or bag, as it is not as heavy similar competing metal detectors of similar capability.
The Equinox is a great metal detector (3rd on our
list of the best metal detectors overall
) which can be used for a variety of metal detecting needs. If you're looking for artifacts, exploring a nearby park, or relaxing on the beach, this detector will suffice for the majority of your tasks. One of the most important factors is the price; if it were slightly less, this metal detector would be even more interesting.  However, this is Minelab and their technology is rarely inexpensive, though it does work well.
I wouldn't recommend it as a first detector, but at this price range most people are going to be upgrading from something lesser.  As a dependable mid-range or a
deep seeking metal detector
, it's hard to go wrong with the Minelab Equinox 800.