Garrett ACE 400 Metal Detector Review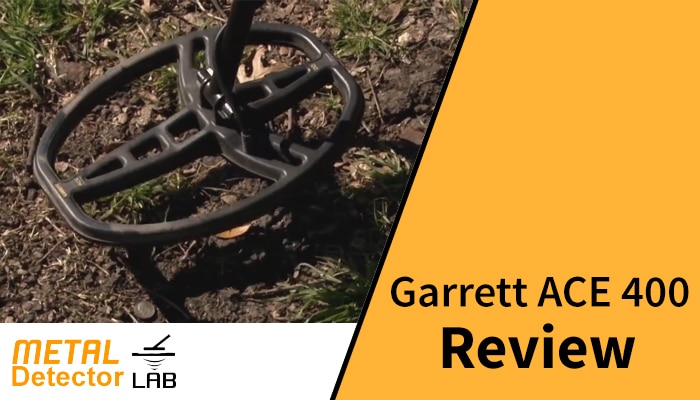 Garrett's ACE 400 metal detector is an intermediate-level model that is ideal for hobbyists. The Garrett ACE 400 is a VLF (Very Low Frequency) metal detector that's great for beach hunting, relic hunting, coin shooting, and treasure hunting in general. It's even #2 on our list of the best metal detectors for coins.
The Garrett ACE 400 has an LCD monitor that shows the type of metal that has been found. The Garrett ACE 400 is a metal detector that can be used in the water and is waterproof. A 9.5-inch DD coil and a 6-inch DD coil are included in the Garrett ACE 400. The Garrett ACE 400 is 2.2 pounds and has a one-year warranty.
Controls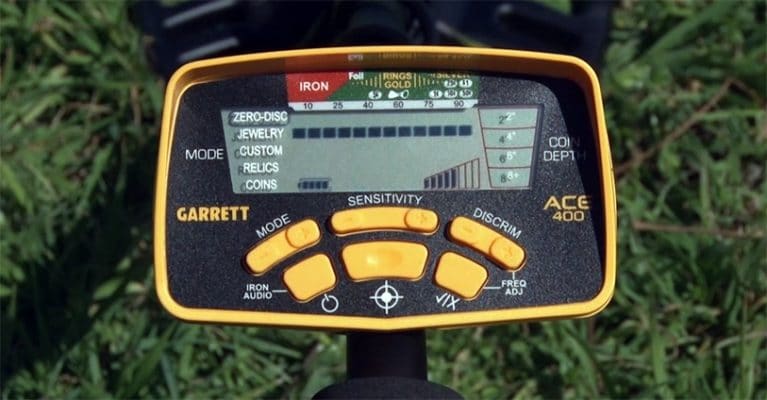 The control boxes on Garrett's ACE metal detectors are all quite similar in appearance. If you've used other Garrett ACE detectors, the controls on the ACE 400 will be familiar to you.
Everything is labeled, and the display is simple – but you'll have to squint in direct sunlight. The key buttons are plus and minus toggles for mode, prejudice, and sensitivity. There are also audio and frequency control buttons made of iron.
The Target ID takes up the majority of the control box and displays the conductivity metal you've discovered as well as the depth of your target.
Digital Target ID
The lack of digital target ID was one of the few items Garrett users complained about in the old ACE series.
The ACE 350 lacked this feature and instead relied on a segment identification mechanism.
It would basically inform you if it believed the target was made of a specific metal, such as iron, gold, copper, silver, and so on.
The only real disadvantage of the segment method is that its metal identification is too broad. The 0-99 scale is based on the same fundamental concept but offers a far more accurate assessment of your target.
Instead of informing you that there is a quarter in the ground, the ACE 400 will tell you whether the quarter is silver or clad, as well as whether a penny is copper or clad.
On a scale of 0-99, this is where detected coins would land, though these numbers will vary during real use based on ground conditions, depth, nearby targets, etc..
Discrimination and Iron Audio
The Iron Audio system is one of the ACE 400's standout features, at least when compared to other ACE versions. This is Garrett's signature technology that allows you to hear iron targets that have been discriminated, allowing you to change the signal range and detect treasure that has been masked by iron. It may also aid in the elimination of "ghost signals."
When iron audio is enabled, iron targets within notch-out pixels generate a multi-toned response. For instance, a nail produces many low tones, whereas a bottle cap produces a low-high-low answer. This enables you to distinguish iron targets that are usually muffled, allowing you to stop digging undesirable targets.
Iron audio may not always be useful; it all depends on the terrain. You'll probably want to turn it off if there's a lot of iron trash around to prevent getting bombarded with signals.
However, it's ideal for places with limited iron trash. If you're tired of being duped into digging garbage targets like bottle caps, iron audio gives you more detail about what you've discovered and helps you improve your find to junk digging ratio.
Apart from the iron audio function, Garrett has increased the number of iron discrimination segments by more than doubling the number in the ACE 250. With four segments, the detector is far better at distinguishing between junk iron and successful targets.
Adjustable Frequency
As an entry-level metal detector, the Garrett Ace 400 has a very decent all-around detection frequency of 10 kHz. This is significantly higher than the 6-7 kHz frequencies provided by the majority of the 400's rivals.
It's also customizable, which means you can shift the frequency slightly if you're getting noise from power lines or other sources. This is an extremely useful feature if you frequently hunt with others or when an unforeseen situation necessitates the use of this feature.
Waterproof DD Coil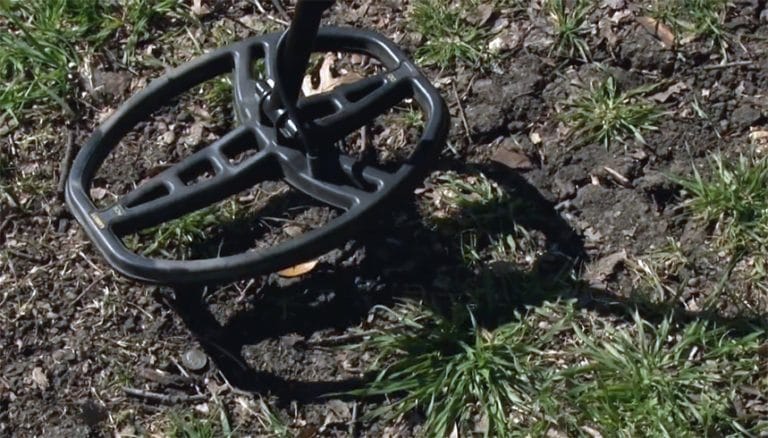 The PROformance Coil DD search coil on the ACE 400 measures about 8.5 inches wide by 11 inches long.
DD coils are far superior to conventional coils in terms of efficiency. It's more reliable and sensitive to small objects or metals with lower conductivity levels. This is because when you're looking, the unique shape produces a particular electromagnetic field pattern. Rather than the conical magnetic field pattern associated with conventional units, you get a broader, highly focused search field. As a result, it will go deeper into the ground.
Many more treasures can be found several inches under the water's surface. Remember that the device itself is not water resistant so you can't just submerge the whole thing in water.
Audio
The Garrett ACE 400 features a three-tone audio device that emits three distinct tones based on the conductivity of the metal detected. You'll hear the signature bell tone when you detect metal with a higher conductivity, whereas metals with a lower conductivity will emit either a low-pitched or a medium-pitched tone.
Apart from the three-tone audio feature, the ACE 400 also has pulse-width modulation audio, which is more sensitive, has sharper audio, and is simple to use.
Ground Balance
The older ACE series detectors had a ground balance with just one factory pre-set configuration before the ACE 400. In other words, users were unable to change the ground balance and were forced to rely on the single setting available.
This is in contrast to many higher-priced models, which change ground balance both automatically and manually.
Ground balance, on the other hand, is totally absent on the ACE 400. However, in most situations, this has no effect on the machine's efficiency. It will take some time to get the hang of it, but life will be a little simpler without it.
The most common situation where ground balancing is needed is when searching in mineral-rich environments such as wet beach sand, gold prospecting areas, or other locations with a significant amount of mineralization. In these regions, the ACE 400 is likely to fall short of expectations.
In reality, given the machine's price, ground balance adjustment is not a feature most people would expect. However, I believe it is important to mention this issue so you know about it before purchasing this metal detector.
Sensitivity
There are eight sensitivity levels to choose from. In my experience, each degree of sensitivity corresponds to roughly 1 inch of depth most of the time. It isn't a precise calculation. Even if my sensitivity is set to level 1, I can hear stuff 2 inches deep. And when my sensitivity is set to level 8 I can hear targets 10 inches deep, making it a deep seeking metal detectors.
If I'm near some kind of power line, I also adjust the sensitivity level. When I'm near a power wire or another underground or overhead cable, I lower my sensitivity, which usually eliminates the interference. If there is still interference, I will try changing to one of the Ace 400's four other preset frequencies. I'll also perform a simple factory reset by pressing and holding down the power button for 5 seconds or longer before it beeps. This can sometimes remove disturbances from power lines as well.
Garrett ACE 400 vs. Garrett ACE 300
Both metal detectors have five pre-programmed search modes, PROformance coils, three audio tone ID levels, and they are nearly identical in weight. They both have preset ground balance, making them perfect for stress-free metal detecting.
In comparison to the ACE 400, the Garrett ACE 300 has a lower adjustable frequency of about 8 kHz. The higher frequency of the ACE 400 makes it ideal for detecting smaller objects like gold nuggets, whereas the lower frequency of the ACE 300 allows it to penetrate deeper into the earth.
Additionally, the ACE 300 does not have the iron audio found on the ACE 400, making it less effective at filtering out iron garbage. Overall, it depends on the kind of metal detecting you want to do, but the ACE 400, even with all of the bells and whistles, outperforms the 300.
Garrett ACE 400 vs Garrett AT Pro

Garrett also manufactures detectors in the AT (all-terrain) series. The AT Pro is the top model in this range; how does it compare to the ACE 400 metal detector?
Let us begin by comparing their respective prices. The AT Pro is approximately $250 more expensive than the ACE 400, indicating that perhaps the two metal detectors are not in the same league.
The AT Pro operates at a 15 kHz frequency, which would be significantly higher than the ACE 400's detecting frequency. The AT Pro's coil has a faster recovery time that will assist you in locating targets that are in close proximity. On such targets, the 400 is likely to send you a single signal, fooling you into believing there is only one item in the soil. This method will result in the loss of a few finds, unless you're someone who sweeps over their plug after removing a find.
Additionally, the AT Pro is completely submersible, allowing it to be used for underwater metal detecting to a depth of ten feet. On the ACE 400, just the coil is waterproof.
Another distinction between the two detectors is the presence of manually and automatically adjustable ground balance on the AT Pro, which is absent on the 400. This feature distinguishes the AT Pro as an all-terrain device.
Other characteristics differentiate the two metal detectors as well, with the AT Pro emerging as the superior metal detector.
Summary
The Garrett Ace 400 includes the Iron audio setting, which is unique to this Garrett model; it is not included with all metal detectors. This helps you to differentiate between different metals, such as coins and garbage, if you're looking for coins rather than trash. It's appropriate for anyone at any skill level, but it's geared toward intermediates. This technique is also applicable to every beginner who will be willing to read the manual.
This model features enhanced iron resolution, which is unique to the 400 and aids in the separation of any junk located near your target. When you're out detecting, it is very common to get false signals. This can be caused by less experienced detectorists not operating the detector properly or by junk metals in the soil.
This is to be anticipated, as it has a higher frequency than the 350, which comes in at 10kHz. Not only is the name self-evident, but it is also higher priced than the 250 or 350. The best part about the Garrett ACE 400's frequency is that it is adjustable and you can change the frequency based on what you're searching for. If you're looking for small objects, a higher frequency would be needed.
I'm having a hard time thinking of any drawbacks to this product, which is why I consider it one of the top metal detectors on the market. It's a well-balanced, complete metal detecting package. I strongly encourage anyone considering purchasing one to do so. It's a very durable product with few flaws that I could find.