Garrett AT Gold Metal Detector Review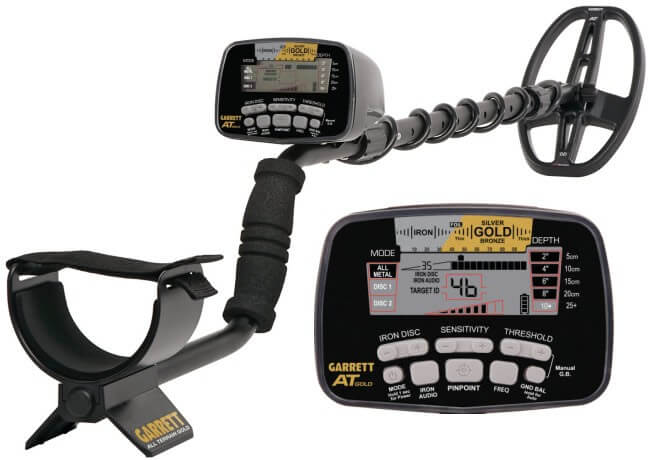 The Garrett AT Gold, as its name would suggest, is specifically made for finding gold. In fact, it's so good at it that it made our list of the best metal detectors for gold and it is #2 on our list of the best deep seeking metal detectors.
That's it, that's all you need to know for this review. Okay, not quite, but we were impressed enough with the Garrett AT Gold metal detector that we might be a little biased in writting this.
The AT Gold is positioned in the middle of Garrett's popular AT line of metal detectors. If you pay attention to the specs, however, you will notice that the frequency being used is significantly different than the other two members of the AT line. The Garrett AT Gold uses a 18 kHZ frequency, which is uniquely popular among metal detectors that are made for gold hunting.
It's made to be an all-around gold prospecting tool. It's impervious to dirt and mud as well as waterproof. By waterproof, I mean it can be submerged in 10 feet of water. It is designed to be a go-to tool for metal detecting and prospecting in the American West.
Garrett AT Gold Features
All-Metal Iron Audio
As well as having a traditional All-Metal mode, the Garrett AT Gold also features an exclusive All-Metal Iron Audio mode. This features will alert your to all types of metal, but iron will have a noticably different sound.
This way you will know it's there, but will not mistake it for gold.
Graphic Target Analysis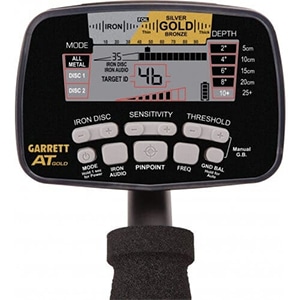 This sounds like a fancier feature than it is. Essentially, it will display an overlay of the signal received from a target on top of your discrimination settings.
In doing this review of the Garrett AT Gold, I found that this is something that really becomes more useful after you have sufficient experience using this metal detector and are comfortable with its target ID system.
Ground Balance
The Garrett AT Gold features a fast setting automatic ground balance, as well as a manual option, as would be expected with a metal detector in this price range.
Where the Garrett AT Gold stands apart is in its ability to set a ground balance window. This adjustable setting lets you set a specify a range instead of a set value to account for poor ground conditions or soil that is high in salt.
High Resolution Iron Discrimination
The AT Gold has 44 levels of iron discrimination, which means that you can fine-tune your search settings so you will be less likely to find trash and more likely to find gold nuggets.
Adjustable Audio Threshold
While loud hits from gold, treasure, jewelry, coins, or relics is what you dream of hearing, many time the real treasure may be heard only faintly in your headphones. Other times, you know that your likely targets are going to be strong hits so you don't want to be discracted by a constant background sound. The AT Gold has a selectable threshold for audible alerts, so you can hear only only the targets that interest you the most.
Electronic Pinpointing
Once you find a potential target, the metal detector can act as a non-motion pinpointer.
Proportional Audio (Pro Audio)
In my review, I found that the performance of this particular feature of the detector made it easy to detect three items in close proximity to each other. By hearing slight differences in the metal, instead of a single beep, the user has a more true picture of what is under the ground before digging.
Pros
100 Target ID's
18 kHz Detection Frequency
Standard DD PROformance Coil
Electronic Non-Motion Pinpointing
Submersible
Includes MS-2 Headphones
2 Year Warranty
Runtime Indicator for Batteries
Lightweight at 2.8 pounds
Cons
Small Search Coil (only 5″ by 8″)
Freshwater only, not for use in salt water
Fixed Notch Discrimination
Conclusion
Garrett has made a great detector for finding gold that is excellent in all types of terrain, wet or dry. If your main interesting is gold, I see little advantage to the AT Pro and found this detector to be on par with similar offerings from Minelab, but it can generally be found at a better price.
Garrett metal detectors have always had a good reputation. In my review of the AT Gold, as well as the AT PRO and AT MAX, I found that each model was quite worthy of carrying the name.