Minelab Excalibur II Metal Detector Review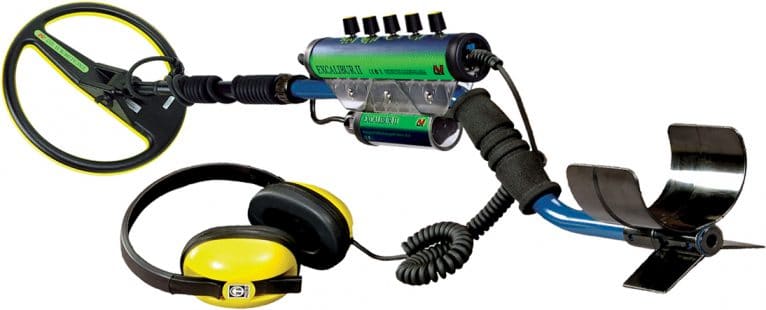 This powerful and versatile underwater metal detector was introduced in 2007 and is suitable for deep ping and wreck exploration. To be frank, it has been in high demand since its publication, but it is also considered outdated at the time of writing. However, since the underwater detecting niche is so small and the options are so few, not many other machines can be called competition. As a result, Excalibur II remains popular and performs admirably even in extreme environments such as 200 feet underneath the ocean.
The Excalibur II metal detector was created by Minelab to be a simple but efficient way of searching for relics. It is operated by a Ni – mh battery pack that should last between 14 and 20 hours.
The search coil is a 10″ DD Submersible Coil, but users can also buy an 8″ search coil if required. For shoreline and surf wading conditions, a skid plate and a side mount shaft are also included.
Additionally, Minelab was gracious enough to include some incredible accessories with their order, including submersible headphones, charging adapters, wall chargers, a coil cover, a short shaft ping rod, and the Minelab Pro Find 35 Pin Pointer.
Features
Multiple Frequencies Covering 1.5 kHz to 25.5 kHz
10" Round Double-D Coil
Koss 8 ohm Headphones Included (Hardwired)
Variable Discrimination, All-Metal, and Pinpoint Modes
Automatic & Manual Sensitivity Adjustment
13V 1000 mAh NiMH Battery Pack lasting 14-19 hours.
Standard Adjustable (45" - 48") Shaft and pe Shaft (32" - 36")
Weighs 2.1kg (4.6lbs) with 8" Coil or 2.3kg (5.1lbs) with 10" coil (including NiMH battery)
Control Box

This device's control unit case has an odd look.
This is a hermetically sealed, tear-drop-shaped cylindrical body. It contains all of the device's powerful internals. The metal detector is controlled manually via five adjustment knobs on the control unit.
Due to the fact that the Excalibur II metal detector is designed for underwater use, it lacks an LCD display and a speaker. As a result, the detectorist hears all data obtained from the target via the waterproof headphones.
The Discriminate / Pin-Point knob is used to filter out undesirable targets, and switching to a static mode that allows for precise target location definition. «Disc» is used to filter out unwanted targets, while «Pinpoint» is a static mode that allows for precise target location definition.
The second knob is the Threshold control on / off switch, which is used to modify the threshold tone and power on/off the metal detector.
Volume is the third control, and it adjusts the volume of the signal received from the target.
The fourth knob, Sensitivity, allows you to adjust the level of sensitivity.
Finally, the discriminate knob is a system that allows determining which specific targets are desirable. This setting can also be used in conjunction with «Disc».
Minelab Excalibur II's Pinpoint mode operates without regard for discrimination. This is critical, even more so when multiple targets are located close together.
Minelab Excalibur II has an automatic ground balance feature that allows it to operate efficiently in both fresh and brackish water without lowering the detection depth.
Sensitivity
The Excalibur II is capable of detecting both large and small targets. BBS accomplishes this by transmitting and analyzing a wide range of frequencies spanning from 1.5 kHz to 25.5 kHz at the same time.
Low frequencies detect larger deep targets, whereas higher transmit frequencies are much more sensitive to small targets. As a result, you won't have to think about losing any targets because the land will only need to be covered once.
Fully Submersible
Minelab has gone out and offered a completely submerged and submersible metal detector system for times when it is not sufficient to be fully waterproof. One of the best features is that, despite its extreme operating depth of 200 feet beneath the sea, it can also be used on dry land.
You should replace the lower shaft with a shorter one that is more suitable for ping. From its knob mechanism to the waterproof and sealed attachment points, it has all the hallmarks of a waterproof unit. The knob gui has a lot of advanced features that help it work well. Nonetheless, it is simple and straightforward to use.
The control cylinder's skin is fluorescent, allowing for excellent visibility underwater. Pretty soon, you will not have to visually recognize the knobs to know what you are doing.
The waterproof Koss headphones that come with the package are hardwired and can serve as your eyes and ears underwater. If you hadn't guessed, this is a metal detector designed to get wet and produce results.
BBS Technology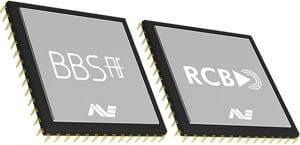 BBS (Broad Band Spectrum) technology simultaneously transmits and receives several frequencies. Since the detector has multiple frequencies, it can analyze and provide more detail about a target as well as the ground than a single frequency might. What does this imply for you personally? Simple: more goal detail, greater depth, and no need for ground balance. This appears to be a hybrid of pulse induction (without any need to ground balance, increased depth, and no discrimination) and VLF (ground balance, discrimination, and depth issues with mineralized soil). Which is the most effective? To be honest, it depends on the circumstance and the type of detectorist you are. For me, it's the BBS technology because I'd like to be capable of identifying my target and hunt reliably in highly mineralized terrain.
Minelab's Exclusive Iron Mask Feature
The Iron Mask feature is unique to Minelab detectors and effectively eliminates signals from iron trash!
Only signals from high-quality targets are powerful and consistent, even at depths that defy belief.
Recognizing a valuable target close to a piece of iron can be challenging for all conventional metal detectors, and the target is likely to be rejected as well. For instance: Numerous metal detectors will miss a ring buried beneath a nail.
The iron mask feature in discrimination mode helps you to find good targets among ferrous garbage.
Warranty
Minelab detectors are built in Australia, manufactured in ISO 9001/2000 quality-accredited facilities, and protected by 1-year transferable warranties.
Minelab advises that users register the product online as soon as possible after purchasing it. If you choose not to register online, you could fill out the registration form included with the detector and mail it to the Minelab office nearest you.
You may print a new Minelab registration form if you lose the original or make a mistake on the original.
Usage Tips for Minelab Excalibur II
I've had the Excalibur for three years and use it mostly for wet sand and shallow water metal detecting for up to ten hours a day, two months of the year. During that time, I've learned a few useful tidbits.
1. In wet sand, All-metal mode can go deeper than Discrimination (about 3″), so I just use it. I always turn to Disc. To see whether a target is too deep to be detected on Disc. I'll dig it up if it's too deep to search on Disc. since very deep mixed-metal targets will cancel out and seem to be ferrous metal.
2. It could require about 40 hours of actual use to distinguish between the various sounds.
3. A metal detector that is fully charged lasts about 13 hours. Charge the battery for double the amount of time you used it, for example, if you used your fully charged device for 4 hours, charge it for 8 hours. If you recharge these on a 1:1 schedule, the battery will run out. Overcharging the battery will result in a shorter battery life.
How to maintain/improve your Excalibur:
1. The Excalibur's balance is terrible, so you'll need to get a straight shaft or an extension to place the control unit and battery pack behind the forearm.
2. The battery charger included with the Excalibur is of low quality. If you bend the wire where it emerges from the charger, it will cause the charger to fail and possibly cause a fire. To keep the battery charged properly, you should completely discharge and fully recharge it at least two to three times per year.
When the original battery pack fails, purchase an aftermarket charger and power bank to provide a quicker and longer lasting charge.
3. Invest in a knob guard. drop the device and bend or break the control knobs, which I do all the time.
4. Wrap the wires around the shaft with plastic ties to reduce wire movement, which can produce noise or inaccurate signals, particularly in the surf. Avoid bending any wires for the control device or battery pack where they enter or leave, as this can inevitably lead to water leakage and unit malfunction.
5. Purchase silicone grease and apply it to the seals on a regular basis.
6. After each use, clean the machine with fresh water. Take off the skid plate and wash any sand from the coil, as the sand may eventually cause the coil to wear and fail.