Garrett ATX Metal Detector Review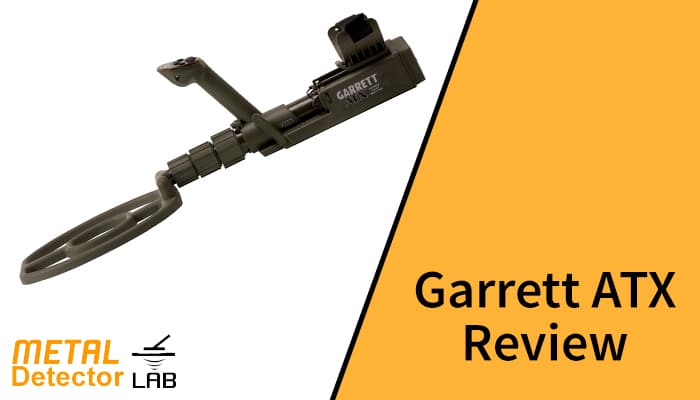 In its price range, the Garrett ATX metal detector is one of the best pulse induction detectors. As such, it includes all of the features you'd expect from a PI machine, such as ground balancing, waterproofing, and a high sensitivity for locating targets regardless of depth or terrain.
Simply put, this isn't a beginner's metal detector. The Garrett ATX extreme pulse induction metal detector is a technologically advanced metal detector in a military spec case, making it impervious to dirt, rain, mud, salt water, and the harshest environments.
Pulse Induction Technology
The Garrett ATX employs pulse induction technology with a frequency range of 18-19 kHz and a pulse rate of 730 per second. Pulse induction metal detectors are more desireable, even if more expensive, because they are much less susceptible to false signals from ground mineralization. These are excellent detectors for gold prospecting, as high iron levels are often found near gold veins.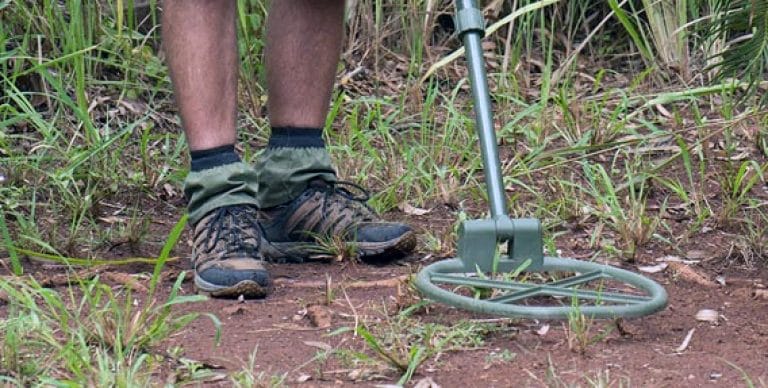 By removing the possibility of an iron response without compromising sensitivity, you can detect signals from tiny, low-conductive targets such as gold nuggets.
The metal detector's automated frequency scan with a push-button is even more interesting. By using this function, the ATX will automatically change its frequency to pick up less noise, thereby eliminating signal interference.
The Garrett ATX uses this technology so well that it is the best pulse induction metal detector I have found.
Ground Balance
The Garrett ATX has ground balance, which you wouldn't expect from a PI metal detector. The ATX's ground balance works by assisting you in determining which sounds are for valid targets and which are simply noise induced by soil mineralization. This function can be activated by simply pressing the control panel's GND BAL button.
Discrimination
There are 25 discrimination levels on the Garrett ATX. You will use these discrimination levels to determine which targets are junk and which are desirable. Due to the Garrett ATX's all-metal default setting, it is able to distinguish between various types of metal. You should set the amount of discrimination correctly so you can concentrate on the metals you want to find because many targets will not be desirable to you.
Search Depth
The advantage of using a metal detector with pulse induction technology is that it provides superior depth detection for both small and large metals. The Garrett ATX was designed with this purpose in mind, making it one of the most effective all-terrain metal detectors available.
The Garrett ATX isn't just good for finding silver and coins; it can even find gold nuggets with ease. If you want to expand the area that the search coil inspects, you can replace it with a larger Garrett search coil.
Control Box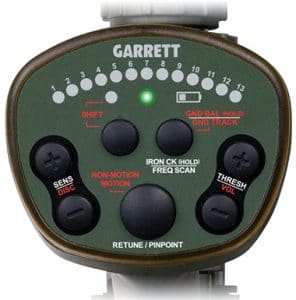 If you've seen the Garrett ATX, you may be wondering where the LCD display is. To make the metal detector more rugged and able to handle any searching conditions, LED's are used to indicate what types of targets are found.
There are 13 LED indicator lights on the face of the control box and these endicate the discrimination range that the detected metal falls into.
Compact Design
The Garrett ATX is built to be lightweight and collapsible. The shaft may be as short as 20 inches or lengthened to a maximum of 68 inches. In this regard, it is the most versatile metal detector on the market.
The whole metal detector fits into a small soft-padded case. The Garrett ATX is designed to be foldable and collapsible, so it will be as transportable as possible. The search coil can also be angled to make the control box more compact.
Waterproof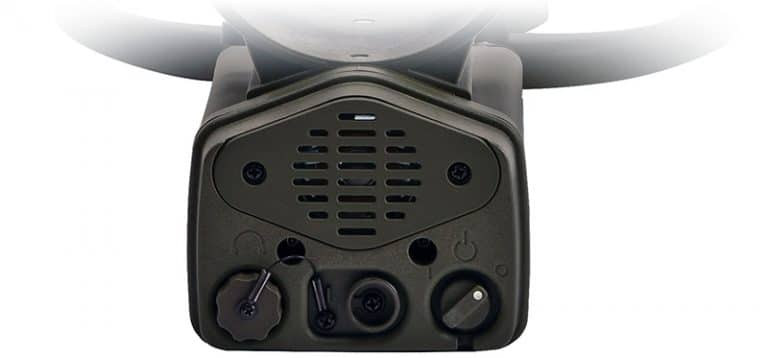 The Garrett ATX metal detector can be submerged in water as deep as ten feet and is rated as the best underwater metal detector.
The control box was designed to withstand the challenges of underwater use because it does not have an exposed digital display. It also has a waterproof speaker on the outside.
However, waterproof headphones are needed if you want to fully submerge the Garrett ATX and pe with it.
Search Modes
The ATX Extreme metal detector has zero discrimination in All Metal Mode, but 25 manual discrimination settings, Iron Audio, and a threshold that can be adjusted.
Audio
The Garrett ATX features 25 user-adjustable audio settings and continuous audio operation. This enables the metal detector to provide responses proportional to the frequency of the target signal.
As is the case with the majority of high-end metal detectors, the Garrett ATX emits a variety of audio tones to assist in distinguishing various target types and sizes.
Weight
In spite of coming with a soft bag and shoulder strap, carrying the detector around over rough terrain can become a little tiring as it weighs 6.9 pounds. Being compact and collapsible does help compensate for the item's weight, but you will want to get some experience with it before taking off on any multi-day trips.
Conclusion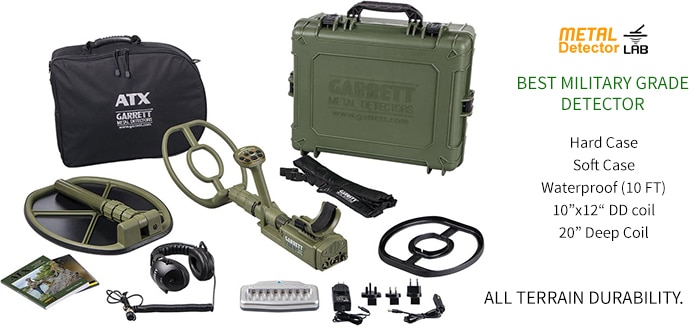 This metal detector, quite literally, built like a tank. Garrett went to great effort to make a high-tech machine that was versatile enough to metal detect in any enviromnent and then put it in an extremely rugged housing. Somewhere in that process they also managed to make it extremely compact for easy travel.
The Garrett ATX can be used in any terrain, from the desert to coastal saltwater, for years and be no worse for wear.
If you need a great metal detector for beach combing, coin shooting, or anything else in "normal" conditions, this is not the metal detector for you. For those needs, you would get more for your money by looking at the Garrett AT line of metal detectors.
But, if you need a metal detector that is capable of going anywhere, the Garrett ATX is as good as it gets.