Garrett AT MAX Metal Detector Review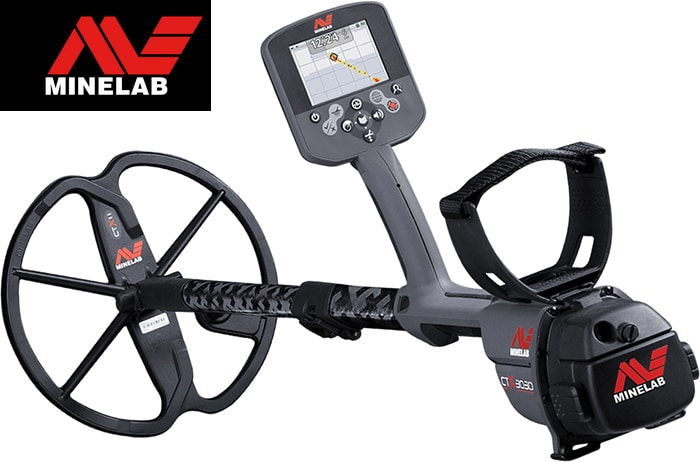 The Minelab CTX 3030 is the best deep seeking metal detector on the market.
For coin, relic, and treasure hunting, the CTX 3030 has raised the bar. It has excellent target identification, isolation, and sensitivity, allowing you to identify further targets with greater precision. The CTX 3030 performs admirably if you're hunting in plowed fields, shallow water, beaches, historical areas, or pastures.
What distinguishes it from other metal detectors in the same price range?
The FBS technology is really good at detecting objects. The detector provides excellent depth and target detection by simultaneously shooting 28 frequencies into the soil. On previously hunted sites, the CTX 3030 is worth using because it will likely pick up targets that other detectors miss.
The goal separation and depth are also excellent. It can also locate targets concealed by iron nails.
For deeper items, other detectors fail to provide accurate target identification. This is not a concern with the CTX 3030, as it offers reliable target information even at great depth. When treasure hunting hours on end, this correct target identification can save a lot of time and effort as you avoid digging up unnecessary targets.
The Minelab CTX 3030 also offers a quick response time with no latency, near-instant target identification, and nearly limitless customization.
On the other hand, the CTX 3030 isn't as good at detecting shallow objects. This isn't a big problem because the combination of visual and audio identification allows you to get a clear sense of what you've discovered.
Usage
Although the Minelab CTX 3030 is a fantastic metal detector, it does have a learning curve. Its professional design is geared for experienced enthusiasts who take their hobby seriously and have the desire to learn how to use the machine.
However, once you fully understand the CTX 3030's capabilities, you will not be disappointed.
FBS 2 Technology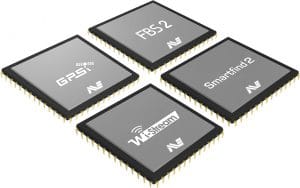 Minelab owns the patent for FBS 2 (Full Band Spectrum 2). FBS 2 operates on 28 frequencies ranging from 1.5 to 100 kHz, taking the idea of multi-frequency metal detectors to an extreme.
The new Minelab CTX 3030 's new electronics and smart coils yield a 10% increase in detection depth over Minelab's E-Trac.
Additionally, FBS 2 supports automatic sensitivity adjustment and ground compensation, as well as multi-channel signal conversion for improved target separation and Smartfind 2 discrimination.
GPS Mapping
The metal detector has an integrated GPS system, which sets it apart from the competition. It enables you to keep track of previous hunt locations so you do not search in the same locations repeatedly.
At the conclusion of the hunt, simply download the data to your laptop or tablet and view it via Google Maps. This assists in determining a route for your next hunt, ensuring that you do not overlook any promising areas. Additionally, you can upload this data to your detector to assist you in avoiding any fields from a previous hunt.
Smartfind 2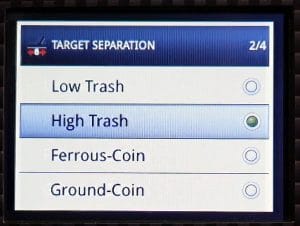 Minelab's advanced discrimination method is Smartfind 2. Discrimination is the tendency to ignore some portions of the conductivity continuum in metal detecting. It helps you to concentrate on valuable items while ignoring possible junk metals. Basic detectors do this by using notch discrimination, which can be easily adjusted with a knob.
Smartfind 2 on the CTX 3030 can discriminate between non-ferrous and ferrous metals. Tone ID profiles and target resolution are used for separating signals by conductivity level. The entire process focuses on digital signal processing.
The details about an object appear on the screen when you mouse over it. You can then decide whether to disregard similar targets or accept them in order to discover additional finds in the same area.
Smartfind 2's ability to detect multiple targets is a standout feature. You can learn information about several objects from the same LCD screen using Target Trace and Target Separation.
Waterproof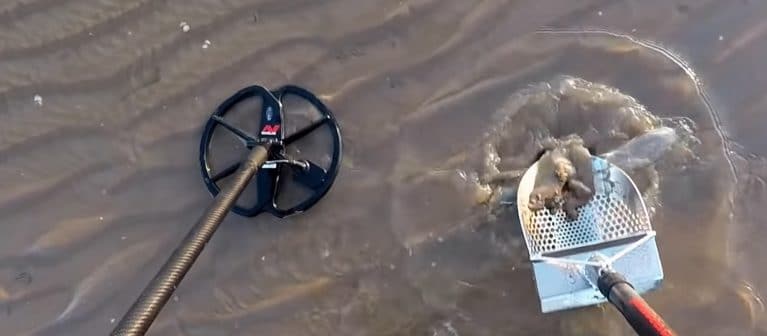 The Minelab CXT 3030 is waterproof to a depth of 3 meters, which is the same depth as the Garrett AT Pro. Again, similar to the AT Pro, the headphones included with this metal detector are not waterproof. The difference is that the Garrett AT Pro is a fraction of the price of the Minelab CTX 3030.
Although the Minelab CTX 3030 is not a metal detector that will allow you to go deep underwater or even pe for treasure, I found it to be an excellent choice for hunting in rivers and streams, beaches, shallow coastal areas, and ponds.
Pro's
Excellent depth.
Very high build quality.
GPS tracking features.
Waterproof up to 3 meters.
Fully customizable for any application.
Full color LCD display.
Con's
Steep learning curve and not novice-friendly.
Headphones are not waterproof.
Customization is not straightforward and can be time-consuming.
Warranty
Minelab detectors are designed in Australia, built to strict standards in ISO 9001/2000 quality-accredited facilities, and come with 3-year transferable warranties.
Minelab advises recommends registering your metal detector online as soon as possible after purchasing it. Alternatively, there is a registration form included with the detector and it can be mailed to a Minelab office nearest you.
Is the CTX 3030 Worth It?
Minelab's CTX 3030 is unquestionably worth the investment, despite its high price.
It is simple to operate, once you have become accustomed to it, and performs admirably in a variety of scenarios and terrains. The metal detector is packed with technologies and features that make treasure hunting easier.
Despite the extra weight, it is extremely comfortable so you won't have a sore shoulder at the end of the day. Its ability to minimize signal noise in areas with high electromagnetic fields opens up a whole new universe of possibilities.
To maximize your chances of finding targets buried deeper, we highly recommend replacing the standard 11″ coil with a 17″ coil.
Conclusion
Some of what detracts from the Minelab CTX 3030 is its sophistication. It's an extremely powerful machine with a large number of customization options for the user, and this can result in it being daunting for someone without a lot of experience with lesser machines.
At the same time, that level of sophistication is exactly why you buy a metal detector like the Minelab CTX 3030. It is, without a doubt, a professional level detector and I have no reservation recommending it for those in need of the very best.
The CTX 3030 is the best metal detector on the market today, so if you plan to hunt in a variety of terrain, it's well worth the money.