Bounty Hunter Junior Metal Detector Review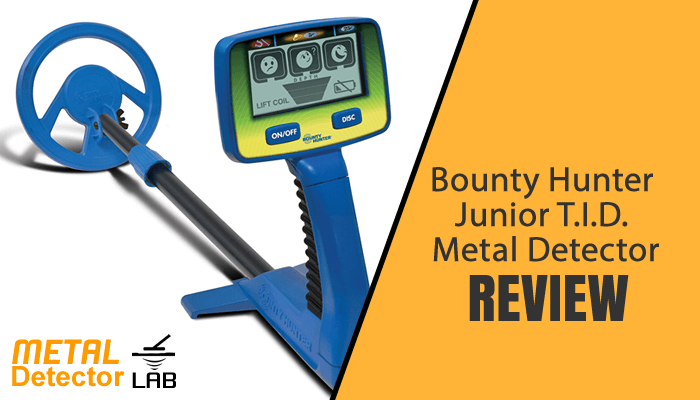 In many ways, a kid-friendly metal detector is one of the best toys for the youngsters in your life. They provide endless hours of fun and encourage children to develop a healthy sense of curiosity. The Bounty Hunter Junior T.I.D. is one metal detector targeted at adolescents that every parent should consider.
Features
Compared to competing models, the Bounty Hunter Junior T.I.D. has a number of compelling selling points worth considering.
Supreme Maneuverability
The Bounty Hunter T.I.D. clocks in at about 1.5 pounds soaking wet on a bad day. It's incredibly easy for young kids to carry for long stretches of time while combing lawns and beaches in the search of trinkets. Thanks to its lightweight construction, it's easy for youngsters to explore hard-to-find places.
Effortless Operation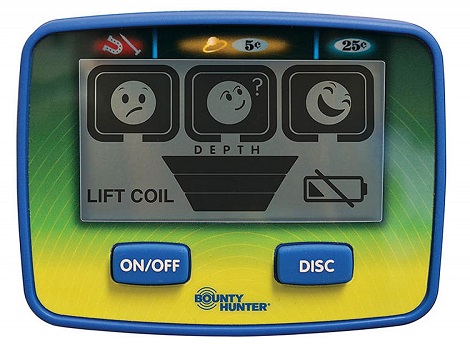 Thanks to its lightweight ergonomic design, the Bounty Hunter Junior is easy to work with for hours on end. It boasts a resilient grip stand that allows users to rest the unit on the ground. The digital display features a battery life indicator that tells users when to swap out the AAs.
Fairly Rugged Construction
For a detector that weighs barely 1.5 pounds, the Bounty Hunter Junior T.I.D. is a pretty robust customer. Its aluminum shaft resists bending quite admirably no matter how much pressure you happen to apply to the housing. The molded plastic parts are particularly resistant to dings and scratches during normal operation.
Impressive Detection Capabilities
Operating at 6.6 kHz, the Bounty Hunter Junior can find plenty of metal goods at many depths given the right touch. This model shows users what to look for based on three distinct ID categories. A vivid graphic target depth indicator makes it easy for operators to zero in on treasures.
What Can the Bounty Hunter Junior T.I.D. Find?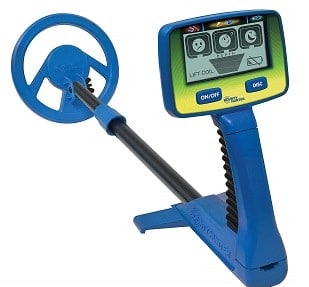 This detector will reliably locate three broad categories of metal if you know what you're doing.
Ferrous Metal
Ferrous items that consist primary of iron are incredibly easy to find with the Bounty Hunter Junior. While large ferrous objects are rarely valuable, they're often worth keeping as mementos or historical artifacts. Common ferrous items found by metal detectors like the Bounty Hunter Junior include railroad spikes and old farming equipment.
Non-Ferrous High Conductivity Metal
Without a doubt, objects constructed from non-ferrous metals that are highly conductive are the main targets for treasure seekers. Most of the time, a positive hit for highly conductive metal turns out to be copper. However, there's always the chance that the Bounty Hunter Junior has found gold or silver when a positive hit is reported.
Non-Ferrous Low Conductivity Metal
The Bounty Hunter Junior can pick up lead or nickel objects all day without skipping a beat. Lead objects are particularly fascinating to youngsters if they come in the form of old musket balls from a battlefield. Nickel coins lost long ago can be quite valuable if they're in good shape.
Factors to Consider When Buying a Metal Detector for Kids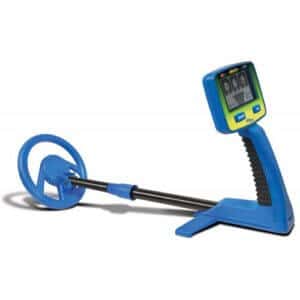 Any prospective metal detector for kids should be judged based on these criteria.
Weight
A metal detector won't be much fun to play with if a child can't wield it for extended periods of time. A model that weighs more than a few pounds won't be a good fit for a 6-year-old treasure hunter. Furthermore, kids are more likely to drop and damage a heavy metal detector.
Ergonomics
It's no secret that children have a tendency to rapidly outgrow everything from shoes to toys as they mature. A decent metal detector aimed at tots should boast a telescoping shaft that can be adjusted to fit the user. In addition, a comfortable grip will ensure that kids don't endure undue muscle strain.
Durability
Like it or not, even the most cautious child is going to bang up a metal detector given enough time in the field. A sensible metal detector for kids is crafted from lightweight molded plastic and aluminum. Attention to detail during the assembly process is key if you want to avoid water damage.
Performance
While a metal detector geared towards children won't be a precision instrument, it should deliver fairly accurate results. Nothing will discourage a budding metal detector enthusiast more than digging hole after hole with nothing to show for it. A good detector for children should be able to reliably find metals at reasonable depths.
What Makes the Bounty Hunter Junior Stand Out?
There are several aspects of the Bounty Hunter T.I.D. that set it apart from lesser models.
An Intuitive Digital User Interface
Outfitted with an expansive LCD sporting easy-to-understand icons, the Bounty Hunter Junior makes detecting metal a breeze for kids. What's more, its multiple target ID tones allow users to easily identify potential finds in an instant. The display surface itself stands up to physical trauma and moisture quite well if you don't push the envelope too hard.
A Water-Resistant Search Coil
The longevity of a metal detector is largely determined by how well it stands up to the elements in the wild. The Bounty Hunter Junior's fortified search coil is the key to this unit's hardiness. The search coil on this detector will stand the test of time due to strong construction and nearly waterproof materials.
Dynamic Discrimination Control
The ability to fine-tune the sensitivity of a metal detector is a vital feature that makes treasure hunting far less tiresome. The Bounty Hunter Junior boasts a discrimination button that users can punch to filter out unwanted objects. This simple but effective feature helps kids avoid wasting time digging up worthless scrap.
Verdict
Thanks to its superior build quality, ergonomics and circuitry, the Bounty Hunter Junior is a solid detector for adolescents and earned a place on our list of the best detectors for beginners (read it here).
You're probably not going to find a better metal detector meant for children at this price point. Ultimately, the Bounty Hunter Junior is a terrific gift for kids that should deliver years of reliable service.