Fisher F22 Metal Detector Review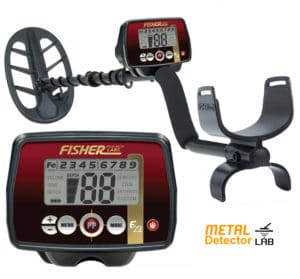 Weighing just 2.3 pounds, the Fisher F22 metal detector is a mid-range option for metal hunters of all ages and skill levels. You can remove it from the box, flip it on and head off on your next adventure. There are also a variety of adjustable features if you prefer to set your metal detector up for maximum success. That versatility is important for beginning hunters. The detector will grow with you as you develop more confidence and knowledge.
The F22 is a lightweight metal detector designed to stand up to a variety of weather conditions. Whether you're hunting at the beach on a sunny day or braving the wind, rain or sleet, this is a durable detector that can handle the stress. You may not think you need a weatherproof metal detector when first starting out, but you never know where your hunts will take you in the months or years to come.
If you're just starting out with a metal detector, you don't want anything too complicated. The F22 is a good pick because it delivers the perfect balance between out-of-the-box operations and adjustable features.
Features
One of the best features of the F22 metal detector is being partially waterproof. What that really means is that you can submerge the search coil and the bottom portion of the pole in water, but you cannot submerge the cable plug leading to the search coil or the control panel. The non-submersible parts can handle splashing from puddles or a larger body of water, but you can't go underwater completely.
The Fisher F22 operates on two AA alkaline batteries, and you can expect up to 30 hours of operation for every two batteries inserted. An icon alerts you to any iron identified in the ground, and the non-volatile memory ensures your settings are saved. That's a convenient feature that can save you time on your next hunt.
This beginner's metal detector also comes with some advanced features, including the 9-segment visual and numerical target identification. That's a fancy term that simply means the detector can help you tell the difference between underground trash and buried treasure that you may want to dig up. It makes it easy to distinguish between different types of metal, and you can eliminate some types that don't fit your needs or interests.
The pinpoint mode allows you to zone in on the precise location of your potential treasure before you start digging. It can find metal up to nine inches deep, and the LCD screen allows you to see data regarding depth and type of metal clearly. The detector is also equipped with a ¼-inch headphone jack.
Controls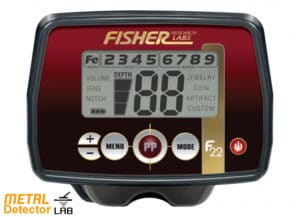 The Fisher F22 metal detector is equipped with multiple levels of discrimination and sensitivity. There are 10 sensitivity levels, allowing you to adjust your detector to the metals you're trying to find. If the detector beeps when there is nothing under the soil or beeps erratically, you probably need to adjust it to a lower sensitivity level.
You can also discriminate between various types of metals quite easily. You may not use that feature when starting out, but you could later decide to target your finds more precisely. Less time digging up low-value metal means more time detecting potential finds with greater payoff.
Search Modes
There are four search modes included on the F22 metal detector:
Artifact
Coin
Custom
Jewelry
Each mode allows you to use notches to eliminate or add types of metal for detection. That's a valuable advanced metal detecting feature that allows you to target your desired finds more precisely. If you're a beginner and you don't know what metals you may want to include or eliminate from any of the modes, you can start out without using notches.
The custom setting allows you to choose your own tones. It's a fun way to personalize your metal detecting experience, but it's another advanced feature that isn't required for successful metal hunts.
Fe-Tone Adjustable Iron Audio
What exactly is Fe-Tone Adjustable Iron Audio? This is one of the advanced features that sets the Fisher F22 metal detector apart from many competing metal detectors for beginners. The volume of tones emitted from your metal detector is determined by two primary factors:
Distance – The closer the search coil comes to metal, the louder the tones can sound.
Magnetic Field Strength – Stronger magnetic fields will produce louder sounds from your metal detector. That's why trash and other debris will often produce a quieter sound than coins and other metal products.
Metals that contain iron can produce rather loud tones, and the Fe-Tone Adjustable Iron Audio feature allows you to turn that volume down. Metals that contain iron are referred to as ferrous metals. With this advanced feature, you can set your detector to create lower tone volumes for ferrous metals than for non-ferrous metals.
Pros
Lightweight
Easy to operate
Weatherproof
Advanced features
Reasonable price
Cons
Some users have a learning curve for advanced features
Some users fail to detect gold successfully
Summary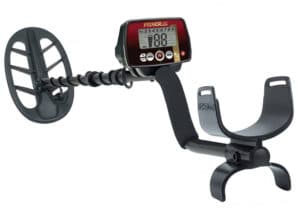 While Fisher designed the F22 metal detector to accommodate beginners of all ages, its advanced features are enough to satisfy many metal hunters with some experience.
In fact, it ranks #2 on the list for beginners and #10 in our roundup of all the best all-around metal detectors (click here).
It gives you the option of using it right out of the box, but you'll get better results if you learn how to use at least some of the advanced features.
For the best results, take the time to learn about different types of metals. Which ones are most often found at the locations you want to hunt? Do you want to target specific types of metal products for your personal pleasure or monetary gain? The more detailed answers you come up with, the easier it will become to adjust the advanced settings to achieve your desired results.
Of course, you can always experiment to see what you find. Metal detecting is a fun hobby that delivers amazing surprises from time to time.
Even right out of the box, the Fisher F22 is a precise metal detector that allows you to distinguish between different types of metal while sorting the trash from the valuable metal products in any hunting location. While the price point is reasonable, some beginners may still find it prohibitory, especially if they don't intend to use the advanced features.