Garrett ACE 200 Metal Detector Review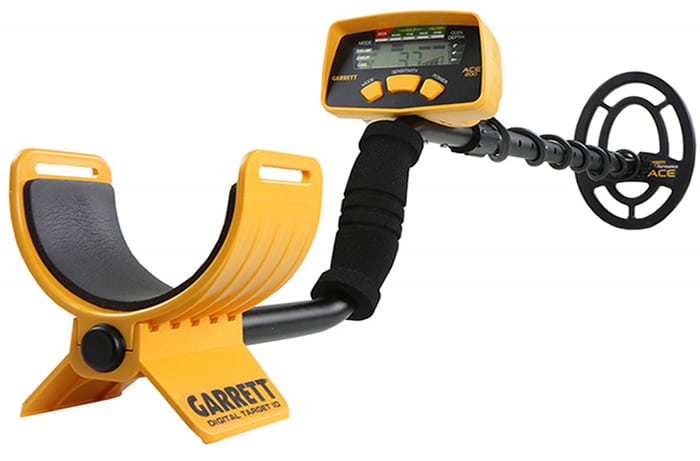 The Garrett ACE 200 is among the best entry-level metal detectors for relic searching, dry beach scanning, and freshwater wading and is #1 on our list of the best cheap metal detectors. There are easy-to-understand target signals sent out. This is accomplished via the Digital Target ID function, which sends a readout to the particular form of buried metal. The detector also aids in determining the target's range, so you know how far down you need to look.
The metal detector console's reading is simple because it has big numbers which are readable at a glance. If you've never used one before, this one comes with a straightforward but easy-to-follow instruction manual. Additionally, this package includes headphones, so the user can get started immediately without purchasing anything additional.
It's a perfect travel companion because it's so light. Additionally, this makes it easier to browse for hours on end without experiencing exhaustion. The four batteries in this device should last 15 to 20 hours, giving you more time to metal detect without worrying about running out of fuel.
We found enough advantages with this budget detector to justify including it on our list of the best metal detectors.
Digital Target ID
The Garret ACE 200i has a target identification display that ranges from 0-99 and appears on your monitor. By examining the conductivity level of the metal you've discovered, you can tell what kind of metal it is.
For example, metals with high conductivity, such as silver, will display numbers in the 90s, while metals with lower conductivity, such as iron, will display numbers in the 0-35 range. Metals with a mid-conductivity, such as aluminum and gold, will show up throughout the 40-60 range.
Control Box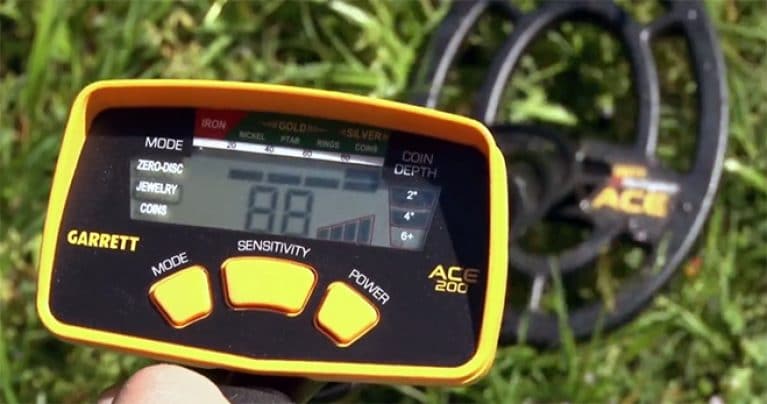 The ACE series from Garrett has a straightforward control panel with clearly labelled keys.
There are three buttons on the ACE 200. Mode, sensitivity, and power are all options. The power button is self-explanatory: it's the on/off switch.
We'll talk about mode later, and sensitivity lets you zero in on targets with greater precision on good hunting terrain. When you're on mineralized rock, lower the sensitivity, otherwise the sensor can falsify and emit squeals.
The classification scale is what you will want to watch the most. Garrett uses a numeric target ID that will inform you what you've discovered before you explore.
The display is graded on a scale of 0 to 99, and the numbers that appears on the screen when you meet a target indicate what metal it is made of, such as silver, bronze, or iron. The vertical side features a display indicating the depth to which it is buried.
This is an excellent piece of technology for an entry-level metal detector.
Frequency
The ACE 250's fixed 6.5Khz frequency makes it ideal for coin, jewelry, and relic hunting.
The VLF frequency is less helpful if you are searching for small gold nuggets (as opposed to gold jewelry) or are over mineralized ground.
In this case, models like the ACE 300 or 400, which run at 8 or 10 kHz, may be a good choice. Higher frequencies make it easier to spot small artifacts and make small gold nuggets and jewelry more sensitive.
Multi-Tone
The ACE 200 is uses three different tones: low, medium, and high. These can also be used in conjunction with Digital Target ID. The tone of ferrous/iron targets will be low. Targets with conductivity values between 21 and 80 will have a moderate tone. Targets with high conductivity values of 80-99 would have a high sound.
Waterproof Search Coil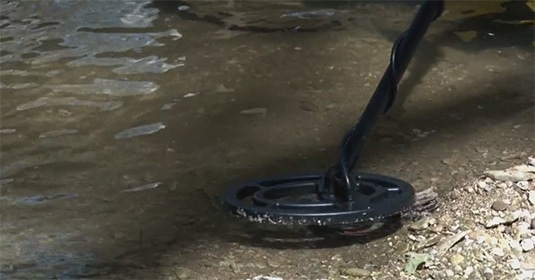 The search coil on the Garrett ACE 200I measures 6.5 inches (16.51 cm) by 9 inches (22.86 cm), which is a decent size if you are interested in relic hunting.
Additionally, the coil is waterproof, allowing you to search in shallow water such as shorelines, creek beds, and lakes. However, please note also that control unit is not waterproof, and therefore should not be submerged fully.
Shaft
The S-shaped shaft, which is made up of three parts, is still used in metal detectors. The top part is connected to a supportive armrest that mimics the arm's shape. Furthermore, the armrest features openings through which the fixing strap can be inserted. There's no need to buy the strap separately because it's included in the pack. In addition, the control unit is on the shaft.
Unfortunately, since the architecture does not allow for it, it is difficult to dismantle. However, it is practically unnecessary because the folded ACE 200 takes up very little space and fits comfortably into any backpack. A polyurethane handle with a rather ergonomic configuration is located on the bend. It will also be comfortable for both experienced detectorists and beginners who are not yet accustomed to extended hours of searching.
The middle shaft is used to adjust the metal detector to the operator's height. It has 10 spaces for adjusting the height, allowing the detector's length to be changed smoothly. The carbon fiber lower shaft component ensures years of trouble-free service. The upper shaft is made of aluminum and powder-coated matt black. Spring buttons attach all of the shaft components, making installation and disassembly of the unit easier. Each component of the metal detector contributes to its structural integrity and helps to avoid unpleasant surprises.
The oval shape of the coils guarantees a precise check on a variety of soils with varying levels of surface contamination. This allows you to look even in areas where there is a large concentration of iron debris. Since the coils are fully sealed, they can be used to operate on the beaches. It's worth noting, though, that its control unit is not waterproof and cannot be submerged. If water gets in, the quality of results will plummet almost immediately.
The cable that goes from the coil to the control box is made of rubber and sturdy braiding that should not be prone to damage from mechanical wear. The plug has a tap with a repairing thread to prevent it from being pulled out due to sticking to brush and tree limbs.
Can the coil on the Garrett ACE 200 be upgraded?
Yes, you absolutely can; there are various coil upgrades currently offered for the Garrett ACE 200i. Coil upgrades improve the metal detector's output in a variety of ways, based on the coil you select.
The Problems with the ACE 200
The lack of adjustable ground balance and built-in electronic pinpointing are the machine's main flaws.
If you're hunting in an area with a lot of mineralization in the soil, ground balancing is a must-have. However, if you're new to metal detecting, you'll do fine without it in the majority of areas you dig.
You shouldn't expect ground balance in a metal detector which costs under $200.
With regards to the integrated pinpointing, you should consider investing in a hand-held pinpointer at a certain stage.
Conclusion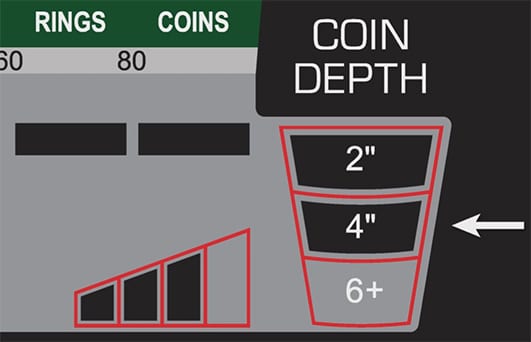 The Garrett ACE 200 Metal Detector is an excellent value for new metal detector hobbyists looking for a starter detector that won't restrict their options. Although it lacks some of the more advanced features seen on certain more sophisticated starter devices, it includes everything you need to be a good hunter.
Additionally, it has several bonus accessories that are well suited for use with a beginner's detector. As a result of this and the real value of this metal detector, I recommend it.