Garrett ACE 300 Metal Detector Review

The Garrett ACE 300 is the best metal detector for beginners and comes equipped with a slew of high-quality features and intuitive controls. It is a multi-purpose metal detector intended for those who are new to metal detecting as well as those who wish to test their luck on land or in shallow water. It features an ergonomic design that is simple to grasp and secures in place with the help of a sturdy armrest strap. It comes as a set and thus provides greater value for the money, as you receive all necessary accessories, including the convenient ClearSound Garrett headphones (which are the best metal detector headphones available).
Detection Modes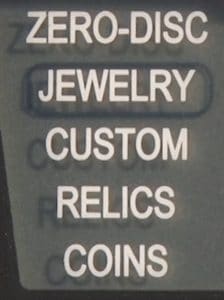 Zero-Disc, Jewelry, Coin, Relic, and Custom modes are available on the ACE 300. In Zero-Disc mode, all 12 discrimination markers are enabled, but no metal targets are removed. This will detect all types of metals and can assist in identifying useful objects that are frequently hidden among trash.
Custom mode is the only setting that allows you to save changes made by adding or ignoring segments in order to further customize and improve success rates in locating your target object. Although you can configure the Jewelry, Coin, and Relic modes further, they will not be saved until the metal detector is turned off.
Controls
As with all Garrett metal detectors, the ACE 300 features a straightforward control panel. In other words, using the unit is quite simple and it only has buttons for mode, sensitivity, and discrimination.
Additionally, the digital target ID is impressive, allowing you to quickly and accurately locate objects without digging. In general, using the ACE 300 metal detector saves a great deal of time when it comes to trash digging.
Target Discrimination and Digital VDI Display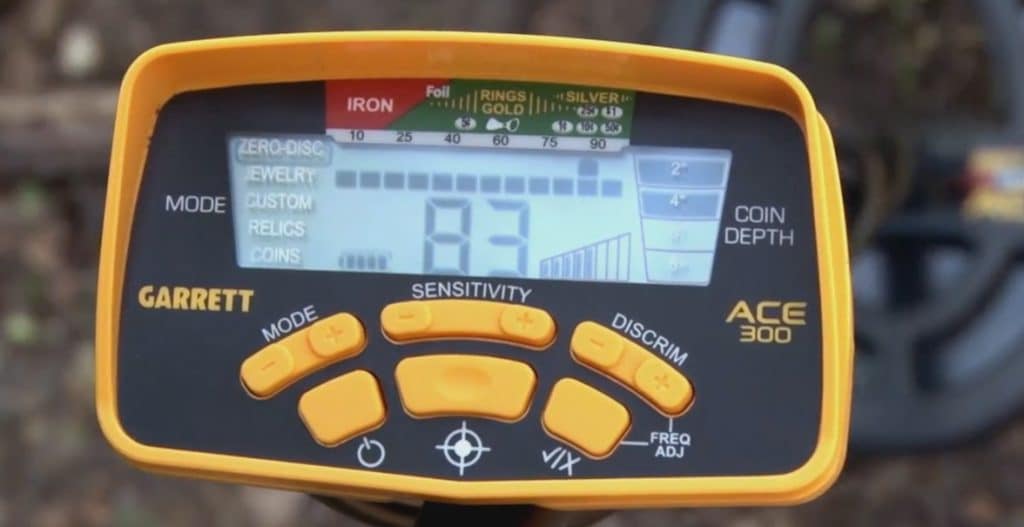 When comparing the Garrett Ace 250 and the Ace 300, one of the most important differences is how it alerts you to what it has found beneath the dirt or sand.
Knowing you've found metal is great, but the ability to differentiate between targets is what distinguishes a good metal detector. If you're sure that you've found a pull tab rather than a coin, you can skip digging and go on to another target. This is particularly true when it comes to cleaning up trashy areas.
Each section can be switched on or off independently. The preset modes on the left side of the control panel can also be used to activate and disable them in different combinations.
The segments help you distinguish among iron, copper, silver, gold, and other metals. The icons at the top are for educational purposes only and do not restrict what could be detected. The issue with a 12-segment display is that distinguishing between a pull tab and certain gold jewelry targets can be difficult. With a little practice, you'll be able to distinguish and improve your scanning skills.
The Garrett Ace 300 adds a VDI digital aim identifier to the 12 segment show.
Without having to search, this two-digit readout helps you to more reliably distinguish various metal forms. The unique values of targets that are close together in the scanning spectrum can be used to distinguish them.
Digital Target ID
A common criticism leveled at the ACE 350 was the absence of digital target identification. While the detector has a visual identification function which indicates whether gold, copper, iron or other metal are likely to be the goal, the numerical systems lack accuracy and resolution.
Garrett has addressed this by including digital target ID on the Garrett Ace 300 to aid in the identification of possible targets. This is represented by a 0-99 ID scale in broad digits in the center of the frame. Targets made of foil and iron appear at the bottom of the scale, while highly conductive coins appear at the top.
As you would expect, having 100 "sections" rather than only a few improves accuracy, allowing you to spend less time digging up unwanted targets.
The disadvantage is that it takes longer to get a sense of what the numbers mean – but if you just want a fast understanding of the target metal, there's still visual recognition.
Target ID Numbers for Gold
Although not always accurate, most 10 karat gold will show a value of 58, the majority of 14 karat gold will show a value of 64, and pull tabs (which sometimes show up on the same bar as the gold objects on the 12 section display) will show a value of 60 or 61. You must exercise caution, however, because gold nuggets can range in purity and composition from 58 to 68. If your primary interest is finding gold, you will want to read our guide here.
Adjustable Frequencies
The Ace 300 metal detector even has an adjustable frequency, which is a useful feature. First and foremost, this device runs at a suitable frequency of about 8 kHz. What's more, if necessary, this frequency can be adjusted. This is particularly critical if you're hunting in a competition and your competitors are using 8 kHz metal detectors. Adjusting the frequency can also help to minimize noise from power lines and WiFi signals.
Search Coil
The basic ACE 300 kit includes the 7 by 10 inch concentric submersible PROformance coil as the default search coil. This water-resistant coil was designed for general metal detecting and is suitable for a variety of targets. While it is not exceptional, any metal detectorist should be able to successfully detect with it due to its versatility and multifunctionality. On the other side, there are a variety of other compatible coils for the ACE 300, including:
How deep can the Garrett ACE 300 detect metal?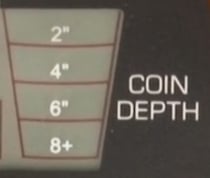 The depth to which the metal detector can detect is determined by a variety of factors, including the target's size and orientation, the soil's mineralization, and the detector's sensitivity level.
The depth meter on the ACE 300 displays only up to 8″ (marked as 8+"); however, depending on the circumstances and thickness of the target, the ACE 300 metal detector can reach depths of around 8-10 inches.
Pinpointer
While pinpointing is now common in most metal detectors, it's still good to see Garrett have made it so simple to use. All you have to do to use the pinpointer is press the pinpointer button. The key is to try to keep your finger on the trigger once you've found your mark.
Once the pinpointer is activated, all you need to do is position your searchcoil above the target, which will serve as a reliable indicator of where to dig. Once you've located the correct spot, your metal detector should produce a loud, clear sound/audio feedback.
Warranty
From the date of purchase, Garrett equipment is covered by a two-year restricted parts and labor warranty. On the Garrett website, you can learn more about the warranties.
What I Don't Like About The Garrett Ace 300
For the money, this is a fantastic machine. It's versatile and doesn't come with a slew of extra features that will drain your pocket.
While the absence of manual ground balance is a disadvantage, it is unlikely to be an issue for the beginner. There isn't even any iron audio. If you're concerned about the lack of iron audio, the ACE 400 (full review) is the way to go.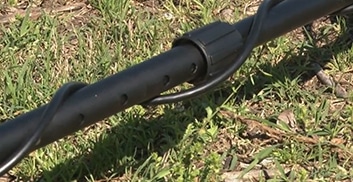 As with the ACE 400, the three-part stem is sturdy, but it can feel a little wobbly at the joins if a larger search coil is attached.
It's also not fully waterproof, so one mishap and you'll have to buy a new metal detector.
Conclusion
As I previously said, the Garrett ACE 300 is the follow-up to the Garrett ACE 250, which was eventually the best-selling metal detector ever, owing to its low price and ease of use. Building on the success of the ACE 250, the Garrett ACE 300 is one of the best metal detectors available.
This is a fantastic lightweight metal detector with plenty of features for the beginner.
They've always kept it easy, so you won't have any trouble setting up this system before a search or finding out how it works; in reality, it's essentially switch-on-and-go technology.
In fair conditions, the unit comfortably reaches a depth of 7 to 8 inches; in good conditions, you'll definitely get more depth. Unfortunately, it struggles in heavily mineralized grounds and on wet beaches, as do all beginner metal detectors and the rest of the ACE selection. The only option is to reduce the sensitivity to zero, but even then, you'll still get some false signals. I wish Garrett had spent more time focusing on improving stability in this area, but in reality, it only performs marginally better than the ACE 250, which is largely due to the 300's increased iron resolution.
The numeric Target ID is awesome and far more accurate than I anticipated.
The tones are somewhat distracting and harsh for me, so headphones are suggested so you don't offend anyone else. They are irritating, but they are really straightforward, which might be desirable for some of you.
Depending on your budget, you could use the ACE 200, which is a more basic edition, or the ACE 400, which is more expensive.
Overall, for those on a tight budget seeking to buy an entry-level machine with a some additional bells and whistles, the Garrett ACE 300 is a machine worth considering. It has everything you need, is quick and easy to use, and perhaps most importantly, it can locate coins and objects in the ground.
In my opinion, Garrett has achieved yet another victory. If you can afford it, upgrade to the ACE 400; otherwise, the ACE 300 is an excellent beginner's metal detector that will assist you in learning.