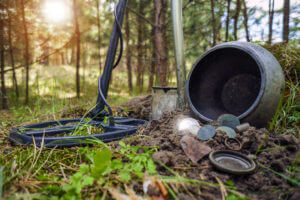 One of the most common reasons for buying a metal detector is to find coins. Although it's arguably the most common reason, not all metal detectors are designed with finding coins in mind. When it comes to coin finding, the most important features to consider are notch and ground balance. Together, these features will ensure you find the most targets and don't waste too much time finding trash and other non-desirable items instead.
Notch is a feature that works to suppress certain levels of conductivity. Being able to change this setting is important for coin finders because it lets you control what levels will and will not ping your detector. This feature allows for a narrower finding range and allows you to home in on your targets.
Ground Balance works to suppress natural minerals in the soil from triggering your metal detector. Generally, a good metal detector will have one of three types of ground balance: manual, automatic, or tracking. Ground Balance weeds out the signals from the mineralized soil and only returns target signals. This feature prevents you from digging up dirt that is just dirt and keeps you on the trail of targets.
5 Best Metal Detectors for Coins
There are a lot of old coins, gold coins, silver coins, relics, artifacts, and other treasures that have been scattered over time. If you are getting in to coin shooting, these are the best metal detectors for coins.
1. Minelab Equinox 600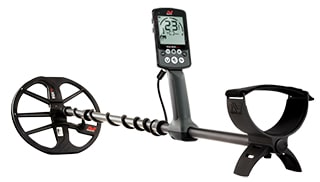 The Minelab Equinox 600 is the best metal detector for finding coins, because it has a wide range of single frequencies in addition to a unique simultaneous multi-frequency feature. Well, in addition to being a really high-tech but easy to use metal detector for about every search condition one could imagine.
Let's start with what makes it #1 on this list, shall we? Minelab has developed a rapid multi-frequency technology that essentially covers 5 times the spectrum simultaneously.
Okay, that sounded more complicated than it needed to be. Most metal detectors use 1 frequency and this works pretty well for cheap metal detectors. The problem is it doesn't work really great for anything and it doesn't give the brains of the metal detector a lot to go on. This results in the user probably hearing the alert for the metal, but missing weak signal and being more likely to dig up junk.
Where the Minelab Equinox 600 stands out is that it scans with 5 frequencies simultaneously. This not only means you are scanning with the optimal frequency for whatever is under the ground, but it allows the electronics to work with a much more complete picture about what may be under the ground. This lets you pick up treasure even when it's right next to trash.
The Minelab Equinox 600 is an entirely sealed unit, making it waterpoof to a depth of 10 feet. It runs on an internal rechargable battery with a 12 hour tun time. For beach treasure hunters, it has a beach mode for dry sand, wet sand, and submerged treasure hunting. This can be very useful for the waterline area, which many other treasure hunters can not search due to false positive signals.
Multi-IQ Scanning
Extremely Fast Recovery Speed
Park, Beach, and Field Detection Modes
6 Custom Search Profiles
Automatic and Manual Ground Balance
Selectable Iron Bias
Waterproof 11-inch Double-D Smart Coil with Skidplate
Weight: 2.96 Lbs
2. Garrett ACE 400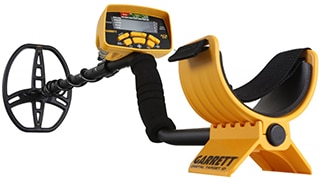 The Garrett Ace 400 is the best of their acclaimed line of ACE metal detectors. As would be expected, it has a number of higher-end features and a different approach to high iron metals.
Increased Discrimination Resolution
4 Discrimination Ranges
Adjustable Notch Discrimination
5 Search Modes
Pinpoint Mode
8 Sensitivity & Depth Adjustments
Digital Target ID
Adjustable 10 kHz Frequency
Target Depth Indication
Large 8.5″ x 11″ DD PROformance Search Coil
2 Year Warranty
That different approach to iron is called Iron Audio. This emits a noticeably different rejection sound for iron, letting you know it is there instead of ignoring the hit. The reason this is important is because you may have junk right next to gold, confusing the signal. With the Garrett Ace 400's fast recovery time, you can literally sweep over a bottle cap and then a gold coin and hear both targets independently. Without the feature, it would have been easy to interpret the signal as one hit.
We chose this over the Garrett AT Pro due to the lower price. Both are great for metal detecting and looking for gold coins, but the higher price of the Garrett AT Pro is just not necessary for this type of hunting.
For ease of use, the Ace 400 also provides a visual target analysis, showing the discrimination pattern as well as the target's conductivity. Combined with a system that includes 100 target identification presets, this cuts down tremendously on wasted time spent digging up trash instead of treasure.
This metal detector comes with a nice accessory kit that includes a search coil cover, control box environmental cover, and Garrett ClearSound headphones.
3. Teknetics Gamma 6000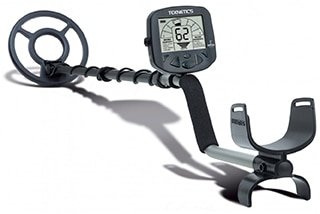 If you're looking for coins in rough terrain you'll want to check out the Gamma 6000 metal detector. This detector GroundGrab control and screen features that come together to give you the best experience for finding coins in less-than-ideal cicrumstances.
In order to accomplish this, it uses advanced ground features, including an 'All Metal Pinpoint' mode that returns the real-time depth of your targets. The display screen also shows a mineralization readout, allowing you to adjust your frequency and sensitivity settings accordingly.
Like all good metal detectors, the Gamma 6000 comes with an adjustable notch system. To further aide in targeting coins, it also allows you to set category icons and numeric target-ID numbers. Compared to other coin hunting products on this list, it uses one of the lowest frequency ranges, going up to just 7.69hKz, but still well within the ideal range for finding gold coins.
This detector also has one of the best battery runtimes compared to other metal detectors on this list, lasting an impressive 25 hours on a 9V battery.
Additionally, it is the lightest metal detector on the list, weighing just 2.3lbs, adding to the benefits of using this in rough terrain as you will not tire as quickly. The 8-inch waterproof coil is smaller than its counterparts, but this is a bonus when using this tool in tight spaces. Lastly, the length is adjustable from 43 – 53 inches and the 5 year warranty is sure to keep you detecting for many years to come.
4. Fisher F75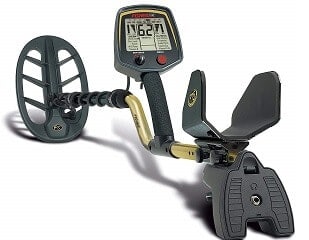 Being in 4th place on this list doesn't discredit this metal detector in any way, it simply is up against some great competition.
This metal detector has arguably the best features when it comes to settings and target separation. To start, the custom FeTone system lets you choose Iron Audio settings to help you home in on your targets. There is also a double-filter mode which is ideal for heavily trashed areas. This detector also uses digital shielding technology if you're looking for additional EMI suppression.
Technologically speaking this detector is also one of the best when it comes to the digital LCD display screen and audio. The audio pitch can be adjusted based on the metal detecting mode you have set and the display screen shows a magnetic mineralization bar graph and readout for easy scanning.
This metal detector is just one of two on this list with a backlit screen. Rounding out the advanced tech, the Fisher F75 has trigger-actuated FASTGRAB Ground Balance and embedded serial number storage.
In regards to specifications, this metal detector uses a standard 11″ DD waterproof search coil and a search frequency that is adjustable up to 13hKz.
Unfortunately, and the main reason it is #4 on this list of metal detectors for coin hunting, the Fisher F75 is the heaviest product on our list and weighs 3.5 pounds.
The extendable pole ranges from a short 43″ up to 52″ and the 2-way armrest design helps to offset the tools overall weight by offering both forward/backward support and around the forearm design too.
Regarding overall usage, it comes with an quite long 5 year warranty and the longest-lasting battery life of any detector on this list with a 40+ hour operating time on four AA batteries.
5. White's Coinmaster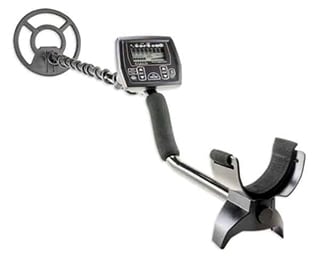 White's Coinmaster is a great metal detector for those just getting started with coin hunting. It includes all the basics for a good metal detector, without overly complex controls that may be intimidating to beginners. The two main points of focus are the range discrimination which has a 1-5 selection and depth sensors that display on the screen. A bonus feature that makes your searching easier is the 'Target ID' ability that helps you identify what you may be finding before you dig it up.
The Coinmaster is one of the lightest metal detectors on this list at just 2.5 lbs. A smaller 9 inch coil is used, but it is waterproof which makes this good for detecting in any weather. It runs on two 9V batteries which will last around 20 hours and includes a speaker and headphone jack.
This metal detector uses an 8kHz frequency which is in the range for coin and jewelry targeting. While the display is not backlit, the pole is adjustable between 46 and 51 inches.
This detector does lack some advanced features found with other top metal detectors for coins, but it is well suited for a beginner coin hunter looking to get started prospecting.
Conclusion

We've listed the 5 best metal detectors for coins on this list. From high-end options to solid entry-level options, these represent the top products when it comes to coin detection. While not identical to each other, they all carry the two main features you need for a good metal detector: notch and ground balance. But, aside from this, how do you choose the right one for you?
Once the two main features are checked off, look at the variety of other features that could help when metal detecting, such as Bluetooth compatibility or extensive water resistance. Consider what terrain you're going to be hunting most of the time and how technical you want to get when it comes to homing in on your target. Having a strong idea of what you want from the tool will help you choose the best metal detector for coin hunting.