Best Pulse Induction Metal Detectors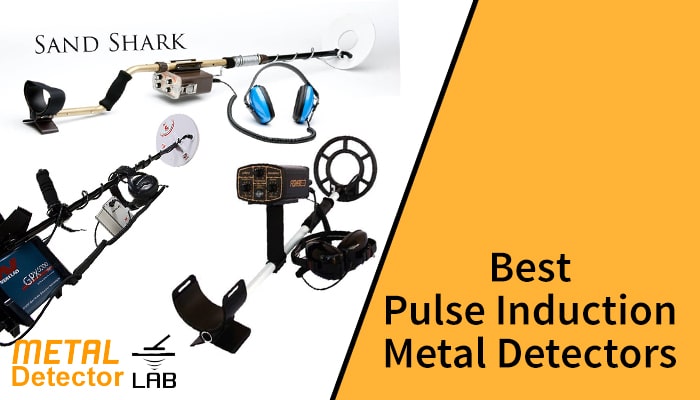 It can be difficult to determine when to switch from a Very Low Frequency to a Pulse Induction metal detector. It is, however, simple once you know what to look for and what to consider before purchasing.
To begin, if you know you'll be looking on beaches, in salt water, or underwater, use a Pulse Induction metal detector if at all possible. The salt in the water, as well as other minerals in the sand, may cause signals to be confused by VLF metal detectors, causing you to miss hits or get false positives.
If you lack access to a pulse induction metal detector, adjusting discrimination settings on Very Low Frequency detectors can help mitigate this issue somewhat. However, Pulse Induction is the best choice.
Top 5 Pulse Induction Metal Detectors
Pulse induction metal detectors perform best in wet sand, salt water, and highly mineralized ground since they ignore mineralization while maintaining a high level of sensitivity. We've found the top pulse induction metal detectors on the market and listed them below.
1. Garrett ATX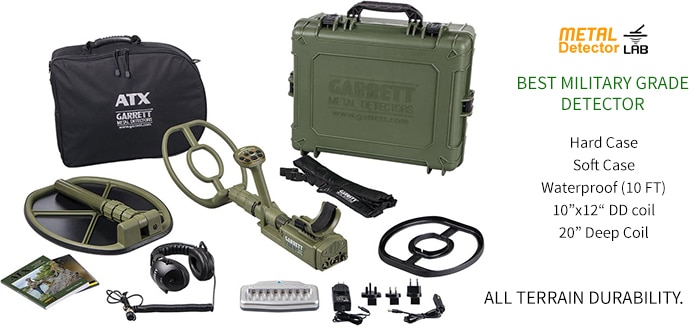 Because of the numerous high-end features, the Garrett ATX Extreme metal detector is built with professional users in mind, which is reflected in the price. It's a metal detector for all terrains with a DD scan coil that can be placed in a 90-degree position. This enables you to search from a variety of angles, including up walls.
Additionally, this search coil has uniform sensitivity, which eliminates the need to switch modes and prevents one target from degrading in order to support another. Simultaneously, Pulse Induction can detect tiny artifacts such as relics and coins.
Although it is strong, it also has a number of features to make it user-friendly as well. It is suitable for use on land and underwater, as it is waterproof to a depth of ten feet. a depth This is accomplished through the use of a waterproof speaker and headphone jack.
In addition, this detector will conduct a simple iron search to quickly identify targets made of iron. It features an adjustable length and a high-quality volume control, allowing you to hear fainter signals more clearly. Additionally, the LED's are well-designed, allowing you to quickly determine the signal intensity.
It features a discrimination range of 25 settings and a broad ground balance spectrum ranging from ferrous to salty conditions.
You can read more about it in our Garrett ATX review.
2. Minelab GPX 5000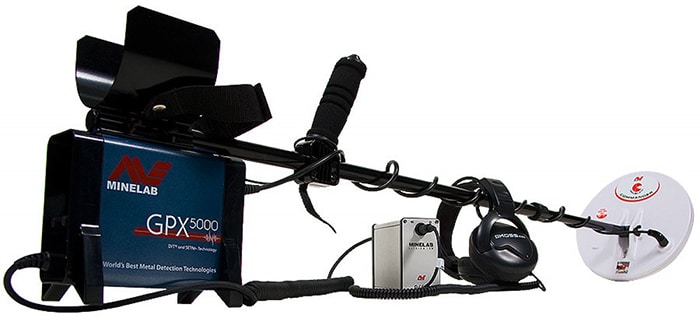 The Minelab GPX 5000 is the newest metal detector in the GP/GPX series and it finds gold nuggets exceptionally well using pulse induction technology.
The Minelab GPX 5000 can locate gold nuggets of any size, but it excels at locating deep gold nuggets as well. It's important to understand the detector's different settings and how it is used properly. Many newcomers are confused and frustrated by all of the various settings and choices, but this is precisely what makes this detector so amazing. You can fine tune the detector's settings so that it's right for the place you're prospecting.
The only reason this is #2 on our list of the best pulse induction metal detectors is that the price is about 2x that of our #1 choice, the Garrett ATX.
Is this a fantastic metal detector? Absolutely! Is it worth twice the price of our top choice? I'm not so sure.
It is a great metal detector for gold nuggets and prospecting and you can read more about it in our review of the Minelab GPX 5000.
3. Fisher 1280-X All-Purpose Detector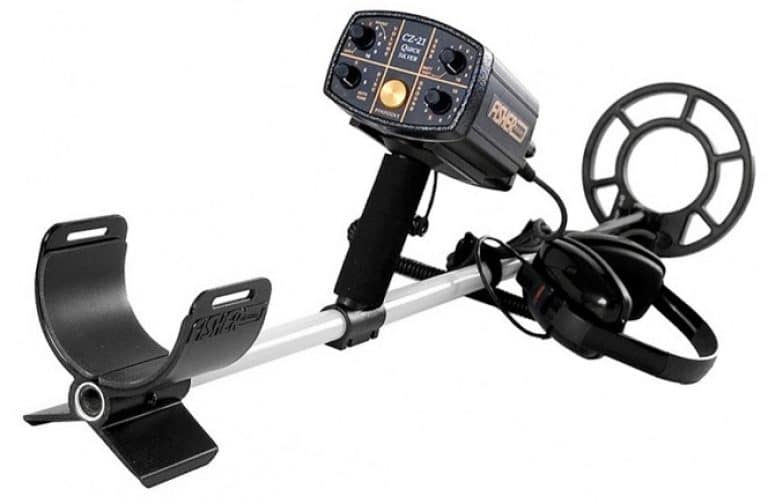 The Fisher 1280X costs a little more than a beginner would like to pay. It is, however, an amazing detector for what it delivers. It is submersible to a depth of 250 feet, which means you can use it for ping searches. Even the headset is waterproof.
It can detect all metals, but silver and gold are particularly sensitive. If you're looking for a piece of jewelry, this might be the metal detector for you. You won't have to worry about ground minerals impacting your search because the Fisher Impulse can be used effectively in salt water and black sand.
The Fisher 1280X is equipped with a collapsible pole and is enclosed in the very rugged enclosure. When swimming, a shorter pole is preferred, but when standing or wading, the maximum extension is preferred. The Fisher 1280X can be submerged to a depth of 250 feet. The control box can be quickly removed and placed on the hip or on the chest with the use of a chest harness. The 1280X is renowned as the best freshwater detector, but it is also suitable for use in saltwater.
It is heavier than many metal detectors, weighing over five pounds, but if you intend to search in water often, you won't notice.
4. Tesoro Sand Shark Metal Detector

The Tesoro Sand Shark pulse induction metal detector is ideal for searching for treasure underwater, on the beach, or on any other surface. The instrument's microprocessor device automatically adjusts to the surrounding conditions, ensuring that it works well in either salt or mineralization stage.
It features waterproof headphones so you can more clearly distinguish between signals. The Sand Shark is designed to detect a variety of metals such as iron, aluminum, copper, gold, and silver.
It comes with written spiral coils in four different sizes. Because of the holder, it's very light and convenient. This pulse detector's system has two operating modes: VCO and standard. Normal mode indicates target detection with a single tone. When you approach a metal object in VCO mode, a higher and louder tone is emitted, which is ideal for pinpointing targets.
This pulse induction metal detector comes with a lifetime warranty.
5. Whites TDI Beach Hunter

The Whites TDI Beach Hunter is a saltwater and freshwater fishing lure that can also be used for gold prospecting. The device has the ability to operate at extreme depths on land or sea. It's waterproof to a depth of 25 feet, which is among the best in its class.
The TDI BeachHunter is capable of locating its objects in goldfields, on the beach, and even in difficult-to-find areas such as red clay.
An adjustable Pulse Delay feature on the detector allows you to dial in optimum sensitivity to locate hammered coins, fine gold jewelry, and small gold nuggets at greater depth.
As a pulse induction metal detector, it will not be affected by ground mineralization or salt levels.
The unit has adjustable volume, dual-tone audio, and threshold power, allowing it to accommodate a variety of hearing preferences.
It weighs 5.2 pounds and is powered by eight AA batteries, so you can hunt for silver, gold, or other treasure for an entire day on a single charge.
How do Pulse Induction Metal Detectors Work?
A single coil serves both as the transmitter and receiver in a PI metal detector, making it a two-in-one device. There are metal detectors that use pulse induction and have several coils that operate together.
The coil sends out short bursts of current that last milliseconds. The currents in a given pulse reverse polarity and collapse as the pulse ends, a mechanism known as reflected pulse duration. The entire pulse sequence is repeated at a rate of about 100 pulses per second. This, however, varies among PI metal detectors and manufacturers.
Pulse induction metal detectors are resistant to highly conductive minerals in the soil thanks to this pulse technology. It is only looking for metal.
After detecting a metal, a sampling circuit determines the duration of the reverse polarity and reflected pulse (collapse process). If it is not longer than it normally is in the absence of metal, no target is present. When it takes longer to subside, even milliseconds longer, it is highly likely that a metal target has been detected.
Conclusion
Pulse induction metal detectors use an innovative method of operation that uses a single coil as transmitter and receiver, which makes searching in areas of high ground mineralization simpler than ever before. It generates an electromagnetic field by sending electrical pulses into the earth. Electronic currents perform reliably and efficiently in both fresh and saltwater, and are unaffected by salt water, wet sand, or ground minerals.
VLF products are significantly lighter and can discriminate between metals, whereas Pulse Induction provides superior search quality and the ability to detect smaller gold nuggets. Despite the fact that PI detectors are more costly, the difference in the results can more than make up for the higher cost.
Related Articles