The Best Metal Detectors (2023 Guide)
How do you identify the best metal detectors for your intended use, skill level and treasure hunting destinations? With a growing number of detectors on the market and rapidly expanding metal detector technology, a bit of research is needed to ensure your investment will live up to your expectations. We created this in-depth buyer's guide to the best metal detectors of 2021 to help you make an informed buying decision.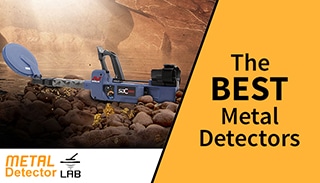 Information in this guide is useful for detectorists of all skill levels. Whether you're searching for a fun way to bond with your family and role model a healthy lifestyle to your children or you're a history buff who wants to search for relics and memorabilia, our metal detector reviews and detailed buyer's guide will help you select the right detector for your needs.
Even if you're a pro with years of experience, you may need to brush up on some important advances and the terminology seen in many product descriptions and advertisements. Let's get started learning about the best detectors on the market and answer some of the biggest questions before buying one of these machines.
Top 12 Metal Detectors of 2021
It's difficult to sort through the expansive metal detector market and find the right model for your intended use, skill level, expectations and budget. Whether you're interested in top-of-the-line metal detectors or you need an entry-level machine that performs well, our best recommendations are listed here.
These suggestions should give you a head start on your search. If you're uncertain about any terminology or the value of any features listed in these metal detector reviews, check out our buyer's guide for in-depth information to help you make a better-informed buying decision.
1. Minelab CTX 3030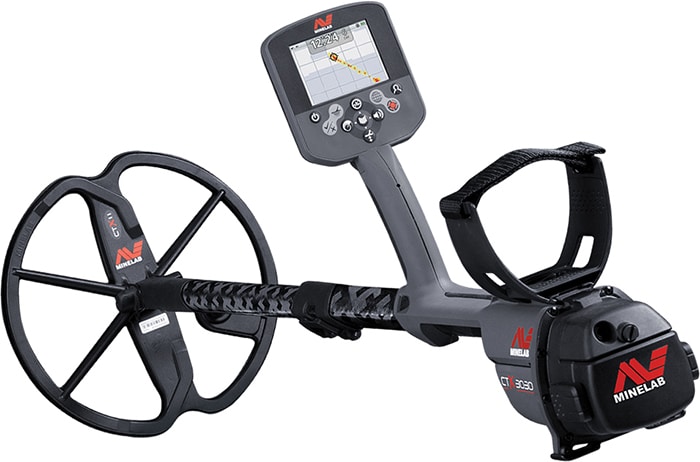 Minelab is known for making some of the best and most innovative metal detectors with leading edge technology and the Minelab CTX 3030 is no exception. For those that want to find more targets in a variety of soil conditions, the CTX 3030 is an excellent choice. It's designed to transmit multiple frequencies and features cutting-edge technology for data communication between the coils and the detector. The target ID features are among the best on the market today.
Pros
Waterproof
Advanced target ID features
High-sensitivity GPS system
High-speed wireless audio
Color digital menu screen
Advanced discrimination features
9 language options
Multiple coil options sold separately
Transfers prospecting maps to a computer
Cons
Price is prohibitive for some metal detectorists
Steep learning curve, especially for new users
2. White's Spectra V3i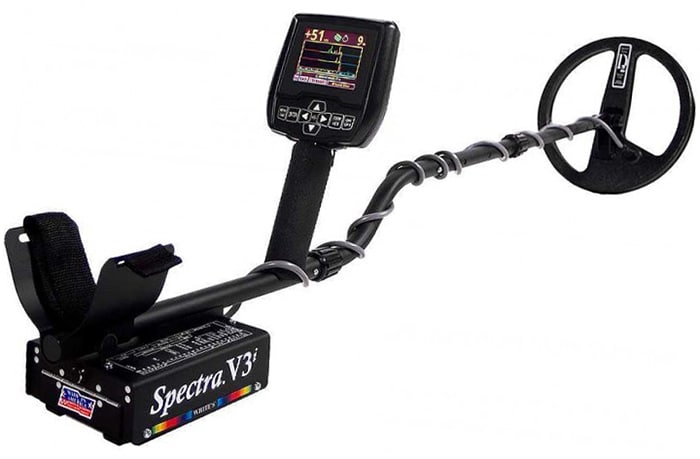 The Spectra V3i is the best metal detector from White's Electronics. It features a full-color screen that clearly reveals the depth and identification of every target identified. You can use it right out of the box and don't have to spend time customizing settings. The dashboard also makes it easy to adjust a variety of settings if you have more experience or want to learn to get the most out of your hunts.
It comes with a 10-inch standard coil, and a 13-inch coil is available as a separate purchase. This is often the second or third metal detector users upgrade to after starting out with a lower-priced, entry-level detector.
Pros
Full-color display screen
Out-of-the-box functionality
Rechargeable battery
Built-in reference guide
Automatic and tracking ground balance
Suitable for all types of metal
Fully adjustable tone ID
Comprehensive 2-year warranty
Cons
Price is too high for beginners
Customized settings require more time to understand
3. Minelab Equinox 800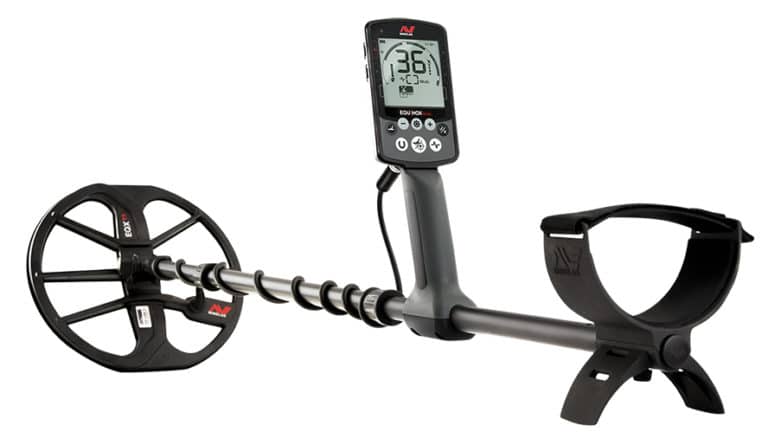 Think of the Equinox 800 as a technologically advanced go-anywhere metal detector. Whether you're hunting for treasure at the beach or an old farm yard, there's a detection mode suitable for most terrains common to metal detecting. This Minelab model is lightweight and features an LCD screen with backlighting that makes it easy to identify targets. It comes with an 11-inch DD smart coil, and you can buy other sizes at an additional expense. This is one of the more affordable Minelab metal detectors.
It is the best-rated metal detector for coins and you can read more about it in our Minelab Equinox 800 review.
Pros
Suitable for all target types
Designed for all ground conditions
Multiple frequencies
Variable single frequencies
Fast recovery
Wireless audio
LCD screen
Cons
3-year warranty only covers the coil and control box
Some user reviews state it is not as waterproof as claimed
4. Garrett AT Max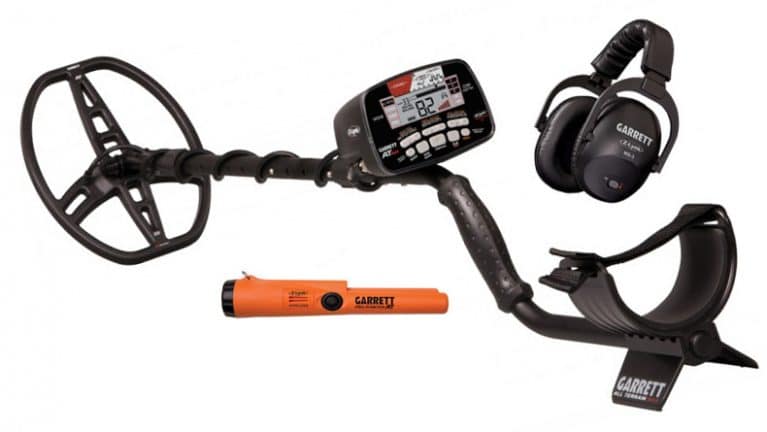 The Garrett AT Max is the best metal detector for more extreme weather conditions or environments. It is designed for humid, wet, and dusty conditions. One feature that separates the Garrett AT Max from many competitors is its ability to operate underwater up to 10 feet. Even the control box is waterproof.
When you use the included headphones, you'll enjoy a mere 17 millisecond delay in tones from the detector to your headset. That's faster than most Bluetooth and wireless phone connections.
Pros
Waterproof up to 10 feet
Tough enough for intense environments
8.5″ x 11″ DD coil
Adjustable arm strap and cuff
MS-3 wireless headphones included
Console easy to view at night or in low light
Adjustable audio threshold
Iron audio setting
Cons
Some users experience excessive interference or jumping
5. White's MX Sport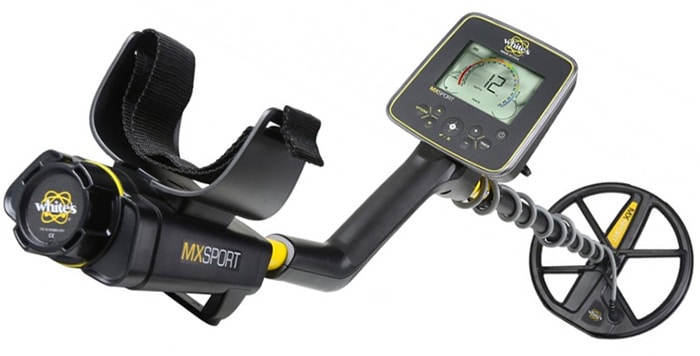 The MX Sport is a general-purpose metal detector from White's Electronics. It's designed to go from the beach to jewelry to prospecting. It falls in the MX product lineup and is basically the original MXT metal detector with updated circuitry. The MX Sport comes with a 10-inch standard Sport coil, but different sizes may be purchased separately. We consider it to be the best machine for intermediate hobby users.
Pros
Selectable tone ID
Auto and manual ground balance
Audio modulation
Handles mineralization great
Waterproof up to 10 feet
1/4″ headphone adapter
LCD display with backlighting
Cons
More simplistic than some competitors
6. Minelab Equinox 600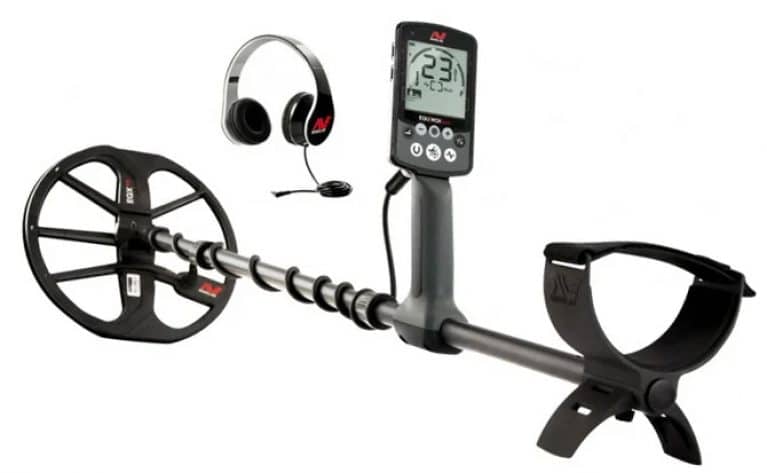 The Minelab Equinox 600 is a high-tech metal detector without the shocking price tag. It's designed to adapt to a variety of hunting environments, from the park or an open field to the beach. The lightweight design makes it a great choice for a solid entry-level metal detector for family outings and casual hunts. It comes with an 11-inch Double-D Smart coil that is waterproof up to 10 feet.
Pros
Minelab quality at an affordable price
Multiple frequency capable (Multi-IQ)
Variety of single frequencies
Fast recovery
Wireless audio
Lightweight design
Waterproof up to 10 feet
LCD screen
Cons
Multi-frequency feature can be less than functional for certain types of treasure hunting.
There is a learning curve when adjusting the features for maximum performance.
7. Teknetics T2 Classic

The Teknetics T2 Classic is great if you are looking for jewelry or relics. It comes equipped with double filter discrimination modes, which allow you to identify something valuable even when hunting in areas filled with trash and debris. With an affordable price tag and an easy-to-use menu system, it could help someone new start treasure hunting quickly.
Pros
Professional grade
Lightweight design
Large LCD screen
Good discrimination features
Waterproof
40+ hour battery life with four AA batteries
Cons
Doesn't feature much advanced technology
8. Garrett Ace 400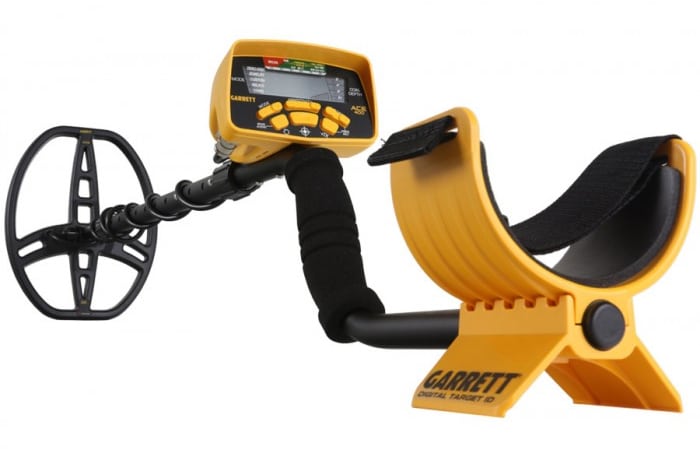 We consider the Garrett ACE 400 to be a bargain for the novice metal detectorist. While it may not stand up to hunts at the beach or in wet environments, it does work well for artifacts and jewelry. The 11-inch search coil is submersible, and comes with an arm strap and cuff that adjusts to your arm for comfort. Garrett also provides free accessories, including a cover, headphones and an environmental cover-up.
Some of the more best features on the Garrett Ace 400 are enhanced iron check to identify iron before you start digging and graphic analysis to show the discrimination and conductivity of an object on an easy-to-read screen.
Pros
Adjustable frequency
Iron discrimination
Electronic pinpointing
Affordable
Comes with free accessories
Cons
Some people experience higher false signals
Slight learning curve
9. Garrett ACE 300

The Garrett Ace 300 metal detector is perfect for family use or new detectorists. While it doesn't come with the most cutting edge technology on the market, it does offer an enhanced iron check to save you time digging up iron-rich metals that aren't your ideal targets. Garrett also has a pinpointing feature to help you identify the exact location of identified targets. The adjustable frequency will help to eliminate interference in the surrounding environment.
Experienced detectorists or those hunting in more demanding environments may not find what they need in the Garrett Ace 300, but it can be great for detectorists that are new to the hobby.
It is the best metal detectors for beginners and you can read more about it in our Garrett ACE 300 review.
Pros
Budget-friendly
Adjustable frequency
Electronic pinpointing
Enhanced iron check
Adjustable arm strap, cuff
Free accessories included
Cons
Speaker volume is loud
Doesn't work well at the beach
10. Fisher F22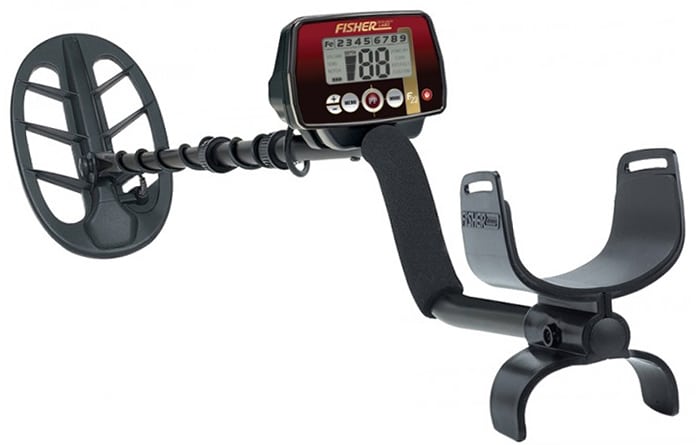 We consider the Fisher F22 to be one of the best budget-friendly detectors. It's also one of the top picks for kid as it is very user friendly. While it is fairly basic, Fisher does offer everything you need for a successful hunt in dry areas or possibly at the beach. It comes with 3 preset modes plus one custom setting.
Pros
Weatherproof
Up to 30 hours run-time on 2 AA batteries
Adjustable iron audio
10 sensitivity levels
20 volume levels
Budget friendly
Cons
Difficult to set up for some users
11. Garrett Ace 200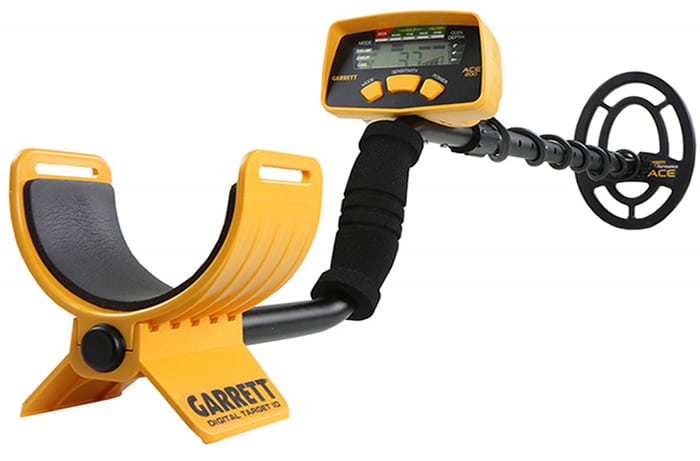 Garrett Ace 200 is perfect for out-of-the-box metal detecting and is one of the easiest metal detectors to set up. The 9-inch coil is a bit smaller than what is standard on many competing machines and features are lacking. Garrett does provide a digital ID showing you the depth and size of located targets before you start to dig. The four sensitivity adjustments make it easy to adjust the Ace 200 to a variety of conditions.
It is the best cheap metal detector and you can read more about it in our Garrett ACE 200 review.
Pros
Affordable
3 search modes
Weighs less than 3 pounds
Cons
User reviews have reflected inconsistent hunt results
12. Bounty Hunter TK4 Tracker IV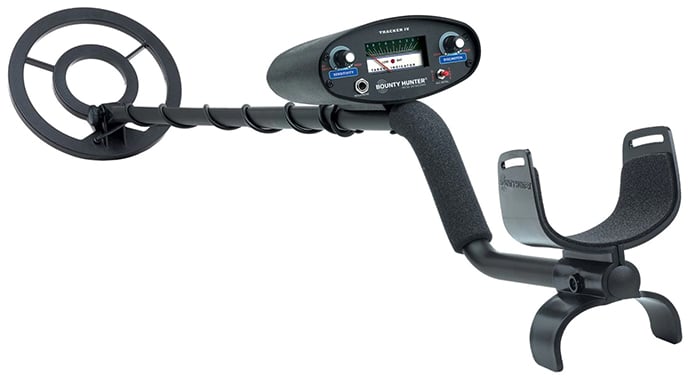 The Bounty Hunter TK4 Tracker IV is one of the simplest metal detectors to operate. Rather than setting modes based on types of metal, you select from the following three modes: discrimination, all metal and 2-tone audio. You may not get the precise results that are possible with more expensive metal detectors on this list, but you do get the pleasure of taking your Bounty Hunter detector out of the box and hunting without a lot of complicated adjustments.
Pros
Discriminates between treasure and trash
Easy to use
Lightweight
Adjustable for comfort
Cons
Stripped down and simple
Settings aren't specific to metal types
Can deliver false positives in some environments
Buyer's Guide
It's difficult to select the best metal detector to buy if you aren't familiar with the newest features available on the market today. There are basic entry-level models that are easy to operate right out of the box, and then there are more complicated models that perform at mind-blowing levels when you take the time to understand how they work.
Most metal detectors fall somewhere in the middle. They're easy enough to use and perform to an acceptable level for someone without much experience. If you're more experienced or you want to really understand how your machine works to get the best results from each hunt, you need to understand what the features you see advertised actually do.
Skill Level
Most hunters start out at the novice level, but you may have secondhand experience that allows you to understand metal detecting at an intermediate level. Until you have experience in the hobby in a variety of environments, you should consider yourself at the novice or intermediate skill level. This is an activity requiring hands-on experience to really understand how it works and why it's rewarding.
You're an experienced hunter when you've been out in the field metal detecting for some time and have a good understanding of what most, if not all, of the features on a detector can do. At that point, you will start to inspect and compare your options at a deeper level because you want the most effective and powerful detector within your budget.
Cost
With price tags ranging from less than $100 to well over $10,000, it can be difficult to know how much you need to spend.
Intended Use
The best metal detector for you may not work well for someone else. It comes down to why you're buying a metal detector and what you expect it to do for you. If you're new to metal detecting or are purchasing it as a gift, you may not really know beyond a general interest, and that's okay. Let's cover the most common uses of a metal detector to give you a general idea of what features are most important for each one.
Relic Hunting
Do you have an interest in history? Historical events like wars and battles are often of interest to relic hunters who enjoy searching for memorabilia related to past events. If that's your intended activity in this hobby, you will likely spend a significant amount of time researching and selecting your hunting grounds to maximize your chances of finding relics of interest.
Relic hunting often requires searching across varying conductivity ranges, so you should look for a powerful detector with at least some adjustable features. The more you can adjust and program your detector, the greater success you may have hunting at various destinations for a variety of relics.
Saltwater Beach Hunting
Beaches are mineral-rich environments that can cause many metal detectors to deliver false signals or jump around to the point of annoyance. If you want to take your detector to the shores even occasionally, make sure you select one with a very low frequency setting and adjustable ground balance. Without this, you won't get the best results on a saltwater beach.
If you plan on spending a significant amount of time hunting on the beach, or this is your primary intended use, consider investing in a metal detector equipped with pulse induction technology. We'll discuss what that means in more depth later in this guide, but for now it's enough to say this allows you to use your detector without mineral interference and without adjusting settings.
Gold Prospecting
Prospecting for gold nuggets or flakes requires a metal detector with the ability to search at greater depths. The larger the gold piece, the deeper it can be while still being detectable. Small flakes are easily detected within the first couple inches of soil, but you may find larger gold nuggets up to 10 inches deep. Because prospecting equipment is more specialized, we have written a dedicated page to help you find the best metal detector for gold.
If you want to find larger gold pieces buried deeply, you should buy a metal detector with pulse induction. They will tune out other minerals in the ground while searching at greater depths for larger pieces of gold. There are other great features available, and some metal detectors are advertised as excellent options for gold prospecting.
Target Types
Targets are metal objects buried beneath the surface. There are accepted targets like jewelry, and then there are ferrous items like nails and bottle caps that aren't desirable. The control box responds to various known targets by producing different sounds, which are called tones. You can usually adjust settings to eliminate ferrous objects and focus on the things you're most interested in locating.
Detection Depth
Detection depth refers to how deep a detector may accurately identify objects. The best metal detectors on the market today may go down to 10 or 11 inches. There are many factors which may influence the detection depth for various target types and sizes. If you have something specific you want to find, that information may help you select a detector with the most appropriate detection depth.
Warranties
A manufacturer warranty will tell you whether a company stands firmly behind the quality of their product or not. It may also tell you how long the manufacturer expects the product to last. They're not going to offer a warranty that is longer than the expected lifespan of the product.
Accessories
Metal detecting is becoming a competitive field, and accessories are one way manufacturers can compete with one another. The more accessories included with your detector, the less you will have to spend on separate purchases to get the best performance from your detector and most enjoyment from your hunts.
Some of the metal detecting accessories you may want to consider include:
Headphones
Control box cover
Storage/carry bag
Rechargeable batteries
Utility belts
Harness
Magnifiers
Search Coils
Metal detector coils are the loops that sweep over the ground. The coil is wrapped with wire and produces a magnetic field when electricity is applied. This is what interacts with buried metal. The deeper that magnetic field can penetrate the earth, the more likely you are to find treasure buried at greater depths.
There are different sizes and types of coils on the market today. Some perform better than others, so it's good to have at least a basic understanding of your options when shopping for metal detectors.
Coil Size
Search coils can range from less than 5 inches to 24 inches. The more trash and debris in an area, the smaller coil you may need. You should also use smaller coils when hunting close to fences and other barriers.
Think of smaller coils as options for metal detecting in confined areas, including between pieces of trash and other debris. Larger coils cover a greater area and can speed up your hunt in less polluted areas or when you're hunting for larger objects.
It's often said that large coils of at least 12 inches will penetrate to the greatest depths. While that's true, keep in mind that mineralization and other environmental factors play a role when determining the true detecting depth.
Coil Types
As the popularity of metal detecting continues to expand, new coil types are introduced to the consumer market. The following list will give you a basic understanding of the types currently available and their best intended uses:
Concentric Coils
Also known as coplanar coils, these coils can look like spiderwebs or doughnuts. They have three loops. Two are designed to transmit while one receives. The magnetic field is strongest directly below the detector and gets narrower the further it travels through the soil. They can deliver precise identification when locating objects.
Monoloop Coils
This is a single circular or semi-elliptical loop wrapped with multiple wire strands. It creates a strong magnetic field directly below the detector and this extends downward in a cone shape. You should develop a looping scan pattern which swings back over the same area at least once to ensure thorough coverage. If the soil isn't heavily mineralized, this design is highly sensitive to many types of metals.
2D or DD Wide Scan Coils
These coils get their name from their shape, which looks like two capital Ds connected on the straight edge. One transmits while the other receives. This design can scan a wider area of ground and isn't as sensitive to mineralization. The downside is that identifying the precise location of relics is harder.
Coaxial Coils
These have two receiving loops with one transmitting piece in the center. It creates a uniform, cone-shaped magnetic field and is featured in some of the smallest coils. Larger designs using this pattern would become too heavy and large for comfortable use.
Metal Detector Technology
Research and development are ongoing in the metal detector market. Understanding what the most significant technologies in the consumer market can do for your hunting efforts will help you select the right detector for your intended use, budget and expectations. Not everyone needs advanced features, so think about what you're likely to make use before investing in one of these machines.
Very Low Frequency (VLF)
When you come across an affordable metal detector which is advertised as an all-purpose or general-purpose model, it's most likely designed with VLF technology. There are generally two distinct wire loops that emit a low frequency. This allows you to enjoy hunts in a variety of environments with varying terrains, including your local park or the beach.
Pulse Induction (PI)
Pulse induction metal detectors handle difficult ground conditions and mineralization much better than VLF detectors. A single coil transmits and receives signals in a way that isn't sensitive to salt and other minerals which may otherwise make things extremely difficult. PI is a great if you want to try finding treasure at the beach.
Multiple Frequency (MF)
We've discussed the difference between high and low frequencies in this buyer's guide. You will find some machines featuring multiple frequency settings, and very expensive models will have multiple and single frequencies for different uses. This allows you to hunt for a variety of metals of different sizes and types in a wide array of environments. Multiple frequencies are able to penetrate the ground easier and to hold onto target tones more efficiently.
An electromagnetic field is created and this penetrates below the surface.
When the electromagnetic field meets with a metal object, the object is energized and sends out its own magnetic field.
The target's residual magnetic field is used to determine what type of metal it is and that information creates the corresponding tone.
Information regarding the depth, location, and identification of the target is then shown to the user.
How Does a Metal Detector Work?
Reading through our buyer's guide may have given you insight into how metal detectors work. However, it may still be helpful to break it down into a step-by-step process that allows you to understand what your machine is doing with each swing of your arm.
Metal Detector FAQ
The questions we hear most often about metal detectors are presented below along with easy to understand answers. You're welcome to ask additional questions if you don't find the information you need in our detailed metal detector buyer's guide above.
What are the Best Detector Brands?
Minelab makes some of the most advanced metal detectors available and they are loaded with the latest advances in the industry. Minelab is known for offering high-tech machines that make hunting for a variety of metals easier, faster, and more fun.
White's and Garrett are two of the leading name brands for mid-range metal detectors suitable for intermediate and some advanced users. These detectors will use complex hardware on durable, high-quality frames that stand up to routine use for many years.
If you're shopping for budget-friendly metal detectors, look to brands like Fisher and Garrett. You can find metal detectors that have all of the basic capabilities you need to be successful in most environments and ground conditions.
What Is Ground Mineralization?
The earth is naturally mineral rich. Some types of soil have greater amounts of minerals than others, and those minerals can give off their own response to an electromagnetic field. That means minerals like salt can interfere with your treasure hunts and result in false positive signals. Modern detectors can now overlook responses caused by minerals to improve accuracy.
Does Coil Size Matter?
Coil size determines the area of ground covered with each sweep. Smaller coils will cover less with each sweep but are beneficial when looking for searching in trashy or cluttered soil. They may also help you find small flakes or grains of metals. Larger sizes will cover more ground and may penetrate deeper.
How Deep Can Metal Be Detected?
The depth limits for each machine depends on a variety of factors, including the quality and size of your search coil. Mineralization and the type of soil presented can have an effect as well. Settings on your detector like sensitivity and discrimination will also play a part. In general, a cheap hobby detector can typically penetrate up to 10 or 11 inches.
What Is A Depth Indicator?
The depth indicator tells you approximately how deep an identified target is buried. The given depth is an estimate, but it should give you an idea of how much digging is required to retrieve the target.
What Are Good Places For Metal Detecting?
You don't have to venture far from home to use your metal detector. You can search your front and back lawn for treasure or venture through your local parks. Look up state and national parks in your area to discover very good potential hunting grounds.
If you go on vacation, consider taking your metal detector to the beach, into a forest or even just around an RV park. If you enjoy history, you may even want to review information about historical events and then travel to related destinations to go relic detecting.
What Can You Find With A Metal Detector?
Metal detectors are great for prospecting, but you may also use them to search for artifacts and historical memorabilia. Some hunters enjoy collecting buried relics while others look for lost jewelry. You can even enjoy the hobby for the sheer pleasure and surprise yourself with random finds.
Do You Need An Expensive Metal Detector?
The amount you spend will depend on your intended use, skill level and expectations. If you're hunting in extreme weather conditions or in heavily mineralized soils, you need durable equipment designed to withstand moisture, salt and other elements. The more advanced technology you want to utilize, the more you can expect to spend on your metal detecting equipment.
If you want metal detecting to be a casual hobby that you enjoy with your family, an entry-level model costing around $200 may deliver satisfactory results. If your passion for metal detecting grows, you can always upgrade to a model with more capabilities later.
What Accessories Do You Need?
You don't necessarily need to buy any accessories for your machine. Most users purchase a carry or storage bag, and some detectors come with a bag. If you would prefer to use headphones, you can invest in a headset or one you already own. However, it's best to use headsets designed for metal detecting because you want to minimize delay in tone transfer to your headset.
Do You Need A Pinpointer?
Pinpointers allow you to do less digging, but they aren't essential. If you're willing to spend a bit more time exploring an area, you can successfully find targets without one. If you would rather be able to go straight to what you have detected, a pinpointer can definitely help.
Are Metal Detectors Waterproof?
Some machines are waterproof up to 10 feet, but most are not operational when completely submerged in a large body of water. One thing to keep in mind is that the control box isn't always as waterproof as the search coil, and this may limit how deep you can go underwater. To learn more, read our article reviewing the best underwater metal detectors.
How Much Does a Metal Detector Cost?
Metal detectors can cost anywhere from about $100 to more than $8,000. The more expensive models tend to come with a lot of innovation that advanced metal hunters will want to explore.
Metal Detecting Terminology
Ground Balance
In mineral-rich hunt locations like the beach or anywhere with dense red earth, minerals are often picked up as targets. Mineralization can also make it difficult or impossible to pick up on smaller targets. Adjustable ground balance will be able to ignore the minerals and focus more precisely on the things you want to find. Think of it as balancing out the noise so targets are easier to identify.
Adjustable ground balance is essential for beach and underwater metal detecting. In addition, if you live in area where the soil is dense and red, you likely have particles of iron that can interfere with the signal and make your machine less accurate.
Some detectors have manual ground balance, which requires you to make the adjustment yourself on every hunt. Automatic balance allows the detector to make adjustments for you at the start of every hunt, and tracking ground balance will automatically adjust throughout all operations. Tracking balance will save you a lot of time, but it's only available on more expensive models.
Sensitivity
Sensitivity refers to a metal detector's ability to detect particles of certain materials. The more sensitive it is, the better results you will have when detecting. If you're searching for gold flakes, you will need a highly sensitive machine. Less sensitivity limits you to detecting larger targets.
To determine the sensitivity level for a metal detector, test runs are performed and then the results are expressed in diameters. For instance, it may tell you the diameter or size of a piece of aluminum, stainless steel, or non-ferrous metal found during the test.
Discrimination
Think of discrimination as your metal detector's ability to discriminate between identified targets. This picks up on ferrous or conductive properties to determine what type of metal is present and whether it has value or is just trash. Without this, you would be finding a lot more bottle caps, nails, and other items you probably don't consider treasure.
Variable discrimination is what you'll see on an average entry-level machine. You turn a knob to adjust the discrimination, which doesn't allow the greatest precision. If you want greater control over the discrimination, look for a machine with a digital screen that shows conductive and ferrous properties so you can mark out ranges you don't want to detect.
Notch discrimination is found on many affordable metal detectors. It works with target ID's and allows you to eliminate things you don't want to detect. If you're shopping for a metal detector for prospecting, you may want to have an iron reject feature, which is a type of discrimination.
Frequency
Metal detectors can have single or multiple frequencies. With just one, the level of frequency will determine whether it's more likely to detect small or large objects. A higher frequency can be used to detect smaller items, and lower frequencies are better at detecting items that are buried deeper as well as larger objects. If you will be looking for flakes, nuggets, and pieces of all sizes, you should look at detectors with multiple frequencies to give you more flexibility.
Target Identification (Target ID)
Target ID is one of the most common features you will find as you review your options. You will have a digital screen that displays a grid or bars, each representing different types of metals. Instead of listening to tones and deciphering what you've found, you can look at the screen for visual input. For instance, you may have a section for jewelry, a different section for iron and another for silver.
This works with the discrimination system to accurately identify buried treasure and sort them from trash.
Recovery Time
In order to pick up everything possible, your machine must pick up a signal and then reset fast enough to catch the next object. Detectors with slower recovery times will miss a lot because they may be resetting when you sweep across a new area.
The speed of your swing as you move can impact your detector's recovery time. If you swing too fast, the detector will not have reset before you reach the next target. That's why it's important to develop a rhythmic swing that allows you to cover a large area at a reasonable pace while allowing your detector to keep up with your pace.
Fast Audio or FA allows you to adjust some of the best, and most expensive, metal detectors to the speed of your swing. This setting increases recovery time so you can move faster without missing something.
To determine the correct swing speed, complete a test run. Place quarters in a line, leaving space between them. Run your machine over them at varying speeds. You should hear a tone for each one you laid out on each pass when you have reached the right speed for your detector.
Pinpointer
Once your machine identifies a desirable target, you still don't know exactly where to dig. That's especially true for smaller objects. If you have a pinpointer on hand, you can reduce the amount of time you spend digging around. You can dig a small hole and then use the pinpointer to determine a more exact location to dig.
Summary
If you've never used a metal detector before or have experimented with one that didn't work well, you may want to read this guide to the best metal detector again after you've enjoyed a few hunts. Many of the newest features are easier to understand after you've spent time trying to find treasure. The manual that comes with your metal detector may also make more sense after a few hunts.
We encourage you to come back to this guide when you're ready to upgrade to a newer model with more power and advanced features. We look forward to helping you grow your skill level and develop a deeper appreciation for the art of metal detecting.
Related Articles