Best Metal Detector Pinpointers
When it comes to unearthing your treasure, a pinpointer will make all the difference. There are several instruments that a metal detectorist should have with them, and a pinpointer is at the top of the list. Assume you're using your metal detector and it tells you you've discovered a needle in a haystack. Yes, you can locate the needle's general position, but using a pinpointer can help you narrow it down to a very small area. I only had a small shovel and a detector when I first began metal detecting, so my finds took a long time to narrow down. Unfortunately, there were moments when I had to abandon my search because I couldn't find what my detector had found. I never leave a hole I've dug without retrieving an item now that I use a pinpointer. It's as plain as that.
You've already invested a certain amount of money on your metal detector to locate your treasures; now it's time to invest in a pinpointer. You may find what your detector is asking you about if you don't, but you'll miss out on several chances to zero in and find coins, relics, gold, silver, and much more if you don't. Pinpointers are similar to detectors, but the main difference is that a detector has a long coil that helps you locate the desired area deep in the earth, while pinpointers can find the target a little over a centimeter away from the pinpointer's tip.
5 Best Metal Detector Pinpointers
Exploring with your metal detector is a great thing for you and your family to do together. It is also possible to use it as a way to make some money. Metal detecting, on the other hand, necessitates not only luck and a decent metal detector, but a pinpointer to make the operation go more smoothly.
Finding the best metal detector pinpointer can be a difficult job, so you'll need some help to find the correct one. To assist you, we'll go through some of the best pinpointers on the market today, as well as include a fast buying guide and FAQ.
1. Garrett Pro-Pointer AT

To find your small treasures even quicker, the Garrett Pro-Pointer AT is the tool you need. At a cost of a little more than $100, you will be amazed at how much faster you find the objects your detector showed you. This pinpointer is 9″ long so it's easy to carry with you in the included holster and has built in flashlight for peeking down into your holes. It only weighs 7 ounces and uses a nine-volt battery.
Using a pinpointer also helps you to find multiple objects in the same spot. Your metal detector will let you know an object is there, but you may miss small coins without using a wand, too. The Garrett Pro-pointer can help you find even more treasures with little extra cost.
Remember that when you choose your pinpointer, you need to look at more than just the price. While there are many less expensive ones available, the frustrations you may feel trying to use a less than amazing tool may cause you to give up using the pinpointer. If you give up, you may miss some awesome finds or have to spend a lot more time finding the small items you really want.
The Garrett Pro-Pointer AT is unquestionably the sort of device that delivers on its promises. We put it to the test in water, sand, and gravel, and it reliably found the things we'd concealed. The sensitivity settings made finding artifacts and narrowing in on their position a breeze. The chirp warning was loud and clear, letting us know when we were getting close to coins or other metallic objects. Although it was noisy, it wasn't distracting, and we thought it was a good warning sound for a system of this scale. Overall, the Garrett Pro-Pointer AT does an excellent job.
2. Makro Waterproof Pinpointer

The Makro has a 360-degree rotatable detection tip. This speeds up the process of identifying and achieving your goals. With the tip, you can also expand your search to a larger area. Since it is waterproof (IP 67), it can be used in mineralized soils and wet sand. The device's sensitivity is adjusted using simple + and – buttons.
The Makro has a strong LED light that clearly highlights the spot you're looking for to help you find the device. The Makro is available with a variety of audio tones, including audio-only, vibrate-only, and both vibrate and generate audio. The Makro has a coil interference blocking feature to prevent interference from other metal detectors.
Two hardshell cases are included in the purchasing kit. One covers the edge, while the other serves as a scraping blade. A carry pouch is also included. A 9V battery powers the unit, which weighs 8.3 oz.
3. Nokta Makro PulseDive Wireless Waterproof Pinpointer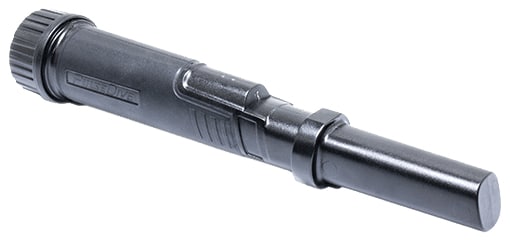 This Nokta pinpointer is suitable for diggers who need to hunt in and around water. It's completely waterproof and can be underwater for 30 minutes at a depth of one meter. It can be turned down a level or two and still operate smoothly, despite being incredibly sensitive on the highest setting.
While the pinpointer's price tag of $150 isn't exactly cheap, it is more than fair. With a battery life of up to 30 hours and target warning options of audio, vibration, or a combination of the two, this is a system that any digger should consider.
4. Minelab Pro-Find 25

Another fantastic pinpointer to remember is Minelab's ProFind 25.
No other pinpointer, not even the original Pro Pointer, had the ability to change sensitivity when the Pro Find first hit the market in late 2012.
It was a technological advance in pinpointer technology because you could change the settings as you could on a normal detector for the first time.
You may also choose between two audio modes on the Pro Find 25: audio and vibrate or vibrate-only. This was an excellent feature for hunting in public areas that you don't want to annoy anyone. However, Garrett introduced both of these features when they launched the Pro Pointer AT, making the Pro Find 25 somewhat less appealing.
This pinpointer is 6.8 ounces in weight, has a 30-hour battery life, and a two-year warranty.
5. Fisher F-Pulse

The F-Pulse is a great pinpointer with a lot of strength. It has a great detection depth, with silver coins often found at 3.5″, and its ability to remove signals from ground minerals as a pulse induction pinpointer is a huge plus. To tuning for ground phase match, simply press the point into the ground and retune. This also means you can go saltwater hunting, particularly since it's waterproof up to six feet.
The F-Pulse is highly sensitive, which is a positive thing in most situations. However, because of the adjustable sensitivity, the highest setting can result in constant falsing. This is a bug, and Fisher Labs is trying to correct it. It has a 24-month warranty from the purchase date, so contact them if you have any problems.
The LED light is dimmable, so you can adjust the intensity to suit your needs. Of course, there are audio and vibrate indications, as well as a five-minute lost mode warning and 2x AA battery activity (not included). Fisher covered all of the essentials, as well as a few extras. The F-Pulse meets standards for having PI technology in your hand at this price.
Pinpointer Buyer's Guide
A good pinpointer should be small enough to hold easily, so between 6 and 9 inches in length is typically suitable. It must have sensitivity levels so that you can pick the degree of sensitivity you want for your pinpointer. Some users want it to be ultra-sensitive and alert them whenever they come close to an item, while others want it to be less sensitive and only alert them when they are really close to the treasure.
A flashlight can be included in the best pinpointer. It's difficult to search when keeping both a pinpointer and a flashlight, so a built-in one is perfect. Even better is a pinpointer with sensors on both the tip and the edges. Those with only a sensor at the point can miss something that's not directly beneath the tip. People who use pinpointers also choose ones that have a scraper, as it is easier to locate items with only one tool rather than attempting to carry the pinpointer, a scraper, and a flashlight at the same time.
What Does A Pinpointer Do?
Pinpointers are fairly straightforward and pinpoint the exact location of your find.
When a metal detector is passed over a target, it will beep, but finding a small piece of gold or a thin ring in shifting sands, muddy dirt, or flowing water is the difficult part.
A few of the best pinpointer metal detectors chirp faster as the coil approaches the target, but these are pricey devices. A pinpointer metal detector allows you to enjoy that luxury without the high cost.
Sensitivity Levels
The levels of sensitivity are by far the most significant consideration when buying a pinpointer metal detector. If you just need a simple pinpointer, you should start with about three levels of sensitivity. If you need more, pinpointers with five or six levels of sensitivity are available.
This is crucial because it shows the types of metal you will find with your pinpointer. You must also ensure that it corresponds to the sensitivity level of your metal detector.
Detection Accuracy
Buying a high-quality pinpointer is all about improving the detection accuracy. Look for a system with a 360-degree detection range for the most accurate performance. You'll be capable of detecting an object more easily and rapidly from any location thanks to this function.
Water Resistance
Water-resistant metal detectors are often allowed to be used underwater to a certain extent. Skilled divers can use a submersible system which is used underwater. That being said, if you have a water-resistant detector, the coil is almost definitely waterproof, allowing it to be submerged to a certain depth, typically just as far as the coil's diameter.
Metal detectors with a waterproof coil intended for land use can only be used in extremely shallow water and cannot be immersed. The Minelab Equinox 800 and Garrett AT Pro models, which we have on our review list, are examples of shallow water metal detectors with only waterproof coils.
Only shallow waters are suitable for a detector with a waterproof coil and control box. A detector that can be completely submerged and used for underwater detection can be found. These are available for hire, and they have a great experience for both enthusiasts and adventure seekers.
Durability
You'll want sturdy tools by your side while you're digging in the soil, sorting through rocks, or shifting sand. A metal pointer should be rugged and dependable enough to stick in the mud and through sand without breaking. The longevity of pinpointers is vital to ensure that they can be used in harsh environments and that they will last for several years to help you find treasure.
How to Use a Pinpointer
Using a pinpointer metal detector is much simpler than you would think. On the detection tip of this smaller version of a conventional metal detector is a mini search coil. To begin, hold the pinpointer in your hand, turn it on, aim the search coil part of the detector at your objective, and wait for the system to signal an alarm.
After you've found something with your full-size metal detector, you'll most likely use a pinpointer system. A pinpointer is a more valuable method for locating the exact location of buried treasure once you know the general location. It's particularly useful after you've dug the hole; all you have to do now is take out your pinpointer gadget to locate the tiny coin or gold nugget concealed in the uncovered soil.
Why Use A Metal Detecting Pinpointer?
While a standard metal detector's pinpoint feature may be useful, it should not be confused with a metal detector pinpointer. A metal detector Pinpointer is a special tool that can be used to determine an object's exact position, depth, and even size without having to use an all-purpose metal detector.
A metal detector pinpointer is particularly useful once you have detected a target and are on the dirt digging through material because of the limited or very centered area of detection and handheld design. Indeed, you will sometimes use the metal detector pinpointer to search through material that has already been shoveled away. This portable tool is much more convenient to use than a cumbersome traditional metal detector.
Furthermore, you can sometimes damage larger targets, and even some smaller ones, with your shovel because you do not know how deep the object is. A metal detector pinpointer can tell you exactly where a strike is and how deep it is. This makes it easier to dig smaller holes and locate the targets more quickly. All of this adds up to a much easier experience for experienced hunters and a much more optimistic experience for newcomers.
Summary
To be perfectly frank, I believe they will all complete the task. Their mission is actually very easy. When a metal target is near the pinpointer's edge, consistently identify it without generating false signals.
Take some time to read feedback on the models listed above, and you'll discover that the majority of people are pleased with them.
I own a Garrett Pro-Pointer and have felt it to be incredibly useful and capable of performing all of my tasks. Many of the other gold prospectors I meet who own one are also very pleased with it.
If you are passionate about metal detecting for gold, or really any form of metal detecting for that matter, I believe it is well worth the extra investment to carry one of these high-quality handheld pinpointers to allow faster target recovery and, as a result, increase the amount of gold and treasure you bring home.
Related Articles