Best Metal Detector Headphones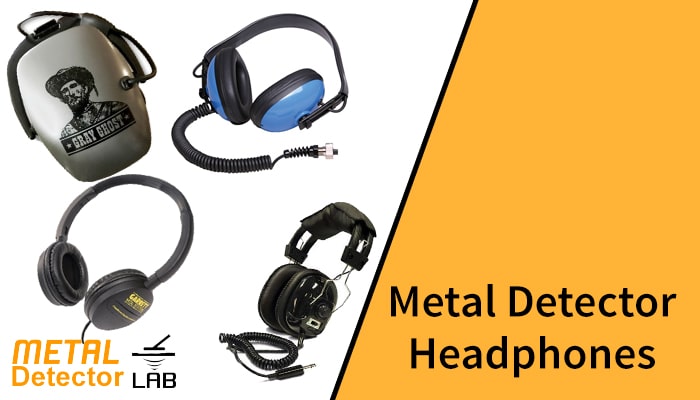 The best headphones for metal detecting, in our opinion, are those that provide volume control as well as high-quality sound. You must be able to recognize a wide range of signals, which are sometimes subtle. External distractions are blocked out by the best headphones, allowing you to concentrate on picking up on certain signals.
It's best to double-check if you have the right headphone adapter and jack before making a purchase.
In addition, the best metal detector headphones would be able to be used in inclement weather. That's why we suggest waterproof cables so you can keep using your headphones even if the weather isn't cooperating.
Of course, you might be attracted by the products of particular brands, such as Fisher stereo headphones as well as those associated with the Garrett Ace metal detector line. When you buy headphones from companies like Minelab or others, you'll be able to use them with their detectors because the headphones operate on the same frequency. It also helps you to fine-tune the headphones to meet your specific needs thanks to more precise controls.
Top 5 Headphones for Metal Detecting
1. Garrett Clearsound Easy Stow Headphones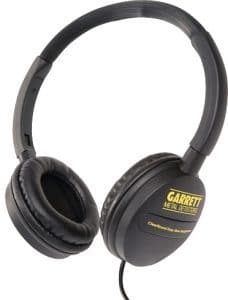 Clear Sound Easy Stow Headphones are comfortable, lightweight, and long-lasting. Most people may wear them comfortably, but larger heads can find them too tight. You can wear them without removing your glasses.
The volume control is integrated into the cord, which is extremely convenient. However, this means that no individual ear regulation is available. Since the sound is so sensitive, go easy on the volume.
Since the headphone plug is 14 inches long, it can fit into any metal detector with a 1/4-inch jack. If you have a smaller version, you'll need an adapter.
They are on this list because they've been around the block, are still important and famous today, and affordable. They do a great job of providing the basics without the fuss.
2. Fisher Stereo Headphones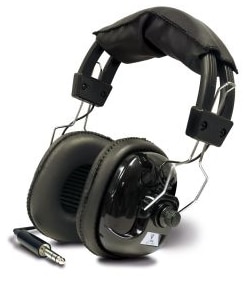 Because of their unrivaled comfort, the Fisher Stereo headphones are among the best metal detecting headphones. They're fully customizable to suit a number of head sizes, and they have a cushioned headband and earpieces.
These headphones have true stereo sound and each side has a volume control. There's a button to switch between mono and stereo, and they're perfect for blocking out noise from the outside world.
3. Bounty Hunter HEAD-PL Metal Detector Headphones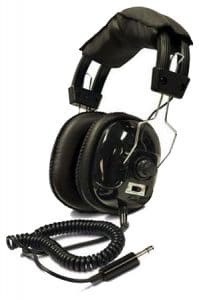 Metal detectors made by Bounty Hunter are common among beginner metal detectorists, and the headphones are equally popular. One thing to bear in mind is that Bounty Hunter headphones are not compatible with other brands of detectors or with the Bounty Hunter Junior.
They cost a little more than $30. There are two volume controls and outstanding sound quality. Outside sounds are effectively blocked by the headphones.
Headphones often don't come with a coiled cable, which is a drawback. The straight cord can easily pull out of your detector, and the volume control isn't in a convenient location for many people.
To be effective, headphones must produce a clear sound. Otherwise, users may find a scratchy sound annoying, and it may also keep them from noticing the metal detector's sound clearly. The HEAD-PL headphones provide a perfect stereo sound without any scratchy sounds. And when the volume is set to a low notch, they are very effective when used with metal detectors.
To hear the sounds emitted by the metal detector, you don't have to turn up the volume on your headphones. Rather, they filter the signal, resulting in a nice, clear tone.
4. DetectorPro Gray Ghost Amphibian II Headphones for Garrett AT Series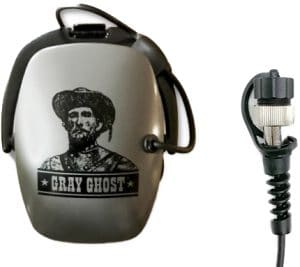 This headphone was created for those users that want to metal detect up to 30 feet underwater while still being able to use them on land.
The DetectorPro Gray Ghost Amphibian II headphones are specifically made for the Garrett AT Gold and Pro are both compatible with this pair. Although you can use the original Garrett headphones in the water, the connection is not able to be submerged.
The connection is solid and could be used in water without slipping loose.
The main difference between this set and others is that, despite being more expensive, the sound emitted is pure. And you can clearly hear the difference between sounds.
If you're a pro, the sound of a high tone will tell you whether or not it's a special coin. This pair's quality reflects its price, as it is lightweight, soft, and long-lasting.
It has a durable coil and a waterproof socket. The earmuffs deserve special mention because they are both comfortable and functional.
Since the soundproofing can block sound up to 24 decibels, you can clearly hear the machine's tones. The earpiece is thick with comfortable cushions for warmth. We didn't have to change the Ghost Amphibian once during our three hour metal detecting expedition.
5. Garrett Submersible Headphones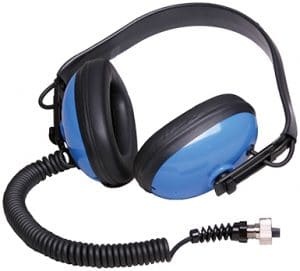 Garrett's Submersible Headphones are designed specifically for the AT Pro, rendering both the detector and the headphones submersible to a depth of 10 feet. I don't have one of these, but I've heard they're Really noisy above water and that the volume is uncontrollable. Some people put foam in there to dampen them down.
Metal Detector Headphone Buyer's Guide
Can any headphones work with a metal detector?
Many people wonder whether they can metal detect with any headphones. And the answer is a resounding yes. With your metal detector, you can use some headphones or mobile earbuds. You will, however, need a 1/8′ to 1/4′ adapter.
The adapter is needed because most headphones have 1/8′ plugs and the vast majority of detectors have 1/4′ sockets.
If your headphones are not wired, however, you can not use them for metal detecting. Wireless headphones normally communicate through Bluetooth, which has a lag time.
Since you can notice the sound after the coil has passed over the target, they are unsuitable for metal detecting. Pinpointing will be difficult.
As a result, you'll need something like the Garrett Z-lynk, which is designed specifically for metal detecting.
Zero delay is indicated by the letter Z. It's just a few milliseconds, but it's scarcely visible in operation, and the signal transmission is considered instantaneous.
What type of headphones are best?
The majority of low-cost metal detectors have a 1/4-inch jack into which any headphones can be inserted. It's up to you if you like over-the-ear, on-ear, or earbud headphones. Although over-the-ear headphones block outside noises, they can get hot in the summer. So maybe get one to go with the season.
Brands and Compatibility
Good headphones will make a huge difference in your treasure hunting experiences, but the most important thing to look for is compatibility between your headphones and the metal detector you're using.
Check to see if the headphones are compatible with your detector model before you buy. Some headphones are only compatible with certain models and brands, so they might not fit with others.
To prevent problems, make sure your headphones are of the same brand as your metal detector.
Make sure the headphone jack and sound style are compatible. You can use an adapter if your headphones don't fit due to the detector having a different jack type.
Headphone Features to Consider
Sound Quality
Since the aim of using metal detector headphones is to improve your hearing, the sound quality is the most important thing to consider. It's also crucial that the headphones filter out any disruptive background noise.
Comfort
The importance of comfort cannot be overstated. When metal detecting, you don't want to be worried with tools, clothes, or other accessories, as I previously said. Over-the-ear headphones can become uncomfortable in the summer. They'll keep the warmth close to your head. If you have the choice, use earbuds. Choose over the ear headphones if it's cooler or there's a lot of background noise
Weight
Another aspect of metal detecting headphones that may not be considered is weight. Your load could be heavy because you'll be carrying your detector, some form of digging unit, and possibly some water and snacks. If you're able to use them, light headphones are an additional advantage. They can help to alleviate some of the tension in your neck.
Battery Life
Headphones can extend the life of your metal detector's battery. When the headphones are plugged in, the speaker will be turned off. Obviously, wired headphones can never run out of control. If you use wireless headphones, however, battery life can be a problem. Between charges, metal detecting wireless headphones can last around 30 hours. Bring a USB car charger with you and plug it in on the way to your destination, and you should be fine for the duration of your session.
Size
This is a difficult question. You'll need smaller headphones if you're flying with a metal detector. They'll take up less space and give you one less thing to think about as you try to cram more into your already overflowing suitcase.
Unfortunately, smaller headphones are more likely to be misplaced or broken.
The most critical aspect of metal detecting headphones is noise cancellation. Sound is the only way to detect metal. You must be able to differentiate between various sounds and signals. Excess noise can be blocked by noise cancelling headphones. This feature will help you achieve the best results. You'll have more luck if you buy a pair specifically for metal detecting.
Summary
When shopping for metal detector headphones, there are a range of considerations to make. When you drive over a target with a metal detector, it normally has speakers that emit a beep sound. The beep sounds are generally very loud, but experienced relic hunters also wear headphones. The most significant accessory purchased by detectorists is headphones and the key reason why seasoned treasure hunters buy headphones when speakers tend to be adequate is that they boost the efficiency of the relic hunting operation. Headphones elevate the experience for users from good to great.
This is particularly useful in noisy environments where the speaker's signals are simply not understood. If you're hunting for treasures at beaches, public parks, or simply in windy conditions, you're unlikely to notice the beep sound. Many metal detectorists adhere to the laws and regulations that govern the prospecting process, such as keeping a quiet atmosphere and not drawing attention to their operation from the general public. However, certain areas are beyond a relic hunter's reach, necessitating the use of metal detector headphones to drown out the noise.
Related Articles