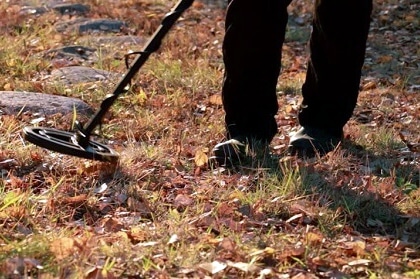 Buying a metal detecting machine on a budget does not mean you have to settle for a lesser product. As you are looking for the best detectors that fit your price range, it is important to understand a few simple concepts so you can get the most for your money. The most important of these are discrimination, notch, and ground balance.
Discrimination allows metal detectors to accurately identify objects by their conductive or ferrous properties. This will allow you to distinguish between objects which are worth digging up from more commonplace materials. By using a visual or audio indicator, a metal detectors with proper discrimination will ignore junk material and alert you to things worth finding.
A notch filter is a more in-depth discrimination type that allows you to focus on a narrow subset of metals. If you are searching for specific targets (like metal detecting for coins), this will allow you to zero in on your intended targets.
Sometimes the makeup of the soil itself will make it hard for metal detectors to find the desired objects. Ground mineralization can react like a false positive and cause an issue when attempting to use the detector. In this case, we need ground balancing. Ground balance is the ability of the detector to ignore soil mineralization by things like iron or salt particles in the earth, but still detect the gold, silver, coins, and other treasures you want to find. This will allow you to get higher quality hits at much greater depths.
The extent that a machine can do these three things effectively will greatly increase its ability to find desirable objects.
6 Best Cheap Metal Detectors
Our top picks on this list are the best cheap metal detectors available, because they come with advanced technology that is not usually available on entry-level detectors.
1. Fisher F22 Weatherproof Metal Detector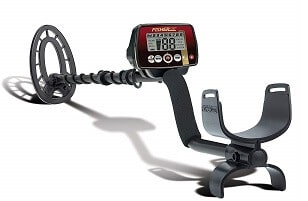 This is a wonderful unit that is both durable and easy to use. One of the things that draws people to this detector is its simplicity.
Straightforward controls let you set discrimination, sensitivity, and notch without hassle. The Fisher F22 is ready to go right out of the box and has a lot of advanced features as well.
The Fisher f22 has large easy-to-read target ID numbers (1-99) so you can quickly determine the quality and nature of any targets you find. With four customizable tones, you can really tailor this detector to your current task.
The Fisher F22 is weatherproof and the 9″ elliptical search coil is submersible, allowing you to work in all kinds of weather conditions. It allows you to distinguish iron hits with both a visual icon and an audio cue. You can expect 25-30 hours of continuous use on two AA batteries. The Fisher F22 is very lightweight, coming in at 2.3 pounds, and also breaks down to fit in a bag nicely.
One of the reasons that it is on the top of this list is it has an amazing price point for a detector with its level of discrimination and depth. Fisher is a great brand and this unit definitely exhibits the kind of quality they are known for. The Fisher F22 comes with a 5-year warranty and is the best cheap metal detector of 2019.
PROS:
The latest design comes with 9″ triangulated search coil for better maneuverability in tight spaces. This lets you isolate targets easier by using the smaller part of the coil.
There is an audible Iron alert so you don't get misled by questionable signals.
The F22 metal detector can be used at the beach as it is rain and weatherproof, so you never have to worry water damaging the detector.
Large and easy-to-read LCD screen
CONS:
The only thing I didn't like about this machine is that there is no means of doing manual ground balancing. However, that is not something that would be typical of a metal detector this inexpensive.
2. Garrett Ace 300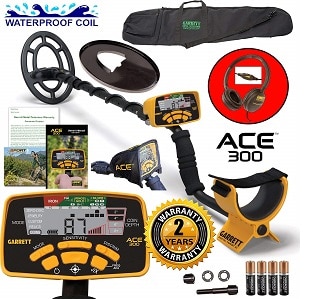 The Garrett Ace 300 comes in second on our list, primarily due to the weather resistance and slightly better recovery speed of the Fisher F22 above.
The Ace 300 is the successor to the Ace 250 by Garrett and it is the best metal detector on our list for finding gold and jewelry. The 250 was one of the best selling metal detectors for quite a while, and it earned a reputation as a solid performer. The 300 has a lot of amazing features and comes with some free accessories as a bonus.
You can choose between 8 depth settings so you can select the level at which you are searching.
It has good discrimination and, using a technology called Graphic Target Analyzing, you can see an item's conductivity as well as the detector's discrimination pattern simultaneously
The Ace 300 has a two-digit digital target ID scale ranging from 1-99 and three audio tones to distinguish between target types. The notch is adjustable and there are five different search modes.
It comes with a 7″ by 10″ coil and runs at a frequency of 8kHz. The metal detector's frequency is adjustable so you can get a clear signal even if there is a lot of radio "noise" in the area. Depending on your metal detecting conditions, which may not always be the best, this may be an important thing.
With this detector, you get three free accessories. First, it comes with a pair of matched headphones that break down neatly for storage purposes. You also receive two covers: an environmental cover for the base of the unit and a coil cover.
A two-year limited parts and labor warranty gives some peace of mind that you are purchasing a quality product. The Ace 300 is a lightweight unit weighing in at 2.8 pounds and runs off of four AA batteries.
PROS:
The metal detector comes with a Digital target ID and a larger 7″x10″ coil to cover more area faster.
Iron resolution is excellent, to weed out non-interesting objects.
CONS:
Lacks ground balance adjustment and recovery speed is not as fast as the Fisher F22.
3. Minelab X-TERRA 305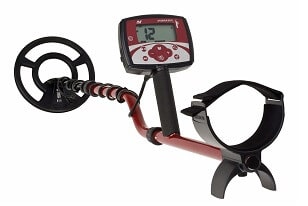 Minelab X-TERRA 305 offers a lot for its price point. It really is tied with the Garrett, above, so do not be detered by its #3 position on this list.
The Minelab brand is well known for producing quality equipment, mainly at the higher end of the market. In the case of the X-TERRA 305, they did a good job of cutting expence while keeping some great features. Some of those features include a manual ground balance adjustment, noise cancelation, and wide threshold adjustment.
PROS:
The technology being used in this detector is excellent for finding gold.
Uses VFLEX Technology
2 Preset Patterns
20 Setting Manual Ground Balance
Pinpoint Mode with Continuous Depth Indicator
30 Level Threshold Adjustment
Noise Cancelation
Compatible with 6 Medium to High Frequency Coils
Lightwieght at 2.86 Pounds (with batteries)
CONS:
It's not expensive for what you get, but costs more than other metal detectors on this list.
Only 12 Target ID's
4. Garrett ACE 200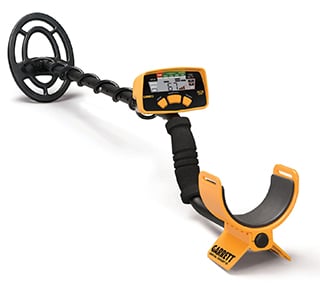 The Garrett ACE 200 is very similar to the 300 but trades some adjustability for a much lower price. This makes it a great entry-level option. For those looking to buy their first metal detector, the Garrett ACE 200 offers just what you need to get going while still maintaining some of the adjustable features you desire.
The ACE 200 offers three different search modes with fixed notch discrimination. Like it's big brother, it has a two-digit digital target ID scale ranging from 1-99 and three different audio tone ID levels. It weighs 2.75 lbs, making it slightly lighter than the 300.
This metal detector runs on a fixed frequency of 6.5 kHz. It uses a slightly smaller coil (6.5″x9″) than the ACE 300 but the length is the same.
Pole length is adjustable between 40″ and 53″ so you can find a comfortable fit. This unit is ready to go right out of the box. It runs on four AA batteries, which are included, and there is virtually no set up required.
PROS:
100 Unique Target ID's
Three Search Modes
Easy Disassembly for Travel
Lightwieght at 2.75 Pounds
CONS:
Compared to our top choices on this list, it feels like we are sacrificing too much for a lower price.
5. Bounty Hunter Tracker IV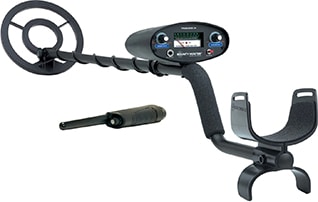 The Bounty Hunter Tracker IV has the distinction of having the lowest price on our list, but don't let that fool you. This is the number one selling hobby metal detector, and the brand has been able to claim that distinction for a good number of years.
It is a quality detector at a fantastic price point. The Bounty Hunter Tracker IV discrimination control feature allows you to ignore junk while you are metal detecting as well as an automatic ground balance to eliminate the frustration mineralized soil can cause for detectorists. The sensitivity is adjustable and there are three search modes with two audio tones. There is a built-in speaker and a headphone jack to use for the audio cues. It is heavier than the previous units on this list weighing 4.2 pounds, giving it a sturdy feel.
Overall the performance of this Bounty Hunter unit is surprisingly great for the low cost, detecting coin-sized targets at a depth of 8″ inches and large items at two feet.
It runs on a fixed frequency of 6.6kHz and is powered by two 9V batteries. The 8″ coil is waterproof and it comes with a 5-year limited warranty that covers defects. You will find the interface easy to use, making it among the best metal detectors for kids, and the knob controls allow you to dial in just the right settings for your needs.
PROS:
CONS:
Stripped down functionality to get to the low price point.
HEAVY! Almost 2 pounds heavier than the #1 product on this list.
6. Teknetics Delta 4000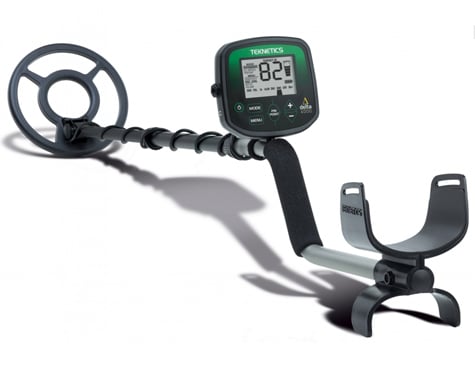 The Teknetics Delta 4000 has incredible performance and flexibility for being so competitively priced. The first thing you will notice with this unit is the large, easy-to-read display. The display indicates the two-digit target ID system as well as a running depth and battery life. This makes operation incredibly user-friendly and intuitive.
It is lightweight at 2.6 pounds and has an adjustable pole length. The Delta 4000 uses an 8″ waterproof coil, so it is effective in many different environments and operates on a single 9V battery. You can expect to get 25 hours of use from each battery. Discrimination is adjustable and it operates on a fixed frequency of 7.8kHz.
This is a comfortable unit that has a long battery life and is easy to use. This gives you the ability to hunt for longer periods of time. It is perfect for those just starting out or upgrading from an entry-level metal detector. It has a 5-year limited warranty that protects against defects.
PROS:
Live Depth Graph
Separate alert for oversized targets
Pinpoint Mode
Target category icons for ease of use
CONS:
Preset Ground Balance (not adjustable)
Less detail and ganularity in controls
Conclusion
Metal detecting is a fun and rewarding adventure. Our picks were chosen based on overall quality while still having a low enough price to stay within budget price. You want to get the most out of your detector. While there may be cheaper models on the market, many will have you digging up junk. By buying the right metal detector when starting out, you will increase your time digging up treasure and boost your enjoyment of this great hobby. With a good metal detector in your hands, the world becomes a virtual treasure chest awaiting discovery. We hope you find something amazing.