Fisher F44 Metal Detector Review

The Fisher F44 is the newest entry-level detector in the Fisher line. It was created and intended for use on land, and it performs admirably in that setting, but it was not created for use on saltwater sand or surf, as the manufacturer explicitly claims.
The aim of this review was to evaluate the F44 solely from the perspective of the consumer, and it was never intended to be a technical study based on metrics. Second, as with any field testing, the results are influenced by and dependent on the specific test environment, especially in terms of soil, sand, and water mineralization levels.
My use of the Fisher F44 was in sandy soil with the sensitivity set to different levels using auto Ground Grab. At depths of around 8-9 inches, a quarter was easily detected and identified. The F44's depth scale was extremely accurate, and it was able to correctly identify the target every time and it never missed within the depth ranges advertised for the detector. During an air test, it also found a 1 grain gold flake at a distance of 1-2 inches. For such a low-cost unit, I found the recovery time to be surprisingly fast.
There was no discernible difference in results between dry land and wet beach sand. Ground Grab performed exactly as expected on the sand, as well as on land. Even at the highest degree of sensitivity, operation was smooth and steady (20). A crushed flat aluminum can measuring 10-12 inches in the dry sand field and a penny 5 inches deep in the wet sand surrounded by 4 inches of fresh water were readily identifiable.
Both Metal and Pinpoint modes functioned as expected.
Features

Ground Grab
Different levels of ground mineralization determine not just the amount of false positives, but also the soil conductivity. Different soils can cause electromagnetic interference of varying degrees of intensity, resulting in noise and false signals, among other things.
The metal detector's Ground Grab feature changes the ground settings to the level of the soil at the present location. To put it another way, the metal detector learns to recognize the soil as "natural" and uses it as a backdrop against which possible targets can be identified. Any irregular accumulation of minerals, including cracks or underground cavities, would be seen by the detector as a possible target unless the soil mineralization is considered.
The Ground Grab function is one of the reasons why the F44 is considered more versatile than the Fisher F22 metal detector.
This allows you to account for the naturally present mineralization in the soil. As a consequence, there will be less interference during the detection phase.
Iron Audio
If any iron is detected, Iron Audio emits a low, grunting sound to help you distinguish between good and junk targets. If you've ever tried metal detecting with a low-cost gadget, you know how easily undesired garbage like bottle caps will trick you.
You can also use iron audio to verify the goal before you start digging. Switch on Iron audio to listen for that soft, grunting sound with your detector above the object.
Display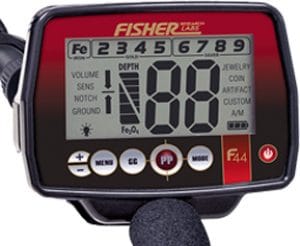 The nine-segment Target ID is numerical as well as visual. The segments reflect potential target ID's in the range of 1 to 99.
The different metals are separated into their own categories. When a category is identified, there is a good chance that the detector has picked up on that specific metal.
The quick response of this metal detector is one of its benefits. It only shows the most recent object observed and frequently refreshes its memory every few seconds. This is particularly useful when looking in areas where items are likely to be close together. Especially if the high-quality goals are mixed in with the low-quality ones.
There are markers for Iron, Silver, and Gold, to name a few. These are represented by bars that surround the target categories. The line around the categories will brighten up if an item is more likely to be constructed from one of these materials.
The four-tone recognition capabilities are another useful feature.
In addition to visual signals, audio tones are used to suggest what has been discovered. In custom mode, you can change the tone according to the category.
Ultra-lightweight
The Fisher F44 is incredibly light, coming in at just 2.3 pounds. When hunting for many hours at a time, this is extremely useful. The lightweight frame has an S-shaped upper shaft that allows for optimum ergonomics to minimize fatigue. When done correctly, the S-shape offers underarm counterbalancing weight, which increases comfort and relieves pressure. When collapsing an assembly with S-shape rods, however, it can be hard to achieve optimum compactness.
Digital Control Box
The automated control box of the F44 is easy to use, with a big LCD screen and springy buttons with clearly labeled functions. Menu, Pinpointer, Mode, Power, and Range buttons allow you to quickly and easily change settings.
It comes with a wide LCD screen that displays a lot of information. You can tell what kind of target you've identified at a glance thanks to a 2-digit target ID and visual target recognition. If you come across anything made of iron, the F44's iron identifier symbol lets you know. It also displays the depth of the target, allowing you to decide whether or not to dig it up.
Weatherproof
The Fisher F44 is water resistant, but not fully submersible. It's equipped with a weatherproof unit that can sense shallow water.
Its waterproof shaft and 11-inch search coil will help you locate treasure in shallow water. The jack for headphones is not waterproof.
Non-Volatile Memory
Non-volatile memory ensures that when the metal detector is switched off, it refers back to the last setting it used. As a result, you won't have to recalibrate or change the parameters every time the device is turned on. When scanning or traveling through the same area over and over, this can save a lot of time.
Modes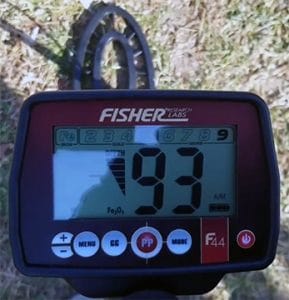 The Fisher F44 metal detector has five different modes that allow for item separation. The following is a list of the five modes.
The jewelry mode, as the name implies, is designed to find jewelry objects within a specified region. Jewelry mode works by ignoring iron signals and forming a magnetic field surrounding the precious metals.
Coin mode is useful for extracting iron signals. This mode is used when the ground is littered with garbage and emits a lot of false signals.
When it relates to underground finds, historical artifacts are extremely valuable. The iron signal is not ignored in this mode, which may contribute to the discovery of valuable relics.
Custom mode is a mode that allows users to set their own exploration parameters, as the name implies. You can use the notch controls in this mode to build your own custom mode for the discoveries you want to make.
All-metal mode is a common mode used in metal detectors of all types. This mode finds all metals in the earth, regardless of their form, shape, or metal category.
Summary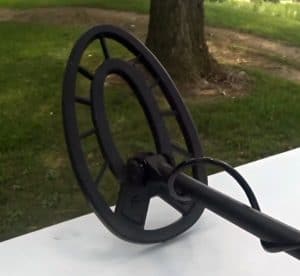 The F44 detector, which was released in 2015, is one of the more recent additions to Fisher's famous F series of detectors. It is a replacement for previous F4 models.
It's a perfect detector because it's light and the Iron Identifier Icon will help sift through garbage, which saves a lot of time and effort, but the downside is that you can't take it to the beach with you. It's not the sort of detector you'd want to use on wet sand or even near saltwater.
A 11″ elliptical concentric coil is designed to fit into smaller nooks and crannies, and it picks up objects with greater precision. The coil can be immersed in water and is waterproof, which is fantastic.As previously said, one of the most appealing features of the F44 is its ability to withstand water damage. It is waterproof in design, making it one of the best metal detectors for navigating more difficult terrain.
This metal detector has a fair searching distance of up to 10 inches deep, which is very good for a product in this price range, but it is to be anticipated. Since the display panel has a backlight, you can use this metal detector even in limited situations.
As comparing to other metal detectors in its price range, this device is also remarkably reliable, and we would say that is one of its most attractive features. This is the metal detector for you if you're tired of getting false readings.
One of the more remarkable features of this device is its ability to differentiate between useful excavation material and junk metal. Some users may choose to play it safe and dig out all of the things marked as junk, but this feature comes in handy when you're short on time.
This product is light enough to keep you from getting tired when using it. You are likely to find that using this tool is a breeze when partnered with the convenient handle and armrest. If you plan on keeping your metal detector around for a long time, there are few models more capable of doing the job than this one.