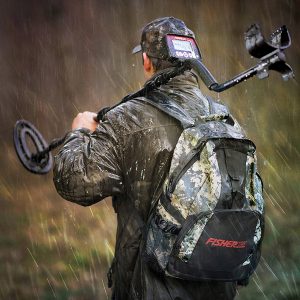 If you are the beginners, you would need to know the basics of metal detecting.
This is an activity that detectorists to find coins, jewelry and other expensive metals buried at beaches, parks and some other places. To detect your targeted metals, you would need the best beginners metal detector and accessories.
Metal detecting is not the only hobby, but many people took it seriously and joined the industry as a professional. It requires patience, research, and knowledge about your local laws and soundings.
Most metal detectors look same in shape and size, but the ability of this machine depends on its coil size and technology, and its controlled box that helps detectorist to identify their targets as per their requirements.
When it comes to choosing the best metal detector for beginners, it can be a hard task if you would not have basic knowledge of metal detecting.
8 Metal Detector for Beginners That You Can Buy Now!
Garrett Ace 300 Metal Detector
Fisher F22 Metal Detector
Bounty Hunter Gold Digger Metal Detector
Bounty Hunter TK4 Tracker IV
Tesoro Compadre Metal Detector
Teknetics EuroTek PRO Metal Detector
Bounty Hunter TIME RANGER Metal Detect
Bounty Hunter Junior (BHJS)
What is the Best Beginners Metal Detector for Anyone Interested in Starting the Hobby?
Top 8 Best Beginners Metal Detectors 2019
| Name | Coil | Weight | Indicator | |
| --- | --- | --- | --- | --- |
| Garrett Ace 300 Metal Detector | Submersible Search Coil | 5.2 Pounds | | Check Price |
| Fisher F22 Weatherproof | Submersible Search Coil | 3 Pounds | | Check Price |
| Tesoro Compadre Metal Detector | 8 inches and 75-inch Coil | 2 Pounds | | Check Price |
| Teknetics EuroTek PRO | 8-Inch Concentric Coil | 2.4 Pounds | | Check Price |
| Bounty Hunter TIME RANGER | 8 Inch Waterproof Search Coil | 5 Pounds | | Check Price |
There are a bunch of beginners metal detectors available online, and it is hard to choose the right one. Below we have a collection of best beginners metal detector that helps to choose the right one.
We have tried to put maximum information about the below beginner metal detector reviews. However, the choice will be yours as what would you be looking for from your first metal detector.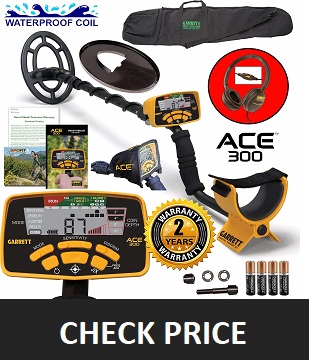 Garrett has launched the sensational Ace 300 metal detector laced with exceptional qualities. Ace 300 is a solid build with easy to operate mode.
The device is an excellent choice for the detectorists that want a quality metal detector at a reasonable price.
The most amazing feature is the interface, sophisticated enough to engage the hobbyist yet simple for the beginners to learn.
This unit is reliable for finding small jewels, relics, and coins. Ace 300 is the upgrade for the Ace 250 with digital target ID for the pinpoint an exact target identification.
Pros
Enhanced iron resolution
Better search coil for great performance
User-friendly, economical
Electronic pinpointing mode to efficiently mark the target
8 adjustments to control the depth without giving false results
Depth indicator to give you the idea of how much to dig to find your precious jewel.
Cons
No adjustable ground balance
No iron audio
Not for wet surface
While using the Garrett Ace 300 approximate depth accuracy was marked between 8 to 10 meters. Talking about the ground balance sensitivity, you cannot adjust it according to your need as it set by the manufacturer at factory setting mode. Just because of the single frequency, Ace 300 will poorly perform on the wet surfaces.
For example, the device will not work to its full extent on the beach sand or salt water while the device will work perfectly on dry sand as the coil submersible. For the machine with exceptional qualities, it weighs only 2.8 lbs which are quite light and easy to maneuver. This metal detector is strictly not made for water detection yet it still provides waterproofing for coils and poles making it useful for shallow water detection.
Garrett Ace 300 is an amazing device living up to the reputation of Garrett providing effective and efficient services for both beginners and professionals.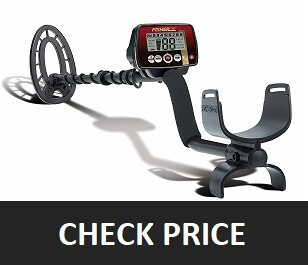 Fisher's gadget helps you to detect the metals in a quick yet efficient way. This is a "turn on and go" detector and is best fitted to entry-level detectorists searching for a strong and reasonable well-rounded machine for the coin, jewelry, and relic looking.
There are 10different sensitivity levels available to control this metal detector.
I love this because of its lightweight, and yes it is energy efficient device that can be powered with only 2 AA batteries, the high-quality VDI readout help you determine easily what you looking for. The pinpointer works well on the metal detector, however, it only works when they're in a pointer button is held down on the Fisher.
It's a smaller, a lot of slender coils that is great for choosing out sensible targets amongst iron and trash. The coil submersible thus you'll use in shallow water.
Simply bear in mind to not get the control box wet as it's not completely weatherproof – not submersible. The LCD screen of F22 contains Target Category ID Numbers that tell you kind of metal you have found. This detector has different tones. The F22 iron audio feature permits you to exaggerate iron signals so you will be able to save your time by not digging the unwanted targets.
Pros
Weather Resistant
Feature pinpoint mode
Adjustable sensitivity levels
Detects metals up to 9 inches deep
New Coil Design
Fast Recovery speed
Cons
No Backlight
No volume control
No manual ground balance
The F22 has improved electronic equipment that permits for quicker process and recovery speed.  This gadget lets you customize your settings and save the configuration, so you don't need to worry if you turned off the detector, your settings would be saved.
Overall the Fisher F22 is a great gadget and offer a great deal useful for money.  Whether you're starting out, or need a backup detector, the Fisher F22 would be a superb choice.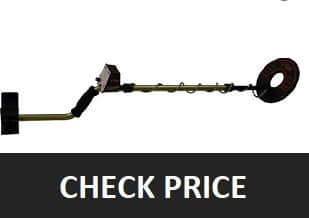 The Tesoro Compadre metal detector is one of the toughest builds in surprisingly affordable price. This device is the perfect companion for the kids that want a sophisticated and quality metal detector at a reasonable price.
Not only for the kids the Compadre is also for the adults and experienced people who prefer reliable and solid metal detectors.
The Compadre has lifetime warranty proving its tank-like build and super recovery speed for the accurate results without missing anything.
Pros
The choice between 8 inches and 75-inch coil in the same price
2 lbs give the ultimate lightweight feature
The super build makes it more powerful than the most expensive detectors
Cons
Lack of screen
Not for wet surfaces
The most amazing feature of this device lies in its simplicity. It is one the easiest metal detector to use. The people who are hesitant to use the technology or easily get confused by the fancy user interfaces, this metal detector is the perfect choice for them.
Moreover, don't get distracted by the simple look and think of it as a toy, it is one of the sophisticated metal detectors with powerful hardware for efficient usage.
Talking about the operating frequency of the detector, the compadre has 12 kHz operating frequency which makes it a superior choice for the detection of coins, jewels, small metals, and relics. All in this entire machine upholds the name of Tesoro for providing excellent machines with high-quality hardware. The compadre can be the lifetime partner in finding the treasures and enjoying the adventures.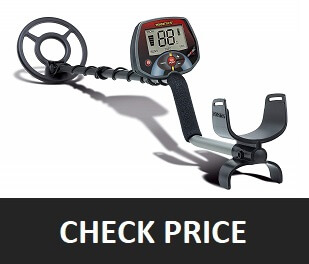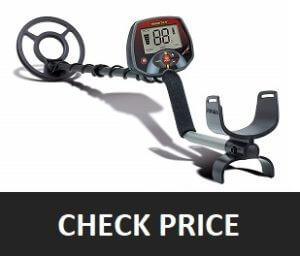 The TekneticsEurotek Pro another sensitive metal detecting device that comes with all the required functions needed for a decent hunt.
This sensing element has an associate 11-inch biaxial DD search coil to make your detecting more fun. The handbook says it's rated to observe coin-sized objects concerning 9.5 inches deep at most sensitivity.
Speaking of sensitivity, the Eurotek professional has ten levels of sensitivity, and also the factory default is 7, or concerning 70% of most. Eurotek Pro pinpoint mode is very easy to learn, as it is the central button on the front screen and can additionally "pinpoint" what is underground. The Eurotek Pro runs on a 9-volt battery and is committed to giving you 20 to 25 hours of metal detecting before you have to change the battery.
The Eurotek Pro has a motion discrimination mode but not nothing. This gadget has an iron target indicator, well balanced. A very improved gadget that permits for a quicker process and fast recovery speed.
Depth goes through on screen 5 notches: one notch indicates the objects are 2.5 inches deep, two notches mean 3 and so on reaching 8 inches deep with all 5 notches illuminated. This gadget has an iron audio feature along with number target ID which tells you the amount of metal you found.
Pros
Iron Target Indicator
Iron Audio
Fast recovery speed
Well balanced
Motion Discrimination mode
Fe Tone Variable Iron discrimination
Great Target Separation
The Display is uncluttered and very easy to interpret
Cons
Heavy Weight
It doesn't estimate depths very accurately
No Digital Target ID
No adjustable ground balance
This gadget comes with two different coils i.e. 8" concentric coil and 11" concentric coil. Remember, the 'right detector' depends on the factors like skill, budget, location, use, etc. and I think it has almost all the factors and good factors means a good hunt.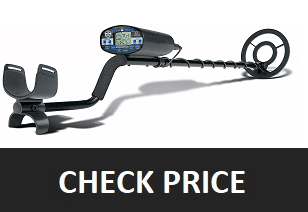 It is like manner has a large LCD appear with a readout highlight and totally programmable touchpad control.
This makes it suitable despite for segment level customers who are yet becoming more acquainted with these machines. The show exhibits control of target significance, its character, battery and affability levels.
The iron level and partition moreover appear on the show. Close to the standard of affectability; these two can be changed to suit slants of the individual doing the range. People who search for coins consider this as the best metal detector for the money. Extended affect ability diminishes electromagnetic impedance like this you won't get beeps that are lost and vain results.
The sound has three-tone detachment and four-level iron isolation. Every one of these chips away at an in-developed speaker and are great with headphones also. It has sniff mode, which can be used to discard metals that are typically experienced as waste in one locale.
This makes the chase more drew in and is useful for mid-level waste regions with containers and other trash stores in the earth. The part moreover allows the quest for only a single thing on the target ID scale.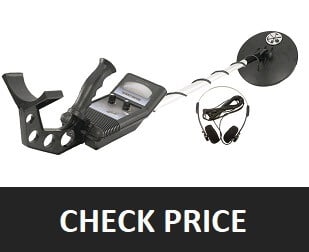 Bigger things can be looked to a profundity of 2 feet. It is appropriate for breadths in the shoreline, at the recreation center or in your patio.
It has programmed tuning and ground adjust which adapt to the ground. This is critical as various soils have different mineral substance and in high fixation, a gadget would go off at every turn.
It likewise has a fortune meter, and its affability can be controlled. This proves to be useful when in shoreline for instance where there could be many commotions around from stores on the sand. As the name of this device suggested its work, the experts found this as the best metal detector for gold.
There is a waste eliminator to permit the client to focus in on pearls and forget jars and nails. An all-metal movement mode is similarly accessible for the discovery of all metals in a zone; you might need to know the level of metal fixation first before starting a predetermined pursuit, isn't that so?
It accompanies earphones and an earphone jack. It utilizes two 9V antacid batteries which are excluded in the buy. It is an abundance seeker item inferring consistent quality and ensures excellent bundling that is affirmed disappointment free. It is along these lines simple to set up and utilize.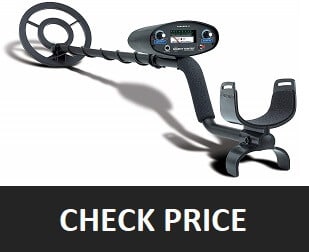 This terrible machine is worked to withstand any conditions out there. It can be utilized even in salt water shorelines with high mineral substance and on grounds with excellent mineral content too.
This is most likely because it has preset ground adjust that kills because of the minerals in the ground. This permits it to dispose of undesirable metals consequently, can recognize press from significant metals.
It has a plate or score control for this reason. Affectability can be confirmed to decrease electromagnetic obstruction.
The submersible loop is 8-inch and can be utilized as a part of shallow waters and damp grass. It can seek up to 8″ profound for coins and related estimated items and 3 for bigger articles.
It has three operation modes: movement all-metal mode which recognizes all metals with one tone, segregation mode which disposes of iron and other waste and Tracker IV which utilizes two distinct sounds to identify junk from best beginner metal detector.
It is similarly light for simple mobility: one can clear for longer time frames without getting drained. Its ergonomic plan is likewise made for solace and simple dealing with. Its tallness can be changed by your comfort and has a cushioned armrest. It additionally has an indicator stand.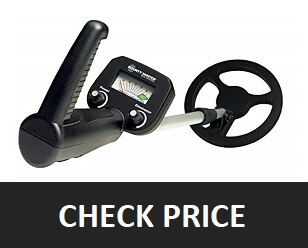 As the name recommends, this gadget is made considering the children. Thus, nothing is saved about solace.
It is super light so it can be utilized for a considerable length of time and its ergonomics include a flexible shaft which is great since youngsters tend to develop so quickly! The pole stretches out up to 2.25 inches.
It has the one-tone sound marker which gets louder as one nears the objective.
It has an exceptional separation control to forget press and other undesirable articles unless generally in which case you can even now modify that. It additionally works with a preset ground adjust that guidelines out minerals in various soil sorts.
It additionally has an all-metal mode which identifies all metals inside the range. Talking about range, it can recognize coins as profound as 5″ and 2 feet for bigger articles.
The 6.5-inch loop is tyke verification which is evoked by an all-climate configuration on the off chance that your tyke abandons it outside after playing.
The control board has a power meter and a visual target framework. Small batteries are additionally demonstrated. It requires two 9V primary batteries to work. This gadget can keep a youngster engaged for a considerable length of time.
Tips for Choose Beginners Metal Detectors in 2019
In case you're to get the most out of your new buy and furthermore guarantee that before disappointment sets in you're ready to comprehend what you have found before you can uncover it, you must know where to pursuit, how to look and eventually how to make the most out of your best beginner metal detector. These tips will prove to be useful with regards to this.
Inquire About
The main tip that can be useful in ensuring that you expand on the utilization of metal detecting and ready to locate the correct territory. Ensure you explore your new or potential spots. This makes it less demanding for you to get those that are potential gold mines.
Fortune or Trash
The measure of fortune that you're ready to discover relies on how well you have come to know your machine and the territory that you are in. In any case, you ought to expect that over 60% of what you will discover will go ideally back to the junk can yet the fortunes you find make the battle justified, despite all the trouble.
Uncover It All
As much as a portion of the machines are worked with separating capacities until you can recognize the signs transmitted by your device, it is more secure for you to uncover every one of the signs. The segregation programming wipes out the location of things like nails and draws tabs however at times; you may likewise pass up a great opportunity for the little gold rings and nickels because the machine is not ready to recognize these from the force tabs. This is the reason; it is critical to ensure that you uncover everything.
Avoid Over-Burden Zones
While the more signs you get, the higher shots there are of you striking it rich, as a tenderfoot this could overpower for you. You might need to contrast this until you're ready to recognize the signs better so that you just borrow what is essential.
Cover After Digging
It is vital to ensure that you include your openings in the wake of burrowing. This is to a greater degree a prudent stride since you don't need individuals and even creatures stumbling and disjoining their lower legs on the gaps that you borrowed.
Looking at Cleaned-Out Areas
On the off chance that you are aware of a range that has been extremely chased however might want to attempt your luckiness, it is ideal if you go and seek the region after an adequate storm. The ground, for the most part, has better conductivity when it is wet so your machine can check significantly more profound. Because of the fewer diversions, will probably strike it enormous in such zones.
Conclusion
Since you realize what you should search for best apprentice metal detector and furthermore the tips to guide you in your chase, above four best metal detector for beginners may fit your criteria and spending plan faultlessly.