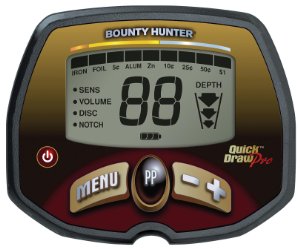 If you are always ready to search metals and want to locate things as per your requirements, on the other hand, you need a simple to understand metal detector, this Bounty Hunter Quick draw pro review is going to be a worthwhile read for you. This metal detector comes with different adjustable volume and sensitivity levels.
There are 9 different categories that you can choose from for different target identifications. You can locate meals using the 99 different target ID numbers with the 3-segment in-depth indicator, and the three different tones will help you to confirm the located targets. The fully adjustable locking collars are excellent to use for a long time. A single 9-volt battery is enough to use it for a long time.
The Fast Metal Detector
When it comes to having a fast metal detection at every type of place Quick Draw Pro is an ideal choice. This metal detector comes with a 10-inches concentric elliptical search coil that helps you to locate the desired metals faster. This coil is fully equipped with the rugged manufacturing which is best to search underwater.
Advanced but easy to use Features
Just push the power on button, and the metal detector starts working for you. If you are a pro and tired of the advanced options metal detector, this metal detector has all the features you are looking for.
The Bounty Hunter Quick Draw Pro Metal Detector is fully representative of its name, as you don't need to struggle more to use this machine. Just push the start button and start the routine detection.
Easy and Quick Access to all Features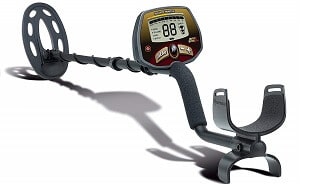 Before you start searching, you can set up things with easy options. Just hi the customized button and choose the sensitivity level for target identification and discrimination and it will be ready to use.
Usually, Hunter Pro series metal detectors made with easy to use options, but this one is specifically made for the new uses that are why it has easy and quick access features.
Larger Size LCD
The Bounty Hunter's Quick Draw Pro comes with a large size LDC display that helps you to identify the target before starting digging. The easy to read display options help you in understanding the metal type and measurements. There are a tone identification features are also the part of this metal detector, but you can confirm the metal by checking the results on display screen.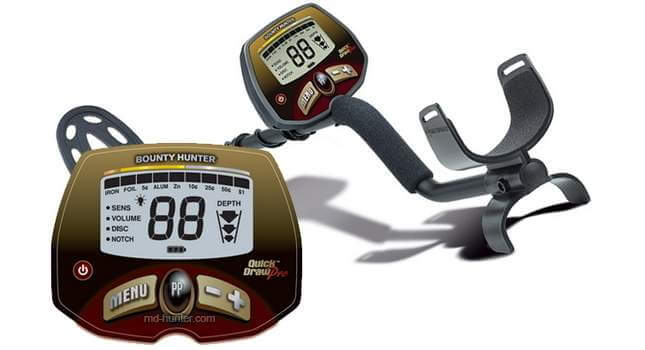 The display can identify the target by the different code, however, to use it with perfection you must be aware of the target codes of 0-99. There are different codes available for things like nickels, pennies, dimes, quarters, iron and foil that are also identified with three different tones. The fast target response helps you to identify the desired metals with close proximation.
Tones Target Identification
No doubt LCD shows you the most closed results. However, the tone identification is a plus to find your targets with ease. There are three different tones available to give you an alert of identified targets, that can be confirmed with the code that will display on the LCD. This way you can save your time and effort to dig in the wrong place.
Features
Graphic Target Depth Indicator
Different Sensitivity Bar Graph
Preset Ground Balance
9 Target-ID Category Icons
Multiple Notching System
Full Discrimination Capability
5 Year Warranty
9-Volt Battery for maximum backup
Identify the metals with 3 different tones
9 categories of icons to identify targets
0-99 codes for target identification
Lightweight and with higher frequency
Bounty Hunter Quick Draw Pro Review: Buying Tips
Conclusion
No doubt this metal detector is best for the beginners. However, if you want to be a pro in metal detecting industry Quick Draw Pro can help you in this regard. This is an entry-level metal detector that comes at a very low price.
If you are looking to buy a metal detector that you can give to your children with free hands this can be a perfect choice. This metal detector featured with the easy to use and large display options that will be helpful for you to get your kids in touch with the metal detection on the right path.