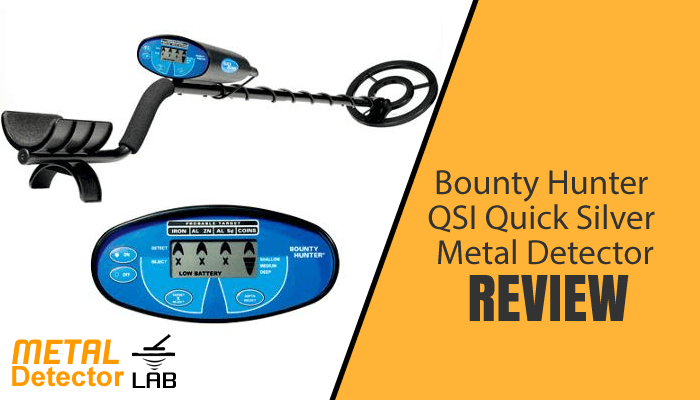 If you are the one who loves hunting for relics or even looking for a general metal detector, this is going to be an ideal choice for you. The smooth bounty hunter quicksilver metal detector helps you to understand the use of this metal detector. This metal detector featured like as several expensive machines including easy to read and understand visual target identification.
The built-in speaker helps you to use it without headphones. The adjustable aluminum road makes it a perfect device to use for every age people. This machine is packed with 5-years warranty. Here's what how I found this metal detector as best to review it for you.
Audio Target Identification System
The built-in speaker helps you to identify the targeted metals with three different tones. You don't need to look at the screen again and again because the audio system will keep you updated with target identification. You can identify the goal with three different tones; low, medium and high based on the object you find. You can look on the LCD to confirm what metal you have found.
Advanced Notch Discrimination
QSIGWP Quick Silver Metal Detector is best to remove the junks and detect your desired items. The high metal detector helps you to avoid indicating foils, aluminum, and iron. It only identifies items that are profitable for you. You can set it to prevent particular items by pressing the Notch button you can accept or reject the metals.
Easy to use
If you are new to the industry, the bounty hunter quicksilver metal detector helps you to learn the correct use of this device. There are no complicated settings required to use this metal detector. All you need to is power on the device and start searching for your desired metals.
Jumbo Size LCD
You'll love this feature of this metal detector. It has a large LCD that help in clear indication, so you will not have to get into the trouble of digging again and again. The display will indicate the process of identification and will avoid showing things like soda cans, dimes or iron pieces. This way you can focus on your desired things.
Great Features at Affordable Price
This is a light weight product and has the 8-inch diameter and waterproof search coil. You can use this metal detector on all types of surfaces including beach and water. You just need to be careful when using it in water it should not be a plugin with electric. However, it's a great device to search your desired metals on the beaches that are hidden in deep.
Excellent Sensitivity
You can set the sensitivity level from 1-6 so you can even find the most desired metals. The higher sensitivity level you will choose the more chances will there. You can adjust the device as per your requirements and make your search easier.
Battery Level Indicator
Using this metal detector you will be able to search metal detector for several hours. The high and 9-volt Alkaline battery give it full power. So, you can use it for 20 to 25 hours. The battery indicator display allows you to stay updated about battery health.