If you are thinking about the question, can metal detector detect gold, the answer is Yes? The metal detectors are not limited to catch coins we can find several other things using our detecting machines. Along with coins, jewelry is one of the most common things that a metal detector detects. Searching for gold is not only a hobby, but a large number of detectorists identify gold as the profession because it's a good source to earn money as well. If you are interested in detecting, you must be patience and ready to spend much time in detecting. If you are interested in gold detecting using your best gold detector then following tips can help you in this regard:
Choosing the right location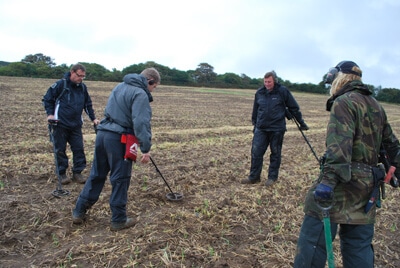 Detecting gold is not a child's play as you cannot find it anywhere like coins or jewelry. This cannot be found in your backyard. However, it would be interested in your gold can be found across the United States, some states including, California, Alaska, and Arizona are way popular in gold detecting.
The founder of Garret metal detectors, Mr. Charles Garrett, has stated in his book even if you are using the best metal detector but not finding at the place where gold doesn't exist, you cannot expect any finding during your search. You must check the maps, go to libraries and search on the internet before you choose your location to start searching, he stated. If you manage to find a place that is a patented ground, you must ask the owner before start detecting. To make your offer attractive and get permission you must provide them some share in the profit.
Chose the right metal detector
Most of the metal detector manufactures designed special devices to detect gold nuggets. They made them more accurate for gold by adding proper mineralization and soil compatibility and ground balancing. Before you buy metal, the detector must ask yourself this question:
Will you use this metal detector only for gold hunting or will you use it to find other metals as well?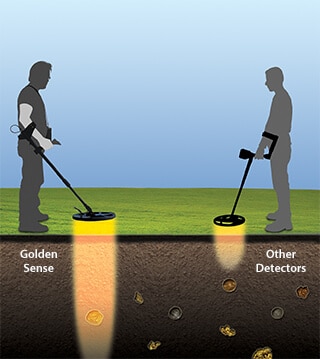 Can metal detector detect Gold?
Coming back to the point, we have to say Yes once again. There's technical proof of our statement. Usually, metal detectors made with two frequencies one is VLF – very low frequency and other PI – pulse induction. The VLF metal detector is specifically designed for gold detecting. The low-frequency metal detector offers the more sensitivity that helps you finding even small gold nuggets. To make your detecting more perfect, you can use small size coils, but these coils can't cover much ground. On the other hands, metal detectors that are loaded with pulse induction are built to detect in depth gold. This is one of the primary reasons gold hunters are moving to PI technology fighters instead VLF.
If you are looking to choose a metal detector for gold hunting below given list may help you in this regard:
For Professionals
Garrett ATX
Garrett Infinium
XP DEUS with Gold Field Program
For Hobby
Fisher Gold Bug-2
Garrett AT Gold
Tesoro Lobo SuperTRAQ
For Beginner
Tesoro Vaquero
Fisher Gold Bug
Verdicts
While summarizing, once again I have a word, 'Yes' the metal detectors have capability to detect gold. However, being a detectorist of gold you have to be patience and ready for the challenges. You can't be a gold detector if you won't study other's experience who have already visited different places and learn about the locations by reading history. The above shared list of metal detectors is best to choose depending your needs and detecting ability.