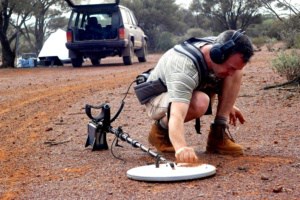 When it comes to buying the best metal detector for the money, you must have to investigate it and make the right purchase. This way you will be able to buy a perfect device and save a few bucks.
There are many things you must keep in mind to shop for a best-suited metal detector. This is going to be a worthy read for you if you are just starting in the metal detecting industry.
Best Metal Detectors for the Money Comparison Table
| Name | Coil | Weight | Indicator | |
| --- | --- | --- | --- | --- |
| Bounty Hunter TIME RANGER | 8 Inch Concentric Waterproof Search Coil | 2.6 pounds | | Check Price |
| Bounty Hunter Gold Digger | 7 Inch Weather Resistant Coil | 0.16 ounces | | Check Price |
| Bounty Hunter TK4 Tracker IV | 8" Open Waterproof Coil | 3.7 pounds | | Check Price |
| Bounty Hunter BHJS Junior | 6.5 Inch Weather Resistant Coil | 1.29 pounds | | Check Price |
Following are some of the best metal detectors for the money, that you can grab to enjoy the treasure hunting, rather you are a professional or going to buy a metal detector as a hobby.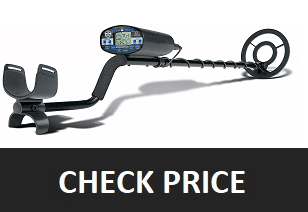 This is one of the best hunting machines for professional treasure hunters. The automatic balancing feature makes the device automatically compatible depending on the soil. The larger LCD is fully programmed with the latest technology and touchpad control.
The lower sensitivity level help reduces the false results and beep on the exactly matched metals.
There are 3 different audio tones discriminations and 4 varying levels of iron discrimination. The sniff mode helps metal detector to avoid unwanted metals. These features make this device a perfect choice for the target ID scale.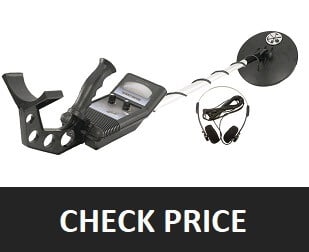 This bounty hunter metal detector is specially made to search coins, gold and silver elements buried 6-inches deep.
However, the larger items can be found to a depth of 2 feet. If you are going to the beach for a search, this metal detector will be perfect. The automatic tuning and ground compatibility makes its use easy.
The all-metal mode help to detect all metals in any area and allow you to do the specific metal search.
The metal detector includes a headphone in the package. No doubt the device comes with bounty hunter's guarantee like others. Bounty Hunter Gold digger is easy to use and setup.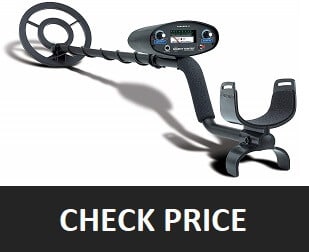 This device is built to work in different conditions. The Bounty Hunter TK4 Tracker IV can work perfectly at beaches even under saltwater and avoid minerals to detect the desired metals.
The present ground balance allows the metal detector to detect valuable metals and the lower sensitivity level is adjustable that reduces electromagnetic interference.
The TK4 Tracker IV can detect metals buried at 8-inch depth. The different operating modes allow the metals to detect your desired metals. The headphone jack is compatible with several types of headphones and the 9-volt batteries give enough backup to use it for a long time.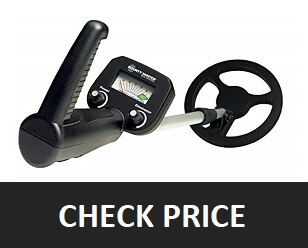 Aa the name of this metal detector suggests its nature, this is the best device for kids.
It is extraordinary light and has easy to handle structure with an adjustable shaft and ergonomic features. You can extend its shaft up to 2.25 inches as per your kids' height.
The tone will be the louder if the target will be near so that you can determine the depth of target based depending on the tone's volume.
The specifically made discrimination control helps you to save your time by avoiding unwanted elements. The perfectly matched ground balance is equally compatible with all types of soils.
How to Choose Best Metal Detector for the Money: Top 5 Questions
Things to check why buy a Best Metal Detector for the Money:
1. Functionality
When it comes to functionally, there are several things you need to check in your metal detector. When we are looking for the best metal detector the money we usually go with a Very Low-Frequency device and we can check the following:
Notching: This function is a must check thing in every metal detector you will buy because this feature discriminates the targets as per signals and depth and show you results.
Ground Balance: The ground balance will minimize the interface by aeromagnetic waves and minerals in the soil. Discrimination and sensitivity should be changed to your requirements.
LCD: The LCD helps you to know about your findings, it must have clear target identification features. Usually, LCD is attached to the control box, and you can also find the jack as well to connect your headphones that increase your ability to listen to the accurate target identification tons.
2. Coil
Try to go with a larger diameter coil; it increases the sensitivity level of your metal detector. Your coil should be waterproof or semi-waterproof because when you are searching on the beach, this feature keeps your device safe from water. You must check the coil's technology; the latest one is D-Tech which you must lookout.
3. Design
The design of the metal detector must be comfortable to use. You must check the armrest padding and handle's material. It should be lightweight and adjustable to set it as per your height.
4. Brand
The reliable brand is one that uses like, there are several brands metal detectors available on amazon.com, however, we have reviewed Bounty Hunter and Ace Garret's machines. You can choose any one of them that suits your needs.
5. Price
You need to know your budget. If you are under $100, try to increase a bit because this price is for the children's metal detectors or go with a used device. Your budget must be around $200 or above so that you can get a somehow reliable metal detector.
Conclusion
The above-shared tips and list of devices help you to find the best money metal detector by making a wise choice. However, you can read our other detailed reviews about the above-discussed products and other metal detectors to know more about it.