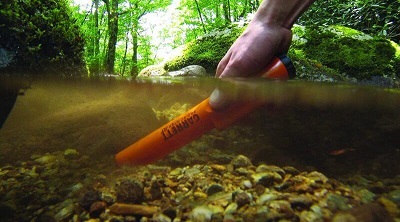 This metal detector has made with the combination of sleek design and excellent performance. Using this device, you can enjoy the 2-years warranty. I am sure this is going to be an interesting read for you among all Garrett pro-pointer metal detector reviews. This metal detector offers the 360-degree side scan detection with the auto-tuning feature. The experts consider this one of the best pinpoint metal detectors. The machine comes with the audio and vibrates alarms when it approaches the targets.
The LED lights improved the user experience by making it visible even in dark places. Using Garrett Pro-pointer, you can search metals at the wall and under water. This metal detector has the full package of perfect metal detecting devices that included woven belt holster, user manual, Guide for Garrett and 9-volt battery. This device has proved itself a quality metal detector among all the well-known manufacturers of similar devices.
A Tool for Serious Detectors
It has become one of the high-quality tools for the serious detectors. The metal detector brings the same features that you can find in an expensive device. The Garrett Pro-Pointer help you know to find the target with tone and vibration when you are using it under-water. It is loaded with the audio and vibrate alarms features to indicate the attendance of metal substances. The alarms increase its intensity based on the target and its closeness.
Suitable for Every Condition
You can use this small metal detector for the fast recovery of your findings. This metal detector is best to recover the small size metals when you are hunting at various conditions. This detector can easily identify the targets at saltwater, sand, and mineralized grounds.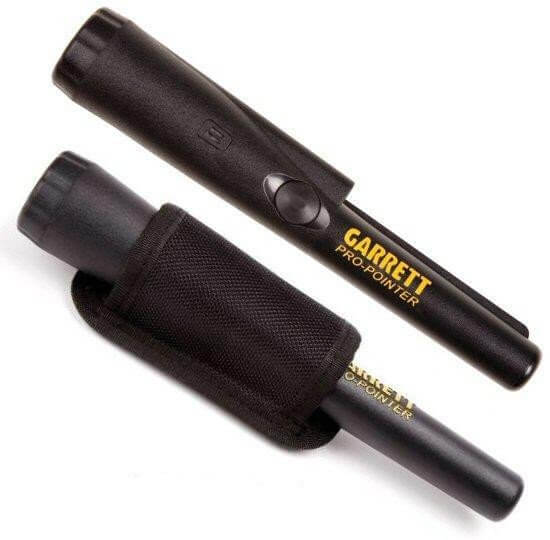 Made with Latest Technology
Garrett Pro Pointer Metal detector one important thing it is created with the microprocessor circuitry that can increase the sensitivity level and offers the required adjustments and tuning to locate targeted metals.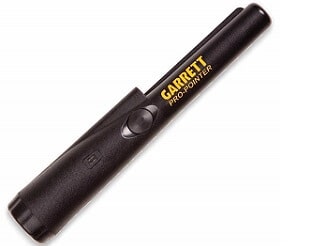 The other features are included LED flashlight, pinpointing tip and side-scanning that make it a perfect metal detector that you must have.
The woven belt holster offers the easy portability and shifts blade help to avoid locating trash.
Don't need to worry about using this device under-water as the waterproof features of this metal detector enables you to use it for every condition. The experts consider this tool perfect to find nails in wall studs and find metal pipes.
Salient Features
Audio and vibration target indicator
Specifically created to sift through the soil to fast recovery
Meets IEC 60529 IP 66 Standards
Dust and water protection
9-Volt battery included
Double battery life compared to other Pinpointers
Comes with LED lights
Exclusive one-button retune
Fast one-button modification of modes
Multiple sensitivity settings
Shrink detection field to exactly pinpoint large boards
Best for all conditions including ground, wet beach and sand
Help gauge target size or distance
Identify large even small targets
Pros
I guess a metal detector along with the vibrate and beep alert option can become your perfect detecting tool to locate your targets with ease. Underwater it won't be easy for you to use the headphone and even you can't listen to its own speakers' tone, so the vibration effect is a plus in this metal detector. I am sure this is going to be one of your favorite things among all your metal detector collection.
Cons
You may have to face some glitches rotating this metal detector while having other metals, so try to be away from other metals before you make it turn on. Otherwise, it may cause false readings that disturb your metals. You just need to hold this metal detector turn on while keeping it away from other metals and it will work perfectly.
Metal Detecting Hack: How To Ground Balance A Garrett Pro Pointer
Conclusion
The choice of your metal detector is depending on what you need to locate and what type of places you are going to detect metals. If you are planning to hunt underwater this metal detector must be the part of your toolkit. It is waterproof and has vibration identification feature that works perfectly in such conditions. The metal detector is small, so you easily carry it anywhere and can be your best pinpointer device.