Teknetics T2 Metal Detector Review

The Teknetics T2 was released in 2006 and is still available. It was the first large project published by First Texas (Teknetics' parent company) after the company hired renowned engineer Dave Johnson. Dave worked on several of the industry's best gold metal detectors, such as the Fisher Gold Bug 2, White's GMT, and Tesoro Lobo.
The Teknetics T2 was one of the first metal detectors to gain popularity during the late twentieth-century Africa Gold Rush. The Teknetics T2 does have a very strong threshold dependent all metal mode, despite not being a nugget detector per se. This, combined with the fact that it operates at a frequency of 13 kHz, makes it ideal for simple gold nugget detection.
Nobody seems to know the full story, but it appears that a local African prospector wanted to check for gold nuggets with a Teknetics T2 detector. It's assumed that this prospector discovered a lot of gold, causing others to use the same detector. In Africa, word-of-mouth ads based on real results dominates all other types of advertising, and the t2 quickly gained a reputation as the machine to have if you hoped to find gold nuggets. A significant number of people were sent to Africa. There were so many that counterfeiting became a concern.
As a result, the original T2 was eventually replaced by other versions with additional features that helped keep counterfeiters at bay. The T2 is manufactured by Teknetics, a subsidiary of First Texas. Fisher and Bounty Hunter are both owned by First Texas. The Fisher brand was used to sell a T2 offshoot known as the F75. Since the T2 was designed to only run DD search coils, one of the main objectives of the Fisher F75 design was to have the ability to use concentric coils as well. The T2 is oriented more toward simple recovery of non-ferrous targets in the midst of ferrous trash, with the T2 targeted more towards finding non-ferrous targets in the middle of ferrous trash.
In 2014, a "Limited Edition 2" or Ltd2 model was released with digital filtering to minimize electrical interference problems, as well as other extra features. In 2016, the T2 was reissued as the T2 Classic, with the same green color scheme and a reduced price of $599. Finally, in 2018, Teknetics launched the T2 Ltd as a single coil kit with an included metal detector pinpointer, named the T2+.
The T2 has excellent ergonomics. It weighs 3.5 pounds and is perfectly balanced. People underestimate the value of balance, but a balanced 3.5 pound detector puts less pressure on the arms than a nose-heavy 2.5 lb. detector. The T2 sips at the 4 AA batteries, having a week of long days out of a group of strong alkalines and almost two weeks out of a set of premium lithiums.
Control Box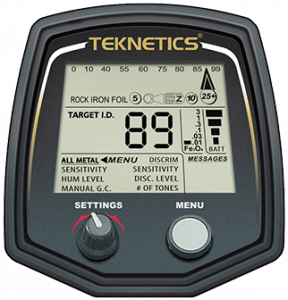 The Teknetics T2 se control box features a backlit LCD monitor and extremely basic controls that are simple to master. A Menu button and a Settings knob are located on the control panel. The On/Off and Volume Switch is situated under the armrest, higher up near the armrest. A Dual-function Trigger switch is located in the lower part of the control box. The Settings knob will change the highlighted function as you select features with the Menu button. The Search mode is also selected using the Settings knob.
Search Coil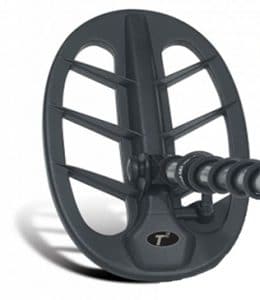 The Teknetics T2 has a unique 11-inch elliptical biaxial search coil. It's water-resistant, making it ideal for searching in rivers and streams or in bad weather. During treasure hunting in the field, the search coil has the range needed to pick up even small gold nuggets. The search coil would not be moving if the gold prospector was using the pinpoint mode, but it will still detect up gold nuggets regardless of depth. The coil provides the requisite depth in highly mineralized soils.
Search Modes
Discrimination mode, which allows you to change the discrimination pattern, and All metal mode are the two basic search modes on the metal detector.
There are several pre-set settings in discrimination mode that can be called different modes.
There is no discrimination in All Metal mode, but it does have sensitivity settings manual ground balance, and Hum Level, which some manufacturers refer to as the threshold.
The system sensitivity and discrimination level, as well as the number of tones, can all be changed in the discrimination mode.
Required Skill Level
The T2 is a metal detector ideally suited to seasoned hobbyists. Its numerous changes and functions, as well as its extreme versatility, will pose a problem for a novice.
Since it can be tailored to different types of settings, the model's sophistication is what allows it to function so well. Its price range is well within reach for experienced professionals and it also appeals to beginners, though it is not on our list of the top metal detector for beginners.
It would be a perfect first-time purchase, but there would be a bit of a learning curve. If a novice has the ability to learn the nuances and skills needed, it will undoubtedly serve them well for many hunts to come.
Summary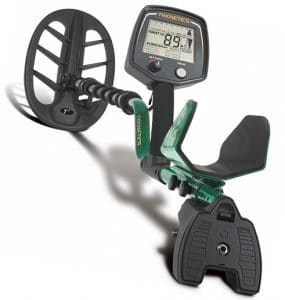 The Teknetics T2 metal detector is a high-performance multi-purpose specialist metal detector that includes both 5″ and 11″ DD search coils and is enhanced with boost and cache processes.
The Teknetics T2 SE Metal Detector is unrivaled when it comes to searching at depth, with excellent recovery speed along with some of the best target differentiation available. With its boost mode, the Teknetics Special Edition T2 Metal Detector reinvents deep scanning, giving you greater search capabilities in iron-laden places, and the T2 SE can locate coins at depths of up to 15 inches.
The T2 metal detector from Teknetics has superior ground penetration, putting it in a class by itself. This metal detector makes use of the most recent advancements in electronic technology, and its practical architecture is cutting-edge engineering. The Teknetics T2 Metal Detector is simpler to use than similar metal detectors. Its blend of light weight and balance gives it a level of comfort that no other detector in its price category can match. The Teknetics T2 Waterproof Metal Detector has a variety of applications.